Hello Kitty - Sanrio's Adorable Icon To Drive Marketing
Since launching in 1974, Hello Kitty has seen her fan base expand worldwide, and her popularity shows no signs of waning. There are Hello Kitty theme parks in Korea, China, Malaysia and other countries, with one scheduled to open in Vietnam in 2020. Taiwan even has a Hello Kitty clinic for pregnant women, the only certified medical institution operated by Sanrio, creator of the character.
Asia has become key to Sanrio, which forecasts 7.1 billion yen ($64 million) in operating income from its Asian operations in fiscal 2019, up 8% from the previous year and accounting for about 90% of oversea profit. China leads the company's rapid growth in Asia in both business licensing and product sales, and is expected to cover for Sanrio's recent struggles in North America and Europe.
As you see, Hello Kitty was out of 40 years old but she shows no signs of slowing down despite middle age. 
On June 30, 2018 – Hello Kitty Shinkansen leaves Shin-Osaka Station on its maiden run.
More than 40 years after she charmed her way to stardom on the character-goods scene, companies are still cozying up to Sanrio's adorable icon to drive marketing. And TOKYO — Hello Kitty one of the world's most recognizable brands, continues to create a stir by construction of the western Japanese Railway. This is one of the latest, with a Hello Kitty – themed bullet train, or shinkansen, designed to lure global fans, especially those from China and Southeast Asia, where an increasing number of businesses are using Hello Kitty content.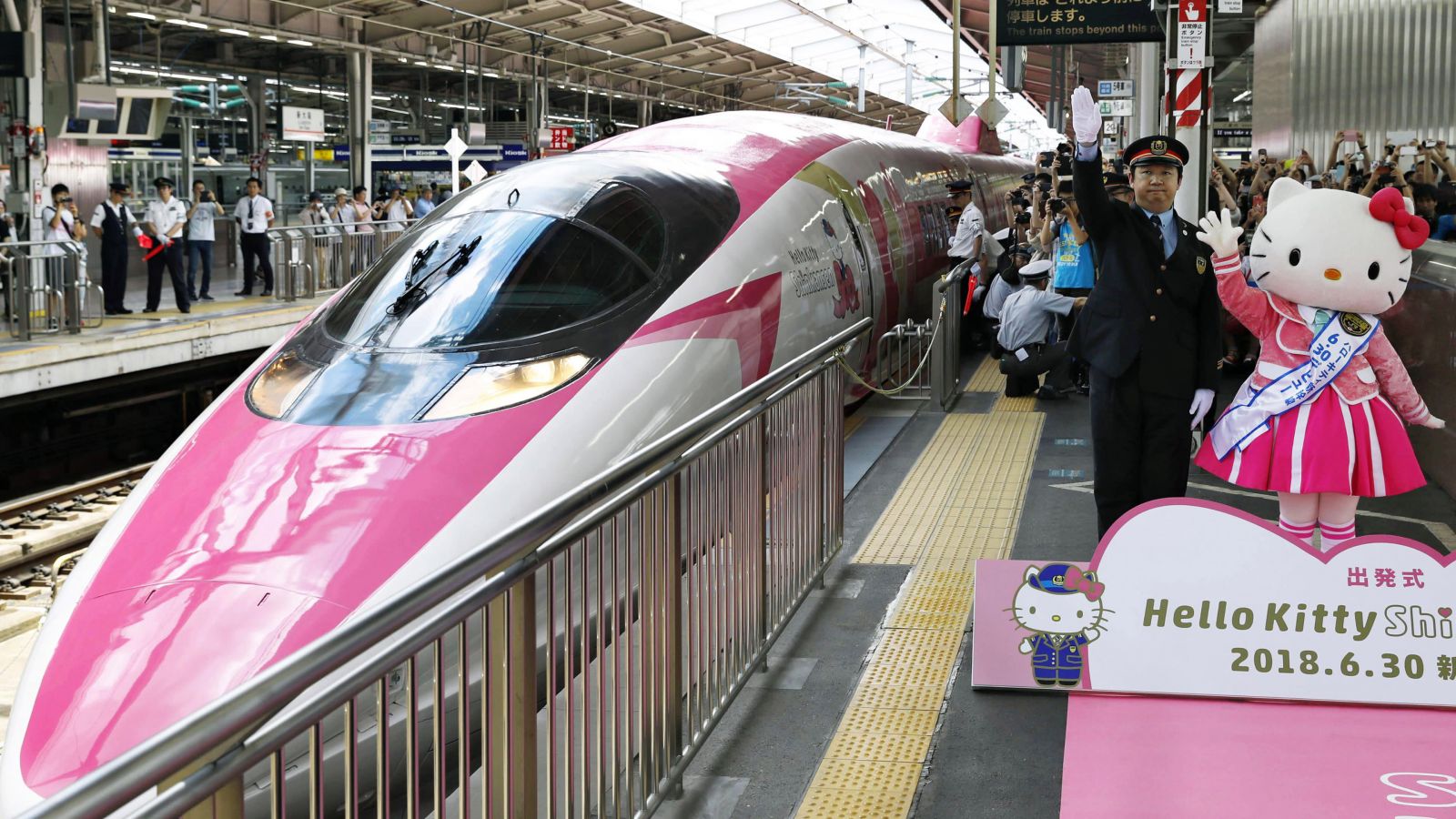 On June 30, Hello Kitty Shinkansen officially launched. It's runs once a day between Osaka in central Japan and the city of Fukuoka on the southern island of Kyushu, stopping at all stations along the way.
There are all 8 cars, each of the eight white-and-pink-themed cars are alive with likenesses of the cat-like character and her trademark pink ribbon, with the first two cars being fully immersive Hello Kitty experiences. 
The first car called Hello! Plaza, serves as a tourist information center and showcases products of western Japan. Items from Tottori and Shimane prefectures are on display until September, and those from Yamaguchi Prefecture in October. The displays are aimed at promoting regions along the route.
The second car called Kawaii! This is a designed car with room,  features Hello Kitty printed seats and walls along with a photo booth containing a life-size Hello Kitty.
The ride takes more than four hours compared to a faster express shinkansen that traverses the same route in only 2 1/2 hours. West Japan Railway hopes the character will entice more passengers, including foreign tourists, to book passage on the service. 
Takehiro Zai, a West Japan Railway sales director said: "We want Japanese and overseas passengers spanning generations to enjoy this shinkansen".
Besides, Pasona Group is also a business cashing in on the cute Hello Kitty character. A staffing agency that has opened a Hello Kitty restaurant on Awaji Island, a big tourist draw in central Japan's Hyogo Prefecture. You can instantly recognizable by the huge white statue of the icon, Hello Kitty Smile serves a buffet of Chinese dishes. There is also a shop selling luxury Hello Kitty jewelry from Swarovski.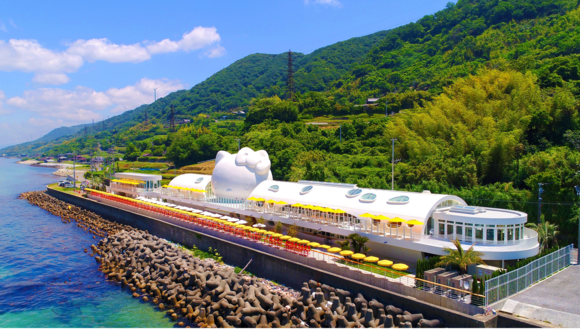 "We often see mainland and Hong Kong Chinese — along with other female Hello Kitty fans from Asia — wearing Kitty clothes and matching Kitty bags," says Keisuke Nemoto, general manager of public relations at Pasona. "Some visitors even come in groups of three generations."
"Even though some of our other characters are popular with Asian customers, Hello Kitty is undoubtedly the most iconic," says Kazuo Tohmatsu, manager of public relations at Sanrio. "We are looking to launch some projects for Hello Kitty's 45th anniversary in 2019, which could attract three or even four generations of fans."
[toc]
Today Articles