Hello Kitty Shinkansen - World's cutest bullet train
As you know in Japan there are two things that will never get old, it's bullet trains and Hello Kitty – Sanrio's adorable mouthless character. 
June 30th, 2018, the Japan Railway West Co., better known as JR West, has launched a Hello Kitty bullet train service on its Sanyo Shinkansen line.
Aimed at revitalizing regional communities in western Japan, the trains will make stops at each station between Shin-Osaka and Hakata — ward in Fukuoka city in western Japan's Fukuoka prefecture.
The company will revamp two 500 series Shinkansen bullet trains, it will be decked out in full Hello Kitty adorable fashion, with motifs from the famous Sanrio character and her friends and even a photo booth!
The first car, called Hello! Plaza, will not have any passenger seats, instead, it will showcase local specialities, delicacies, and souvenirs from the regions in the new JR West's line, which passengers will be able to enjoy and buy.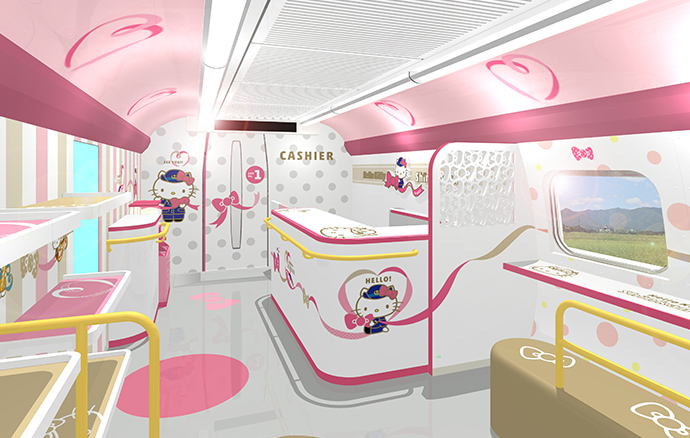 The second car named Kawaii! Room will be a passenger car covered from top to bottom with the popular Sanrio feline character and her friends, featuring a Hello Kitty doll in Shinkansen uniform.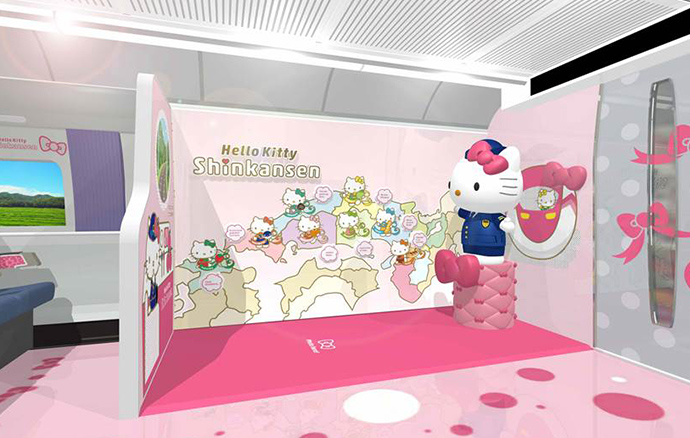 Besides, instead of the usual Shinkansen jingle, the train will ring the original Hello Kitty theme tune as it approaches the stations!
Paying homage to Western Japan
To highlight every region along the new bullet train's itinerary. JR West's released eight original Hello Kitty designs holding a local delicacy from each of the places the train stops, like a green apple for Tottori prefecture, a strawberry for Fukuoka, and a black shell for Shimane prefecture.
The first region to be highlighted is Sanin, home to the Shimane and Tottori prefectures, and Osaka, Hyogo, Okayama, Hiroshima, Yamaguchi and Fukuoka will soon follow. In Okayama Station, you can even get your Hello Kitty ekiben (shinkansen-shaped take away box)!
Also, a special Hello Kitty café and a souvenir shop, selling exclusive merchandises related to Hello Kitty Shinkansen, is also open from June 30th at Hakata Station in Fukuoka.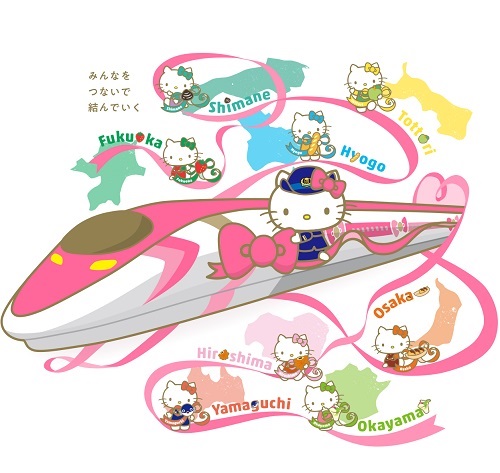 How to make seat reservations?
You can book a seat on all Japan Railways trains free of charge.  All seats should be booked before boarding the train. The JR Group does not allow to change to a reserved seat once you have boarded the train. Here's how to book a seat:
1. Please take your Japan Rail Pass to any JR Ticket Office (Midori-no-madoguchi), spread through all Japanese train stations. Alternatively, go to a Travel Service Center or a Travel Agency ticket sales office.
2. Once at the ticket office, you will be asked about your destination and preferred departure time. You can also look up the train times in advance, or get help from one of the friendly staff members to find the best option for your trip.
3. You will be handed your reserved seat ticket, stating departure time, arrival time, train name, car and seat. For example: Nagoya – Kyoto / 14:19 – 15:11 / Hikari 513, Car 11, Seat 5-B.
Those who wish to take any of the Limited Express or Shinkansen trains and book a private compartment will be required to pay an extra fee. Traveling in a sleeping car also requires additional payment.
Hello Kitty Shinkansen timetable
You can find below the Hello Kitty Shinkansen daily schedule (with train number) and all the stops and stations so you can plan your trip to purrrfection!
Kodama 730 (Hakata to Shin-Osaka)
Kodama 741 (Shin-Osaka to Hakata)
Station
Departure time
Station
Departure time
Hakata (Fukuoka)
6:40
Shin-Osaka
11:29
Kokura
6:58
Shin-Kobe
11:42
Shin-Shimonoseki
7:11
Nishi-Akashi
11:51
Asa
7:21
Himeji
12:03
Shin-Yamaguchi
7:31
Aioi
12:15
Tokuyama
7:44
Okayama
12:32
Shin-Iwakuni
7:58
Shin-Kurashiki
12:45
Hiroshima
8:13
Fukuyama
12:59
Higashi-Hiroshima
8:37
Shin-Onomichi
13:10
Mihara
8:51
Mihara
13:28
Shin-Onomichi
8:58
Higashi-Hiroshima
13:43
Fukuyama
9:20
Hiroshima
13:55
Shin-Kurashiki
9:36
Shin-Iwakuni
14:09
Okayama
9:57
Tokuyama
14:22
Aioi
10:23
Shin-Yamaguchi
14:39
Himeji
10:39
Asa
14:48
Nishi-Akashi
10:50
Shin-Shimonoseki
15:12
Shin-Kobe
10:59
Kokura
15:21
 Shin-Osaka
11:13
Hakata (Fukuoka)
15:38
Also, keep in mind that the Hello Kitty Shinkansen does not operate on the following days:
September 3rd to September 5th
September 26th to September 28th
October 21th to October 24th
November 2nd
November 4th
November 13rd to November 15th
November 26th
December 5th to December 7th
December 26th to December 28th
January 21st to January 23rd
February 13th to February 15th
Hello Kitty Shinkansen route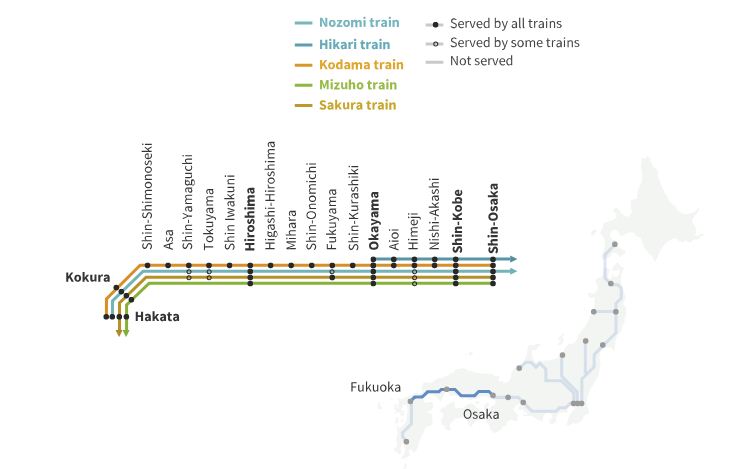 Today Articles