Travel to Hello Kitty Island on Jeju, Korea

Address: 340 Hanchang-ro Andeok-myeon, Seogwipo city, Jeju
Hello fans of Hello Kitty! Did you get to visit Hello Kitty Island in Jeju? What did you think about it? If you've been there,  we'd love to hear about your experience. 
If you don't have the opportunity to a great place like this, please read our article to co-discover it. 
Hello Kitty Island on Jeju is a special museum dedicated to Sanrio's iconic figure, Hello Kitty. Opening in December 2013, the museum has three floors and covers 4,000 square meters at a cost of over 11 million US dollars. Guided by the slogan "The happiest day trip in the world," founder Kim Jong-seok says the museum aims to provoke physical interaction with the exhibits and is "focused on providing a fun program that visitors of all generations can enjoy." Here, you can see and eat Hello Kitty-inspired creations. 
There are many ways to move to this beautiful island, you can go by the personal means, or go by bus. Here we will guide you away by bus: 
First, go to the Jeju Intercity Bus Terminal. Take bus #782. After about 45 minutes, get off at Teddy Valley. Then walk for about 3 minutes, and you will see Hello Kitty Island.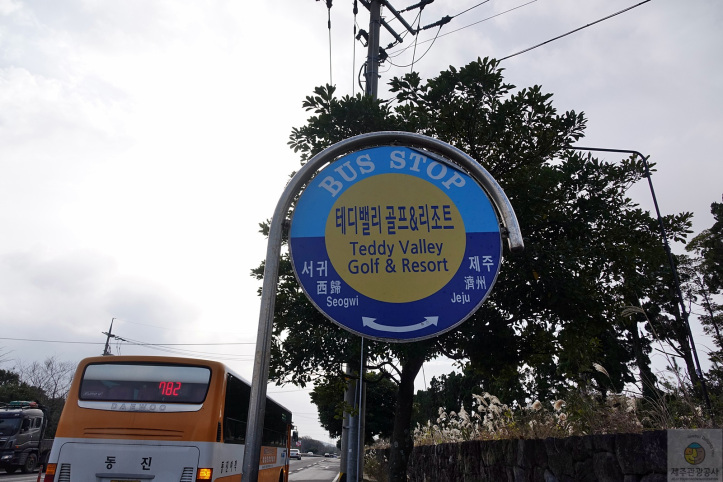 Even though crossing the street where the bus drops you off is closer to the museum, it is much safer to cross at the cross walk a few meters before the Teddy Vally Golf & Resort stop.
You can see Hello Kitty Island in front of you after getting off the bus.
If you driving, there is a free parking lot right in front of the entrance. You can see as soon as you enter the parking – Hello Kitty and the color pink everywhere.
When arrive at Hello Kitty Island, you should also know some of the necessary information as follows: 
Opening hours are 9am to 10pm in the summer, and 9am to 6pm the rest of the year. General admission is 12,000Won for adult, 11,000Won for teenagers, and 10,000Won for children (25 months to elementary school). If you are a Jeju resident (or 65+ years, disabled, or a soldier), you get a 2,000Won discount. If you go in a group of 30 or more, you can also get a 2,000Won discount.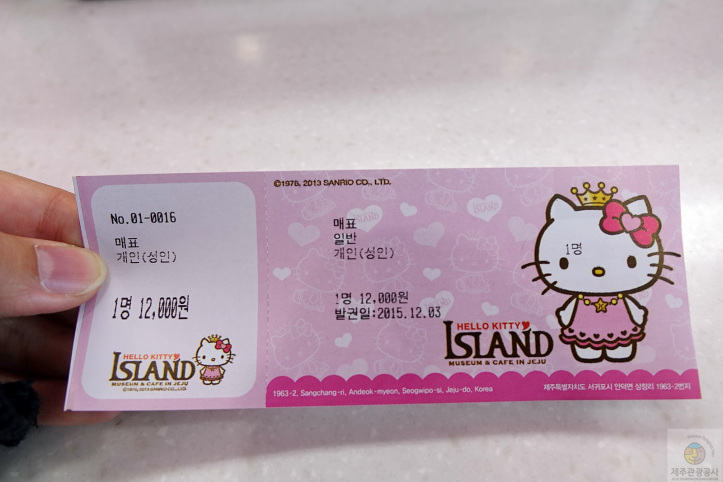 Don't worry if you are traveling with a baby, because you can borrow a stroller for the duration of your visit.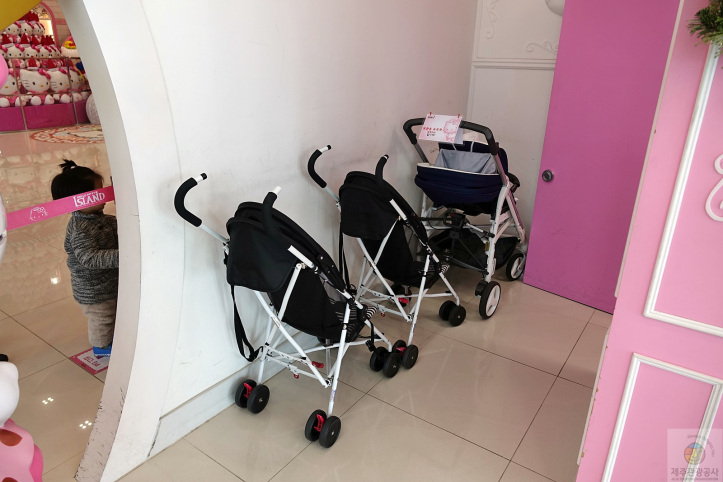 That great, if you come here in the Christmas and New Year days, you'll be seeing huge Christmas tree made entirely by adorable Hello Kitty characters.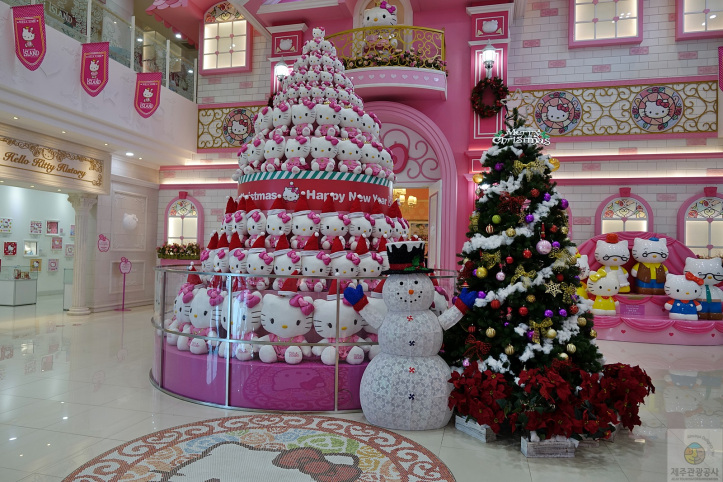 And there are lots of ornaments for Christmas.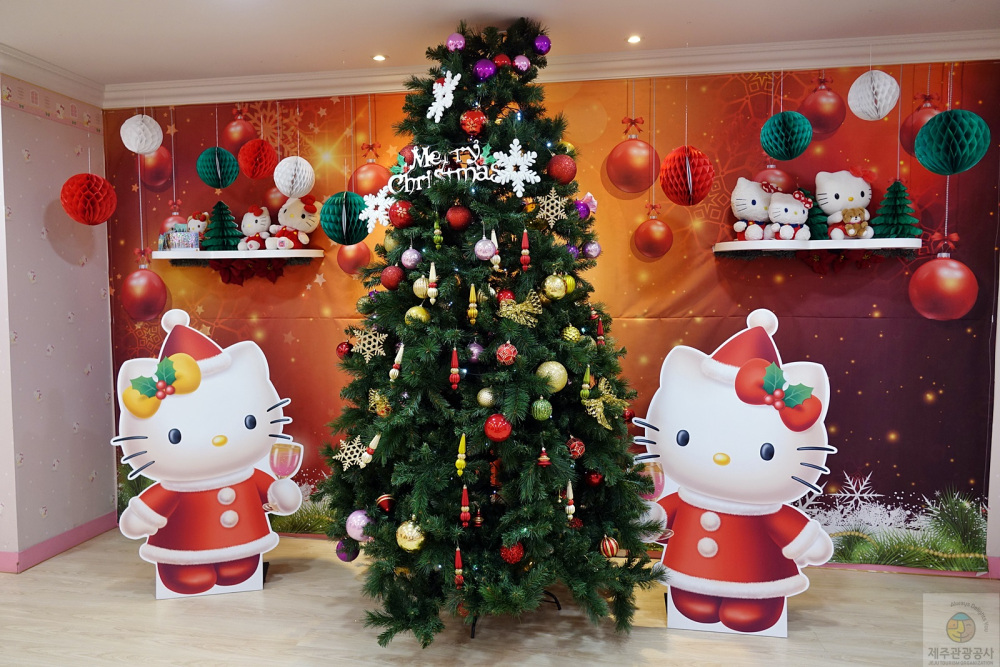 On the first floor, you can see a history of Hello Kitty, Hello Kitty's house, and the art and music education halls.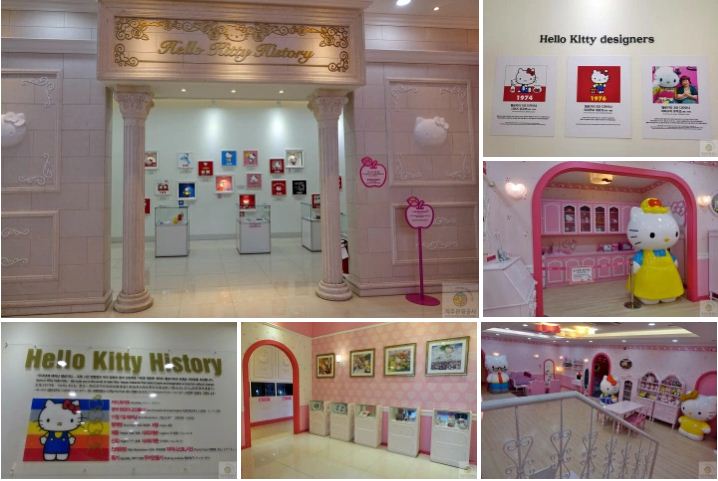 Dear kids, there is an area called Wish Diary, where children can write their wish on a screen and have that sent to Hello Kitty Island.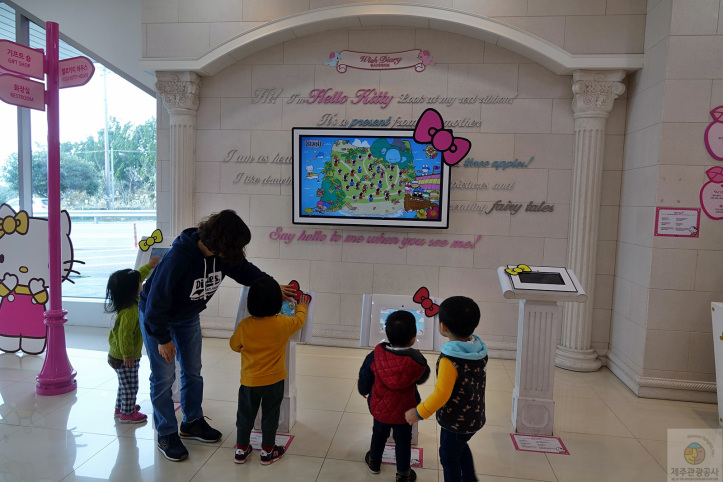 The second floor is a bit more magical, with iridescent flickering lights on a black ceiling, with Alice in Wonderland Hello Kitty and Red Riding Hood Hello Kitty. Visitors can board a pirate ship or enjoy a star-gazing room complete with Hello Kitty constellations and a giant whale to duck under and gaze up at kaleidoscopic images.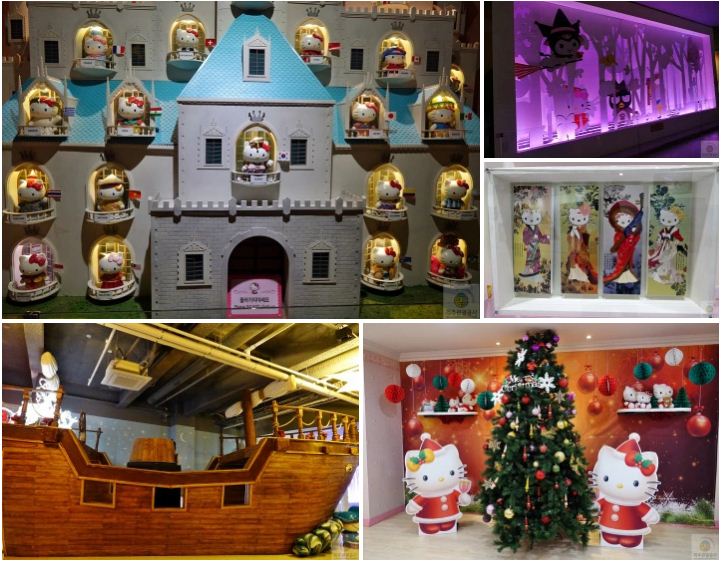 After two large museum floors and a romp on the playground, you are likely to be getting hungry and want a sit down. Fortunately, the Hello Kitty cafe overlooks the atrium and Hello Kitty House on the second floor. Prices are reasonable and you might be tempted by the pricier Hello Kitty cake or waffle deluxe. All the while sitting on a Hello Kitty chair at a Hello Kitty table.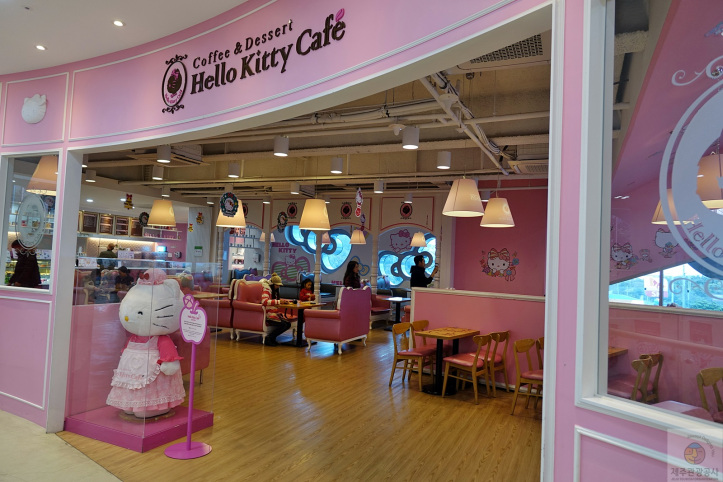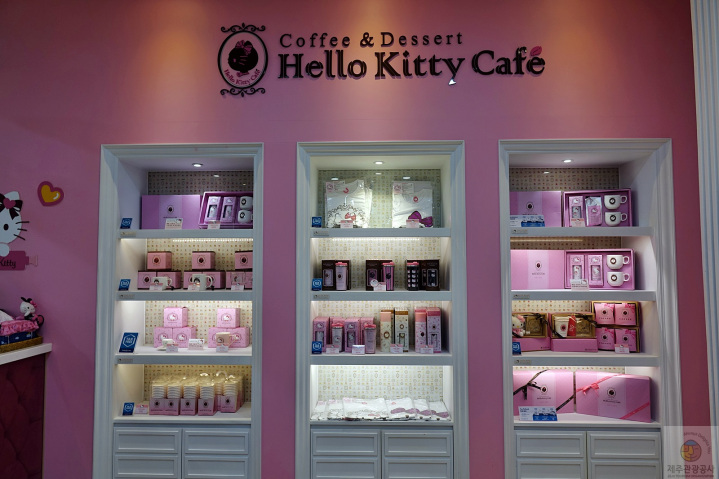 If you're here, we recommend that you try the Hello Kitty rare cheese cake (11,000Won) and Green Tea Latte (4,500Won) were pricey, but very cute and quite delicious.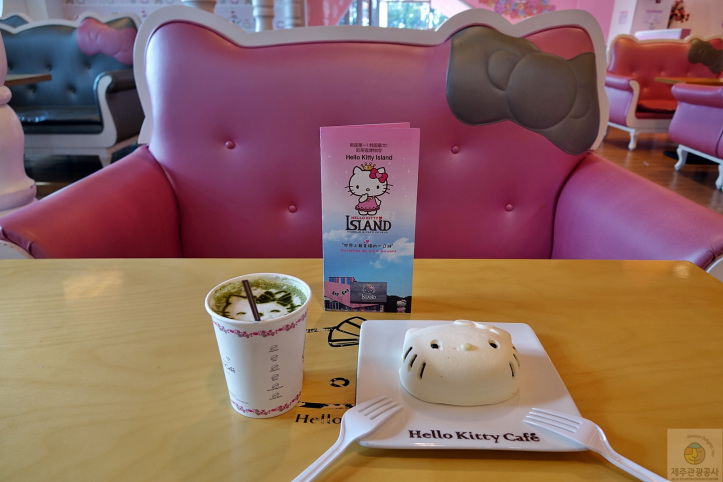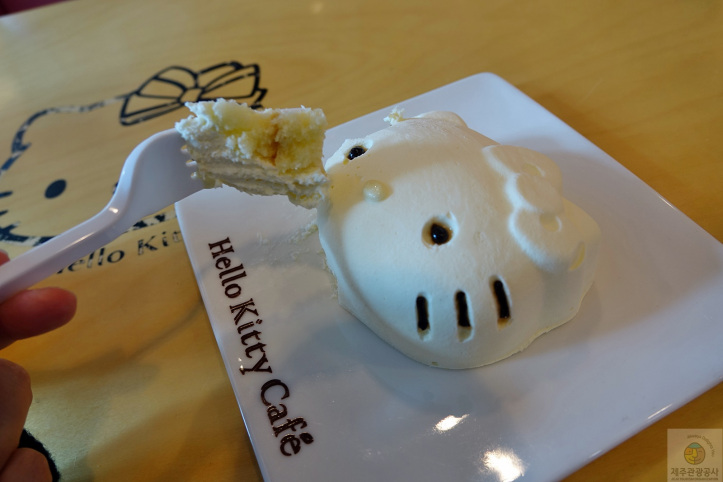 The green tea latte is sweet and not different from other coffee shops on Jeju. However, the Hello Kitty latte art is unique and very cute! Have you enjoyed these treats at the Hello Kitty Cafe, or did you try something else?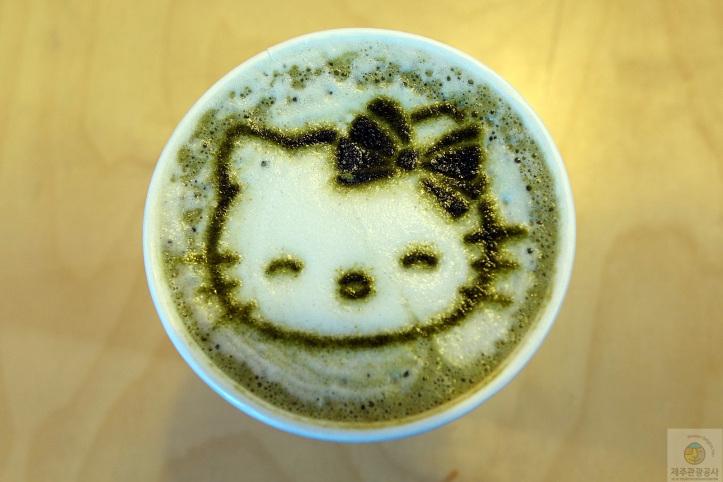 After lunch, don't miss the third floor, this is the 3D theater and outdoor gallery. The theater has a 3D show about Hello Kitty and her friends that runs for 8 minutes every 30 minute. At the end, the screen opens to reveal an outer courtyard. Wander out, take a couple of pictures in front of the Hello Kitty lawn, enjoy the fresh air and view of Mt. Halla, before heading back inside.

For children, besides exploring and taking pictures, children can also have fun at the activity area and indoor playground.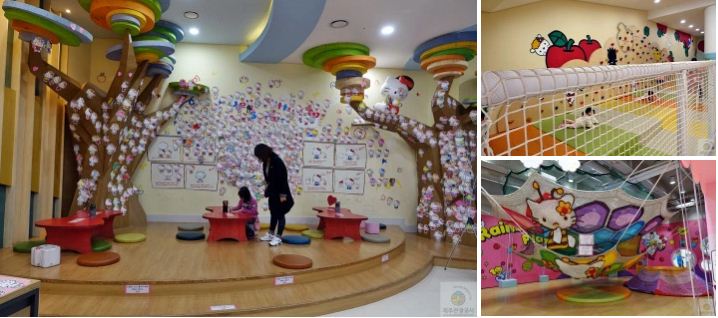 After eating and enjoying your time at Hello Kitty Island, The only place left is the gift store, which sells everything "Hello Kitty." There are school supplies, clothing and shoes, the obligatory wall of cellphone covers as well as other electronic items, cooking supplies, toys, stuffed animals and even a locked jewelry case for the more discerning buyer. You can even purchase Hello Kitty hard-shell, four-wheeled suitcases in two different colors and three different sizes to take home your new Hello Kitty goodies.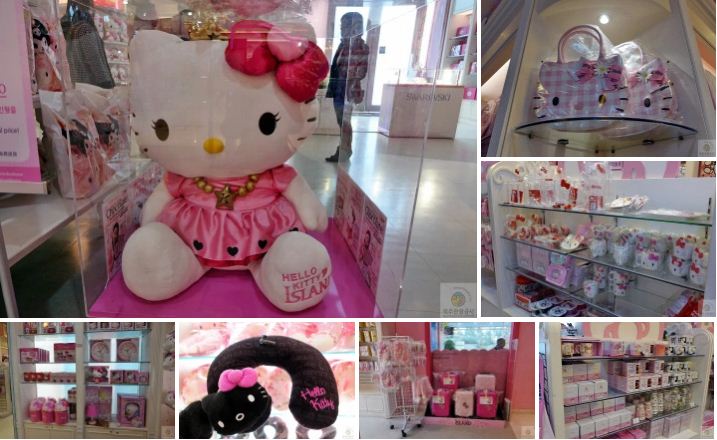 We don't want to saying much, because if you love Hello Kitty, this museum can't be missed. Now, let go and talk about your experience for everyone. 
Have fun!
[toc]
Today Articles