Why do you like Hello Kitty?
She is one of the most popular fictional characters created by the Japanese company Sanrio. Howerver, She has a perfect family and a lot of polite friends.
Hello Kitty is British, but she born in Japan and her family live in Suburban London. She love apple pie made by mama. She likes traveling, music, reading, yummy cookies, making new friends and collecting lots of cute items like sweets and goldfish. She has a twin sister. She's a perpetual third-grader and never bigger. That's probably one of the reasons she gets so much love amongst school aged girls, children and adults.
For most children, especially girls, if you send a baby a gift toy, such as, Hello Kitty dolls, Hello Kitty princess, etc, I'm sure the baby will be very happy. Also, besides clothing, bolster, blankets, stations, purses, hats, balo, pairs of books, etc and a lot of the daily utensils that print the cute Hello Kitty picture have made them be charismatic and love the character. 
In the painting coursework, Hello Kitty is a pretty interesting theme for most children, because it's quite easy to draw and colored. But also never monotonous because the very cute Hello Kitty faces make you always want to look at it. 
For some people, Hello Kitty is a partner in life. She had no mouth, so it may take many expressions of the face so she can be sad when I'm sad and happy when I can be happy. Hello Kitty is adorable and shows a cat to which you trust. She is faithful forever.
Hello Kitty is cool looking and has a good heart! And is always surronded by happy stuff! She is something special, fashionable and cute.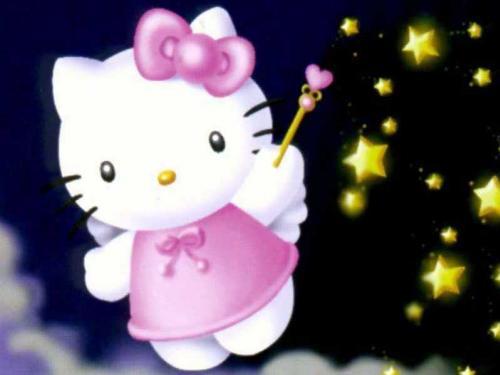 Many older adults still enjoy watching Hello Kitty animation. Have a commented about Hello Kitty as follows: "She appeals to me because of the vector anime style if her figure; solid think outline and colors. The way her eyes look at you and the effect you get from her mouth-less glance is so cute! The cocked bow on her ear is classic as well. She's so petite and adorable!! She carries this spirit of innocence and youth so even adults hold on to a small part which is their inner child when they see her. Hello Kitty  certainly brings the inner-child in your life. She provides the joie-de-vie in our psyches and radiates so much positivity. As we go through adult life with some hardship, stress and grief, Kitty-chan somehow helps me deal with such troubles. She reminds us that you can love life. And feel young and free again."
Hello Kitty – From a children's brand. Over the years, it has evolved into a fashion logo for the whole world, including adult fashion is also very favorite. You can easy find clothing, Shoes, bags, watches, earrings, necklaces, etc for grown women with Hello Kitty. It is sort of an acquired aesthetic of cuteness that only Hello Kitty can offer to the modern fashion world of today. And you are certain to find many other things with the Hello Kitty character on them.
Do you know, even popular stars in Hollywood have been seen wearing the Hello Kitty line of clothing. You'll even see Hello Kitty stamped boldly on her own Mastercard Debit card. The littlest fans of Hello Kitty will be glad to know that soon Hello Kitty will appear in her own claymation series called Hello Kitty's Stump Village.
For a lot of girls who prepare to step through the threshold of adulthood. Hello Kitty will make for a great party theme for them. She's an excellent party theme character for a slumber party and you are certain to find lots of pillows, blankets and sleeping bags with the Hello Kitty character on them.
And you? Why do you like Hello Kitty? Let's share with us that great reason? Love all! 
 
[toc]
Today Articles