Abstract Art Flower Painting Lesson Of Thaneeya McArdle
Hi all! Do you like art painting? If you like it, this abstract art flower painting lesson of Thaneeya McArdle will walk you step by step through the process of painting a funky, colorful floral abstract painting in acrylics… like the one on the below!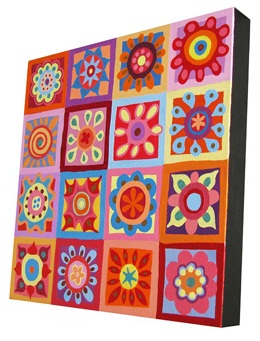 * Materials needed to drawing: 
– Acrylic paints 
– Paintbrushes – 1 flat paintbrush for painting the background squares, and 1 or 2 small round paintbrushes for painting in the details.
– Canvas – choose a square or rectangular canvas in any size you want. Here, author used a 12"x 12" canvas for this tutorial.
– Ruler – for measuring the grid
– Pencil – for drawing the grid
* Now start: 
First, prime your canvas by covering it with 1-2 coats of gesso. (Gesso is an important art supply to get your canvas ready for painting. … Gesso is very similar to white acrylic paint, only thinner. … Gesso prepares (or "primes") the surface for painting, making the surface slightly textured and ready to accept acrylic paint.)
Once the gesso has dried, use your ruler and a pencil to draw a grid on your canvas. There are many possibilities here – your grid squares can be as small or as large as you like.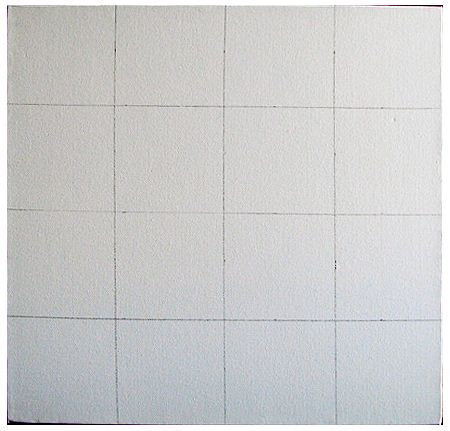 After you've drawn your grid, you're ready to paint! The first step is to paint each square a solid color. You can choose any colors you want. Here's how it looks when you're starting out:
These squares are just the background. So, don't worry too much about selecting the "right" colors and "perfectly". Because, you'll be painting different colors on top of these squares to make your flowers, so only a portion of these background colors will actually show through by the time you're finished.
Here is how the painting will look with all the squares painted in: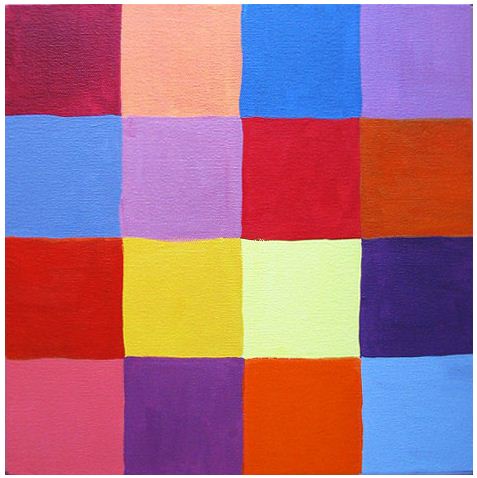 As you can see, now your canvas is all covered in paint. Okay, that's an important first step. From here on out, you'll be adding detail to each square and making each one unique. 
The next step is to paint a "border" inside each square, like so:
And here is how the canvas looks after the borders have been painted inside each square: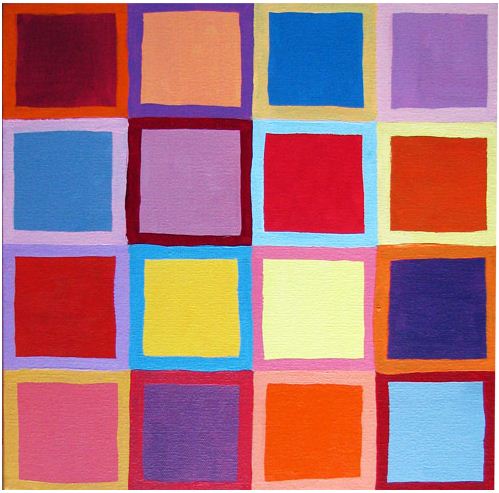 As mentioned earlier, remember not to fret too much about choosing the "right" colors though, just to choose colors that go well with the background color of the square, and also goes well with neighboring colors. Just go with your gut feeling, and remember that the painting will look different by the time you're finished because you'll be adding a lot more detail.
Next you'll be painting circles inside the squares, like so: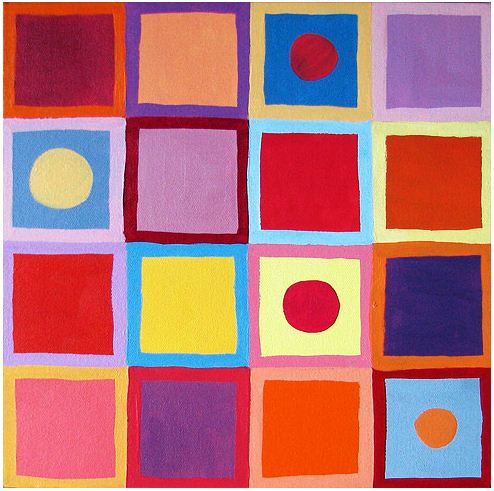 The circles can be any size and color you want. I find that painting a variety of sizes and colors creates a more interesting composition to work with. Here's how it looks when all the circles are painted in: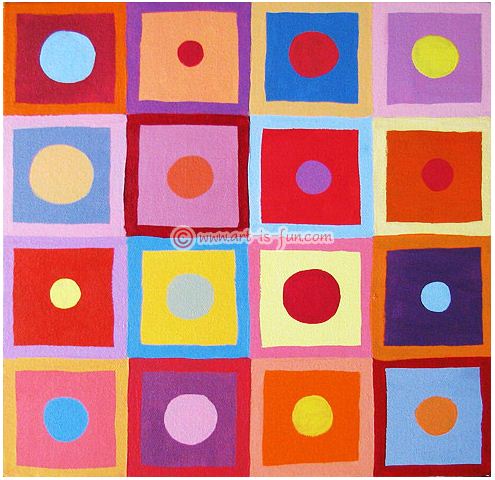 It looks really great, isn't it? The painting is really starting to POP. Do you think so?
Now, your mission is to paint petals and other details around or on top of the circles. As you see, Thaneeya McArdle painted: 
– Yellow petals around an orange circle,
– A small yellow circle inside of a red circle,
– Aeveral yellow dots in a ring around an orange circle, and a yellow circular line around a light blue circle.
– Compare the image below with the image above, if that helps make it easier to see the added details.
Next, she added some orange details: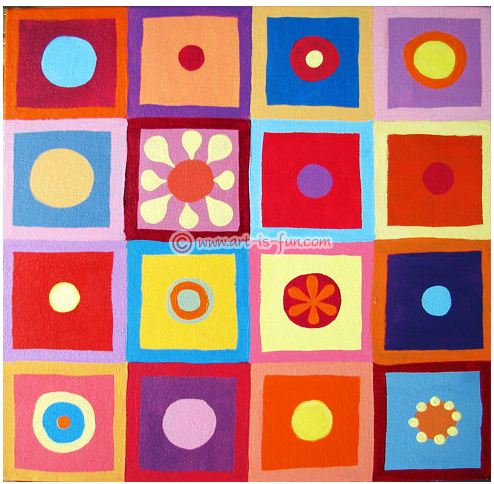 Next,  added pink and red details: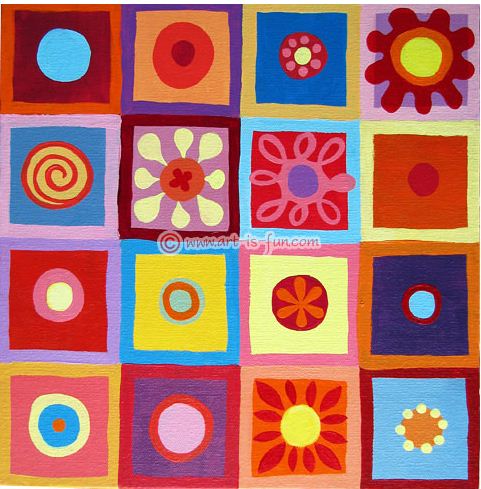 Next, added some petals and other details in pale orange and magenta: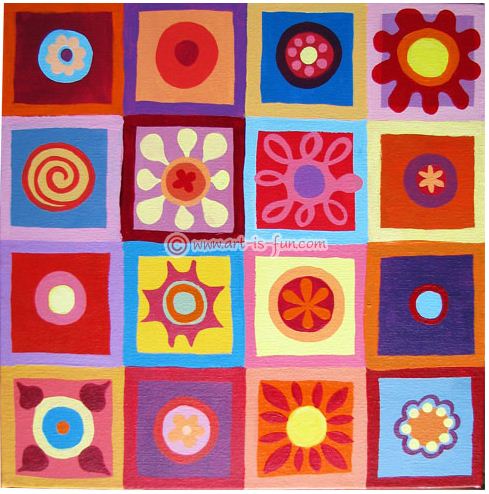 Next, added some blue petals and details: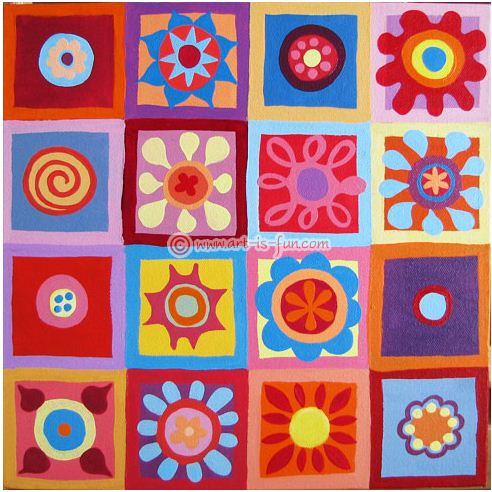 It's starting to look more and more finished, isn't it!
Pink and yellow details were then added: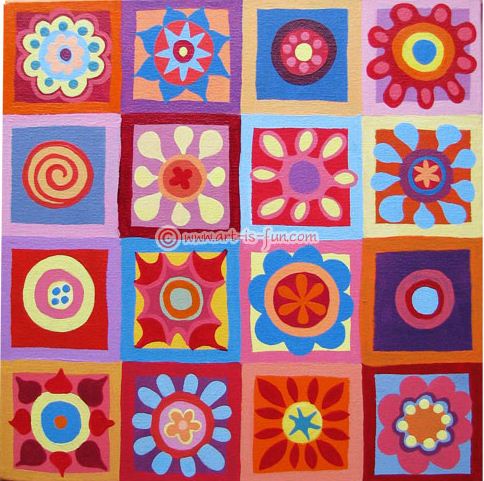 Next, a few orange and yellow-orange details were added, and now the painting is nearly done: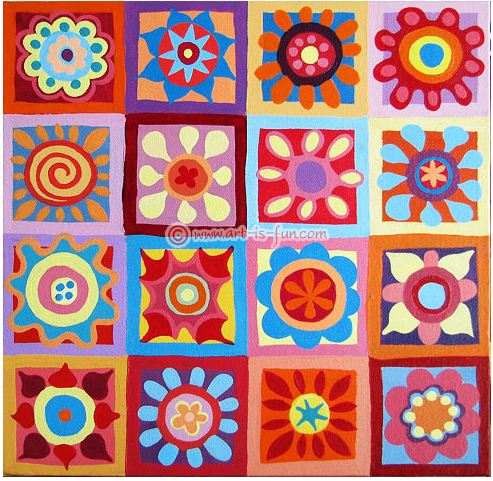 Now, it only needed one more thing… metallic paint! Thaneeya likes shiny, sparkly things, so she couldn't resist adding some metallic blue, copper and gold to each flower. It's a fun finishing touch that adds extra oomph to the painting.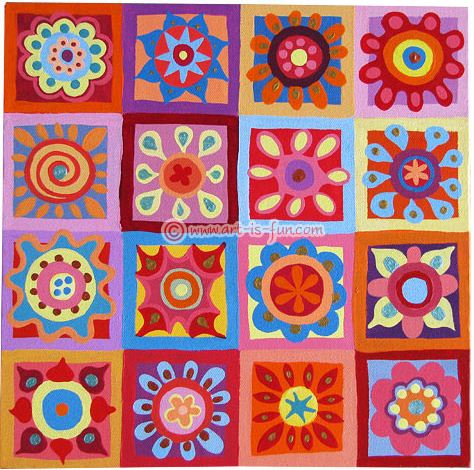 For many people, the finished abstract flower painting. But, some people like tons of detail while others prefer less detail, so try to find a balance in your painting that pleases you.
If you're not sure whether a painting is done or not, set it aside for a few days or a week, and then look at it again with fresh eyes. Sometimes all it takes is a short break for you to see the artwork anew!
Have fun time with your artwork!
[toc]
Today Articles