Coloring Supplies for Adults
1. Paper Properties
Paper properties is very important for the designer. Paper has a number of attributes as follows: color, weight, grade or type, brightness, reflectance, opacity, smoothness, and grain. Thick heavy sheets can handle ink and sometimes watercolor paint, while thin paper is more delicate and suited for tools like colored pencils. The texture of the paper also affects how a tool performs. Generally, smooth paper is better for most coloring tools, but there are some (like thick markers and watercolors) that work beautifully on textured paper. And white paper is the most common and least expensive paper. But not all papers are equal in white.
2. Color Range
With markers, gel pens, and brush pens offer a wide array of colors and finishes, including metallic and glitter. With colored pencils provide a similar spectrum of colors but with less variety in finishes. Of course, tools can be mixed and matched to get the color and finish desired.
3. Stabilo Point 88 Fineliner Marker Pens
With this pens, the tips are rounded, providing a nice shape for natural, even shading. There are 30 vivid shades to choose from including neon colors that are sure to satisfy every color craving. They won't bleed through the paper unless an area is colored over multiple times.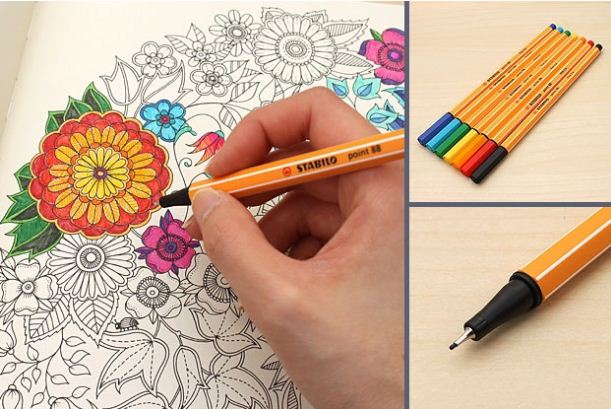 4. Shachihata Artline Blox Pens
These pens are the epitome of fun. The pen bodies double as building blocks that can be snapped together in various ways. This not only makes them easy to store, it also makes them entertaining to use. Although the color range is not as extensive as the Stabilo Fineliners, they perform similarly.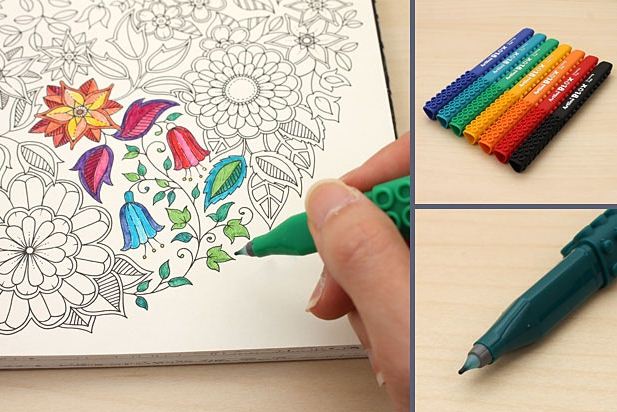 5. Fantastic Coloring Books
As you know,  the Fantastic Coloring Books feature many intricate designs and illustrations of buildings, cityscapes, architecture and more. Fine-tipped markers are perfect for getting into the little nooks and crannies of windows, corners, and other details. There are illustrations on both sides–luckily, the pages are nice and thick, so there is no bleed-through from the markers. Do you like coloring books? We love using our fineliner markers in this series of coloring books.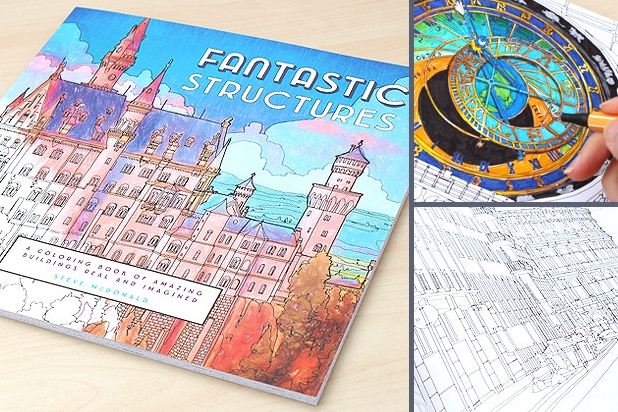 6. Pilot FriXion Colors Erasable Markers
With those of us who can't seem to color within the lines, the Pilot FriXion markers are a godsend.  Featuring patented FriXion ink, the markers erase cleanly so you don't have to worry about making mistakes. Be careful about where the coloring books are stored though—the ink may disappear in hot conditions.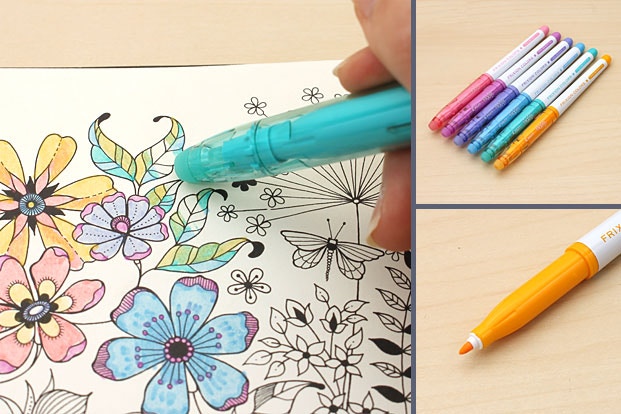 7. Prismacolor Premier Color Pencils
Color pencils are pencils has soft cores dispense rich color consistently with the slightest bit of pressure. You must adjust the intensity of the color by pressing down harder or softer. These artist-preferred silky-smooth colored pencils are a pleasure to use.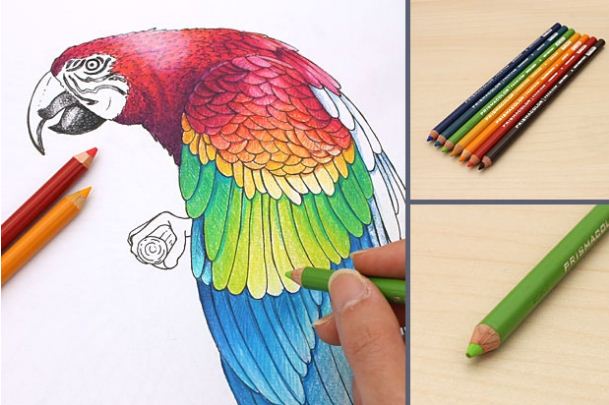 8. Tombow Irojiten Color Pencils
I love the fluorescent pencils in particular. It slightly harder than the Prismacolor pencils, what sets this line apart is the unique color offerings. But, they also have subdued and grayscale tones to choose from. The Irojiten pencils are works of art in themselves with their pleasant white body and color-coded ends.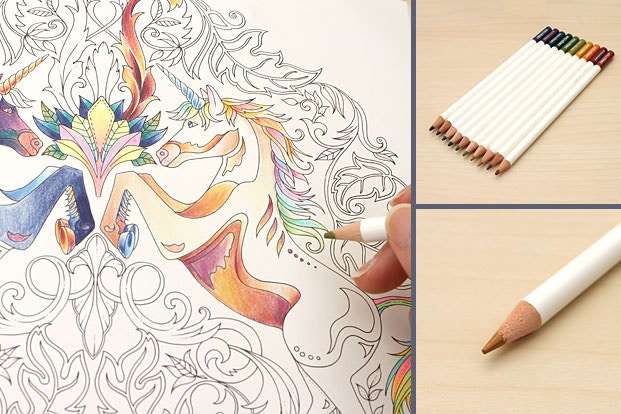 9. Birdtopia
Hi all! If you like coloring then this gorgeous coloring book is an avian paradise brimming with a diverse collection of tropical and woodland birds as well as other animal friends for you. The pages are colored a subtle cream hue, while the illustrations are in white, indicating where you should color. Some of the pages are already inked with lovely, vibrant shading. This shading effect is best replicated with colored pencils, which is our preferred tool of choice for Birdtopia.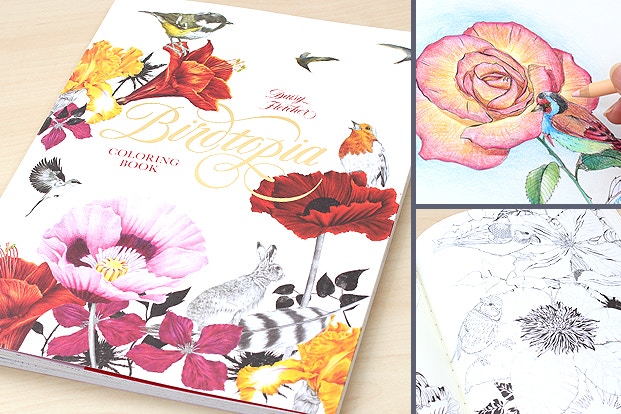 10. Derwent Inktense Pencils
These specialty pencils deliver intense, almost inky color when hit with water. You can also use them as paints by grabbing color directly from the tips with a water brush. Pair these pencils with thick paper, especially when using them as watercolors.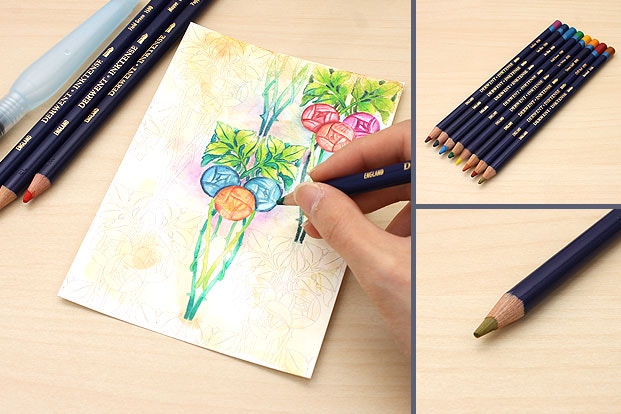 11. Tombow Mono Zero Precision Erasers 
Erasers help cleaning up messy lines, lightning a color, or creating hightlights. I like the Tombow Mono Zero Eraser as it comes in a convenient pencil form, perfect for getting into the nooks and crannies of coloring book's printed patterns.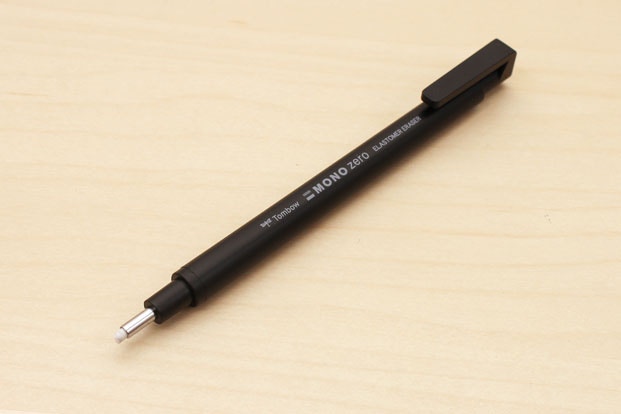 12. Uni Color Pencil Sharpener
The Uni Color Pencil Sharpener sharpens the softer leads cleanly and efficiently. Its cute, convenient shape makes it easy to store and carry around.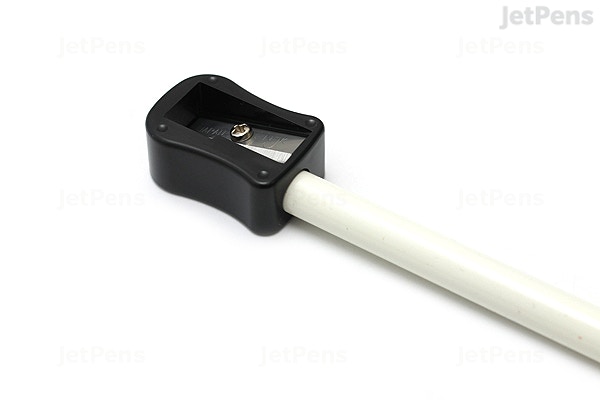 13. Uni-ball Signo Gel Pens
With the Signo pens for their smooth ink and nice range of pigmented colors. They color without skipping or streaking. The metallic colors under the UM-100 line are particularly good and have an intense sheen if you're looking to add a bit of shine to the coloring page.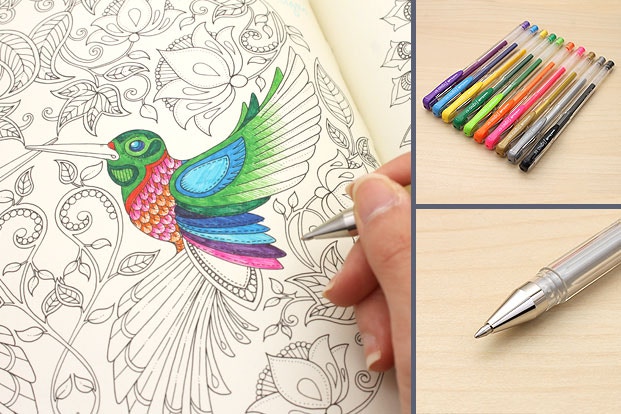 14. Sakura Gelly Roll Gel Pens
These is viscous inks are slow to dry so be sure t allow the ink to dry completely before closing the book.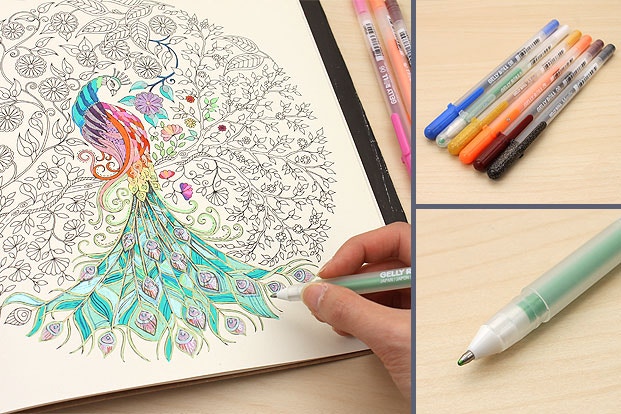 15. Zebra Sarasa Push Clip Gel Pens
Coloring with the Sarasa gel pens is a smooth, pleasant experience. A lovely Milk line is available that gives a coloring page a sweet pastel look.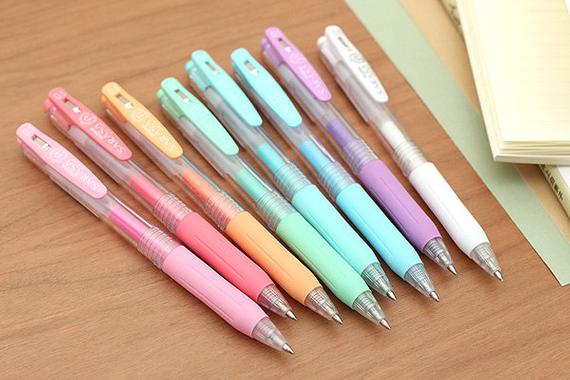 16. The Coloring Book of Mindfulness
With an emphasis on de-stressing from the hustle and bustle of daily life, the Mindfulness coloring book is a gateway to hours of peaceful coloring. It features dozens of elaborate illustrations of flowers, trees, and animals, along with inspiring and contemplative quotes on mindfulness. Gel pens are perfect for filling in all the intricate details in this coloring book.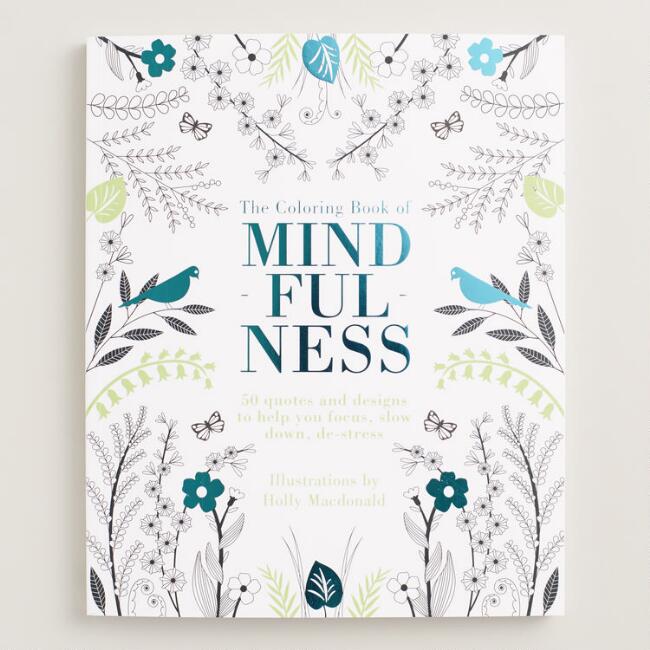 17. Tombow Dual Brush Pens
These are brush pens feature an incredible amount of colors: 51 plus a color blender, to be exact. The brush tip can be used to color in large areas and the fine bullet tip is great for adding details or getting into small spaces. The colorless blender helps colors meld into each other for a seamless, blended finish.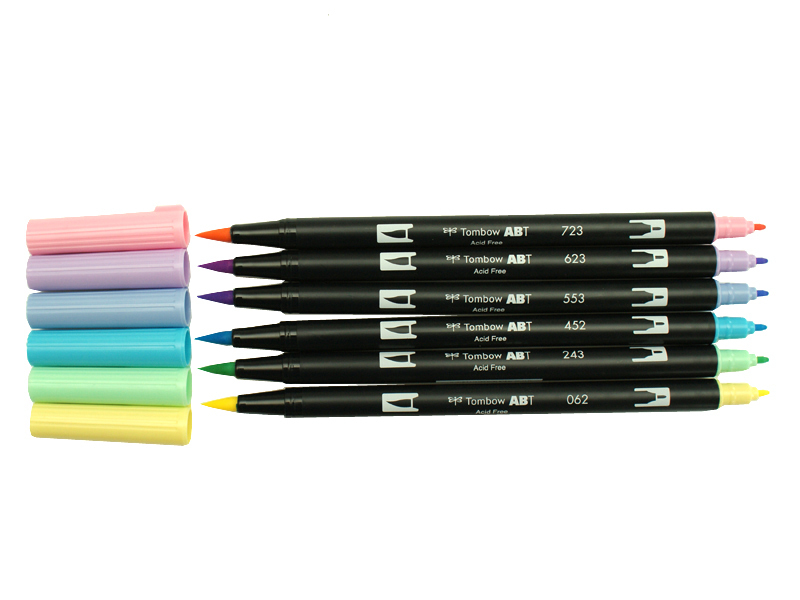 18. Akashiya Sai Watercolor Brush Pens
Akashiya Sai Watercolor Brush Pens have a synthetic bristle tip that is reminiscent of a paint brush. You can use them alone or with a water brush create different effects. They work well on most papers alone, but if used as watercolors, be sure to pair with a heavy paper.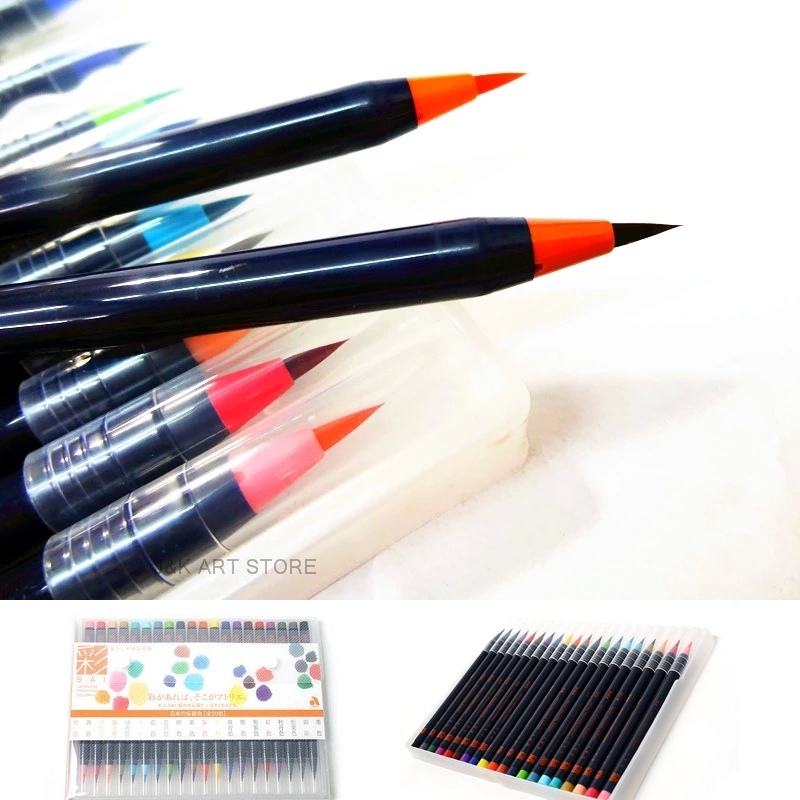 19. Kuretake Zig Wink of Stella Glitter Brush Pens
You can use these glittery brush pens to create subtle highlights or a full glitzy overlay on the coloring page.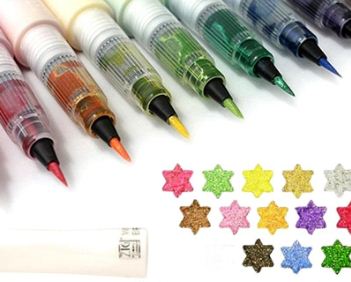 20. Floribunda: A Flower Coloring Book
Floribunda is a work of art. The visually stunning illustrations are printed on one side of thick, high-quality cardstock, suitable for a wide range of media. It takes inky brush pens beautifully–the paper doesn't pill or buckle. The pages are easily removed for display or other crafting projects, perfect for showing off your coloring skills to friends and family.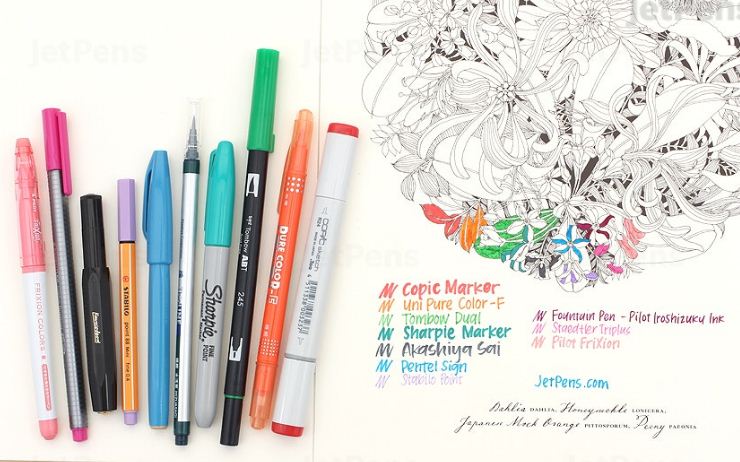 21. Kuretake Gansai Tambi Watercolors
These paints are smooth and blendable. Just the lightest touch of a water brush is enough to get rich, pigmented color. Metallic shades are also available in individual pans or as part of the 36-color palette.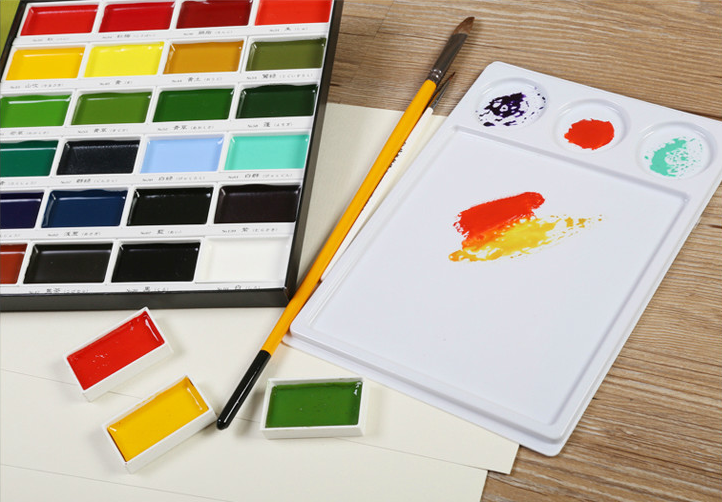 22. FineTec Artist Mica Watercolors
These FineTec watercolors give off an intense sheen that's perfect for shimmery accents. Add depth and dimension to a coloring page with just a few strokes of metallic color.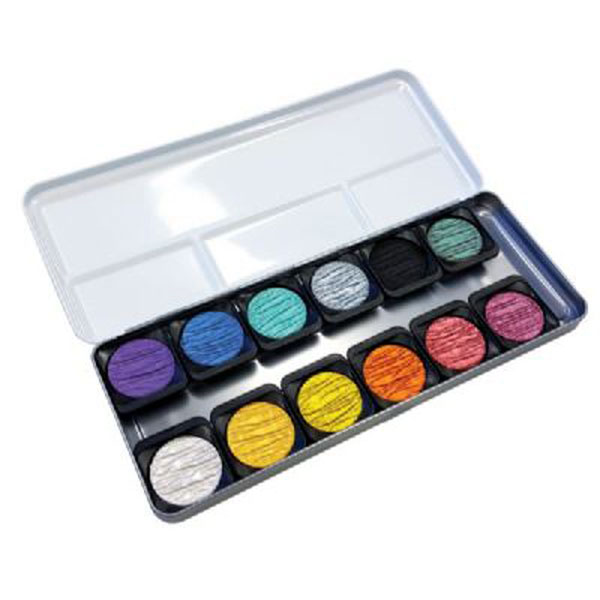 23. Pepin Artist's Coloring Books
These Pepin Artist's Coloring Books feature exquisite images printed in a subtle light gray, which virtually disappear after you color them in. A variety of styles and prints are available, from still life to Japanese designs. Postcard versions are also available.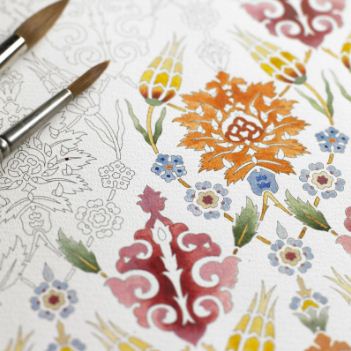 24. Sonic Nano Pita Non-Slip Reversible Protractor
With this Sonic Nano Pita Non-Slip Reversible Protractor, it's help create curves, keep uniform angles, and much more. It's non-slip, preventing lines from becoming uneven and crooked.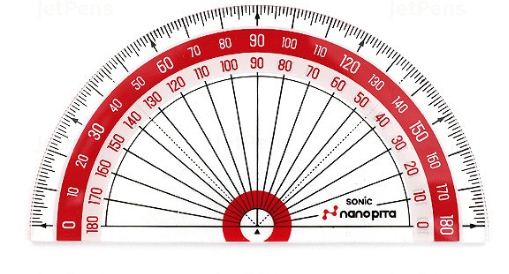 25. Kyoei Orions Grid Rulers
This ruler is transparent and gridded, which not only allows you to see the lines that have already been made, it also helps line them up perfectly.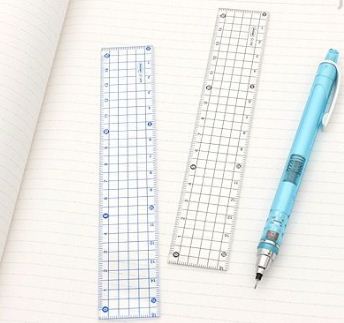 26. Uni Pin Pens
The Uni Pin pen features an incredibly thin tip that's best used slowly to allow the ink to flow smoothly. Four tip sizes are available, giving you ample choice for line variation.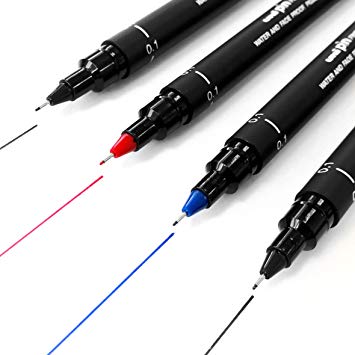 27. Sakura Pigma Micron Drawing Pens
Featuring extremely dark archival ink, Sakura Pigma Micron Drawing Pens is available in various tip sizes to create the perfect coloring page. After the ink dries, you can use any of the tools mentioned above without fear of smearing or lifting.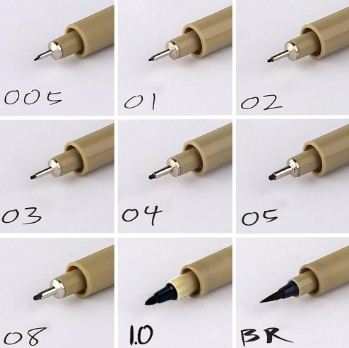 28. Staedtler Pigment Liners Marker Pens
The Staedtler Pigment Liner is another fantastic liner. Like the Sakura Pigma Microns, it is archival and won't smudge under other coloring tools.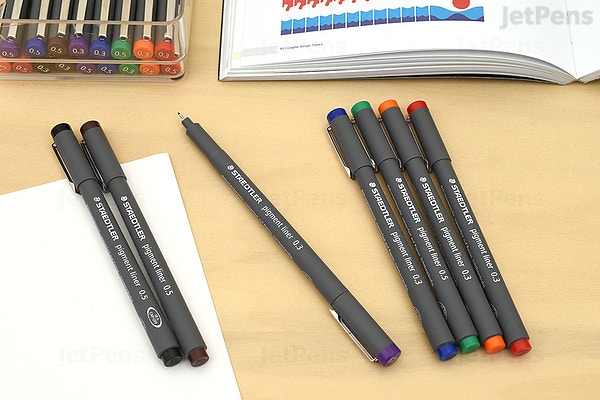 [toc]
Today Articles