Hello Kitty At Tama-Center Christmas Illuminations
In the US or Western countries, before the night Christmas, a western family will decorate their house, buy a christmas tree and neon lights all around the house, christmas cards flying from place to place, etc.
At the night, they will eat turkeys, hams, and pudding, drink wines also. And, for some family, religious event or meeting as well. But in Tama City on the outskirts of Tokyo, if we say Christmas we only mean one thing: lights. The Tama-Center Christmas illuminations started in 2001, and has become a staple during the holiday season for the greater Tokyo region. Tama-Center has been lit up with Christmas lights since November 10, with the brilliant display available for visitors to enjoy until January 6, 2019.
Christmas 2018 at Tama-Center, the lights do not disappoint. There are 450000 lights to entertain onlookers,  sprawling 400 meters from north to south, and 200 meters from east to west.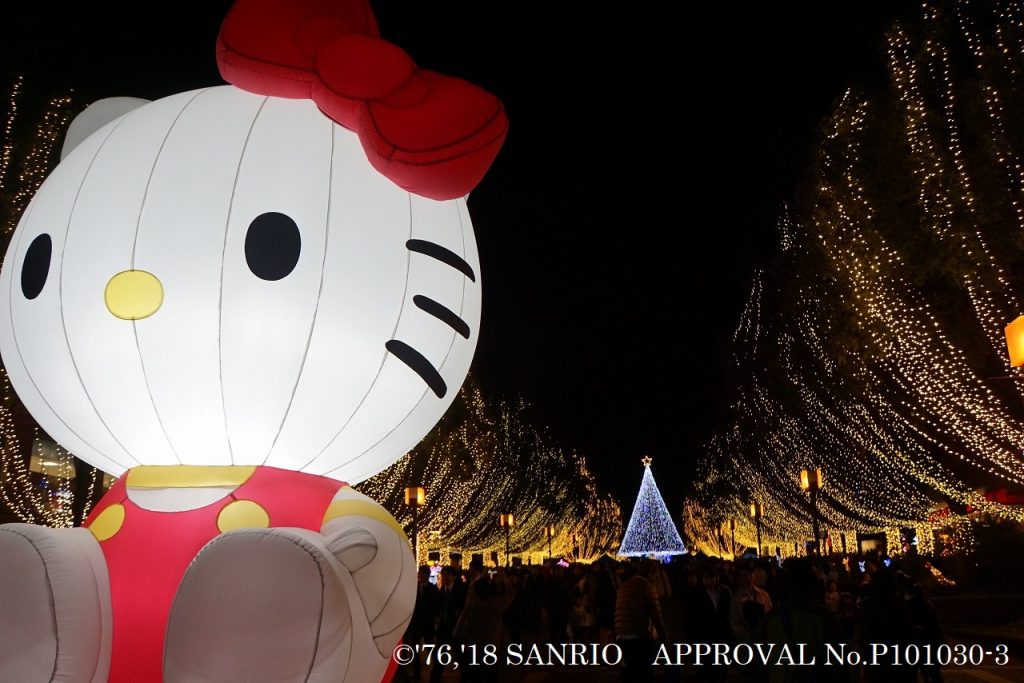 If in 2017, visitors exceeded 2.2 million over 59 days then this year, Hello Kitty and Sanrio characters performed a Christmas show on opening day, with a countdown to the switching on of lights heightening the anticipation of spectators. Hope to attract thousands of visitors to visit.
In 2018, a special feature has been installed. As soon as you step out of the train station, you will encounter a 3.5-meter-high illuminated Hello Kitty balloon welcoming visitors. Visitors are not the only ones excited about the event. Because Sanrio characters are as well!
If you come to Tama-Center, overlooking the sea of fairy lights is a sumptuous Christmas tree, which this year was donated by Fujimi City in Nagano Prefecture.
Beside unique lighting festival in many different locations. There will be concerts held throughout December, and Christmas carols to help visitors feel the spirit of the season.
And if you are the adorable Hello Kitty character fan, you will also be able to meet Hello Kitty in the flesh during the days scheduled for Sanrio parades.
There is also "The Aquarium of Light," a 50-meter-long tunnel of lighting designed to look as though you are walking through an aquarium surrounded by glistening fish. It is truly an experience which transports your imagination to the bottom of the sea.
The 58 camphor trees lining the pedestrian promenade of Parthenon Boulevard are also decorated with a stunning illumination for all onlookers to enjoy.
What are you waiting for? Will you be one of the visitors of Tama-Center illuminations this year?
For more information on the concerts and special events, you can contact 042-339-1111 (between 9.00 and 17.00) or the Tama City Tourist Information at 042-338-6867. You can also check the boxes below. Thank you!
[toc]
Today Articles