Paw Patrol Coloring Pages Is A Great Gift For Kids
Have you ever seen Paw Patrol? Paw Patrol is a famous film in American; it is an animated film for children that was created by British television writer and producer Keith Chapman. The content of this film focuses on a boy named Ryder who leads a pack of rescue dogs known as The Paw Patrol. Each dog will have a special skill and equipment to be able to complete the rescue mission. Together they were taking on missions to protect Adventure Bay.
Why are kids so crazy over Paw Patrol?
Kids seem to be drawn to Ryder and his crew of pups. You might notice that the film are attention songs for kids. The theme of the song is very great and catchy. Next, the dogs are cute that do some noble tasks. They are very friendly, colorful and entertaining. These superheroes dogs are a world of imagination for kids. They're so flashy with their catchphrases. They instruct kids to the virtues of teamwork, willingness to help and problem-solving. Kids can not only learn to work together but they learn that everyone on the team has a job to do and that you can't do everything yourself because nothing gets accomplished. And kids also can learn about leadership, be able to count on someone and responsibility. So it's easy to understand why in the children's game cabinets are full of toys with Paw Patrol. Some kids even asked their parents to buy the costumes that have paw patrol logo. While some other children love coloring Paw Patrol coloring pages. They can be spent for hours to fill in the paper the colors that they love. So, parents or teachers can use the Paw Patrol coloring pages to encourage kids that explore their creative side. Here are some Paw Patrol coloring pages that parents can print and give their children coloring on rainy days, or on holidays that are very interesting.
Discover the exciting personality of 6 Dog Patrol rescue dogs through Paw Patrol Coloring Pages
Zuma Coloring Page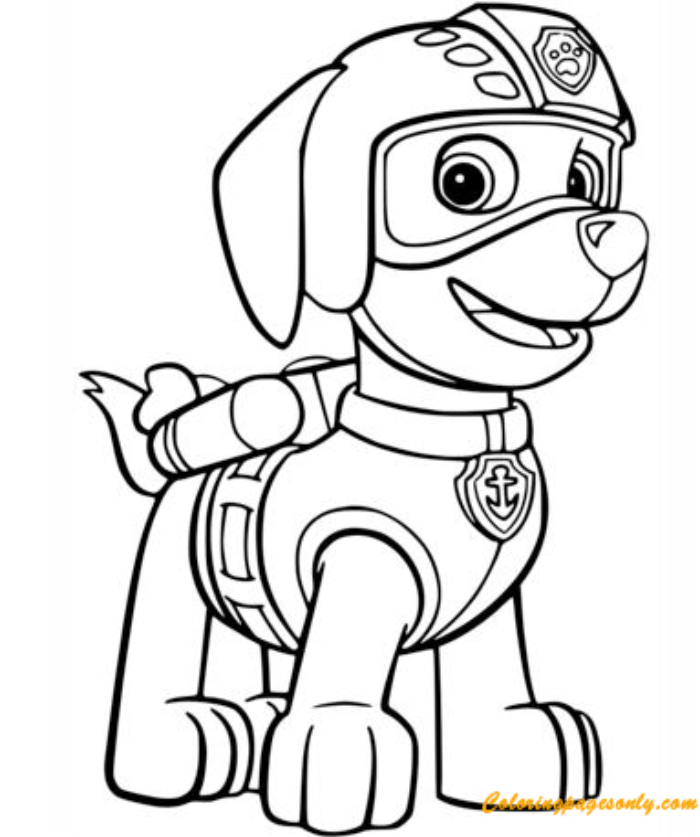 Zuma: A very fun and very interesting dog. It is always joyful, loving, open, active, and very loyal. It seems that Zuma is a very playful dog, but once he works, he will accomplish it excellently. Zuma often laughs, and always finds joy at work. Kids absolutely love this simple yet fun coloring page. Download and enjoy!
Rubble Coloring Page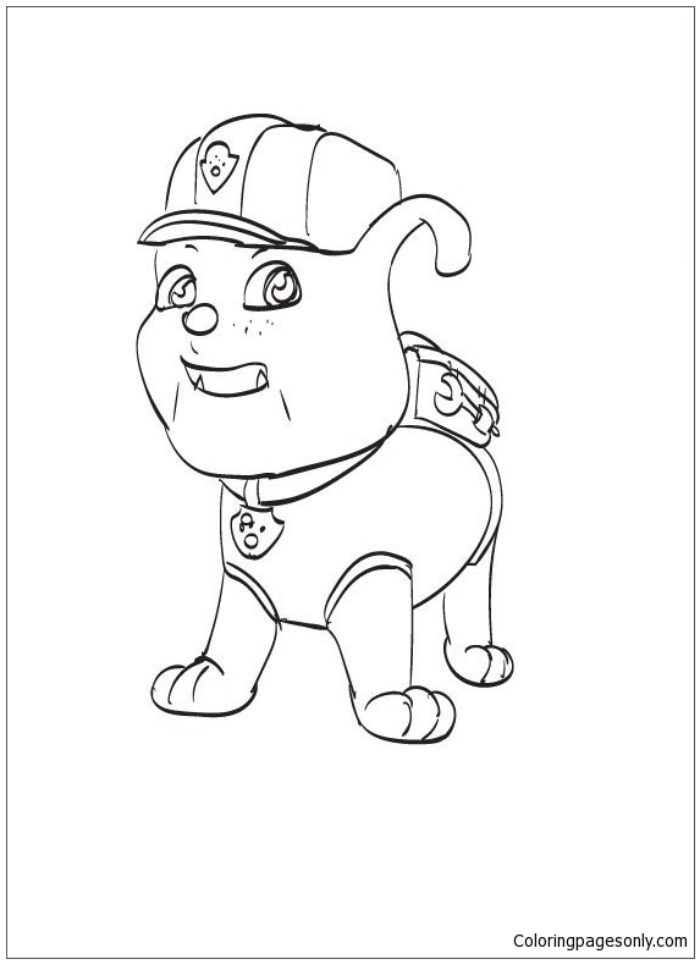 Rubble: This is a dog that built on a Bun-like image. It often works very hard, but hot-tempered. However, it has a kind heart and a sense of humor that makes kids really like this character. Above is a great coloring page of Rubble. Print out it and color any colors that you want.
Skype Coloring Page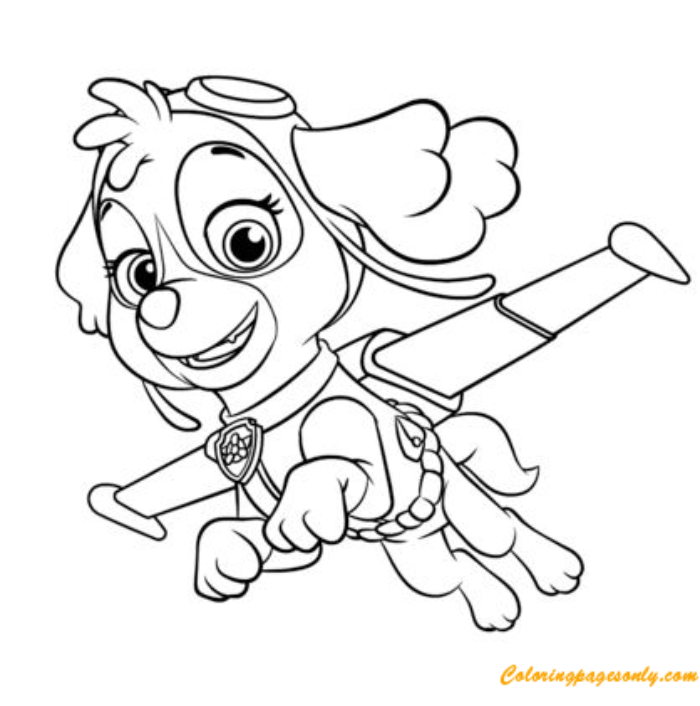 Skype: This is the only female character in the group. She always wants to experience everything. Look at the image above you will see, she has an incredible adventure but it's very exciting. She is flying in the sky making sure everyone below is safe.
Chase Coloring Page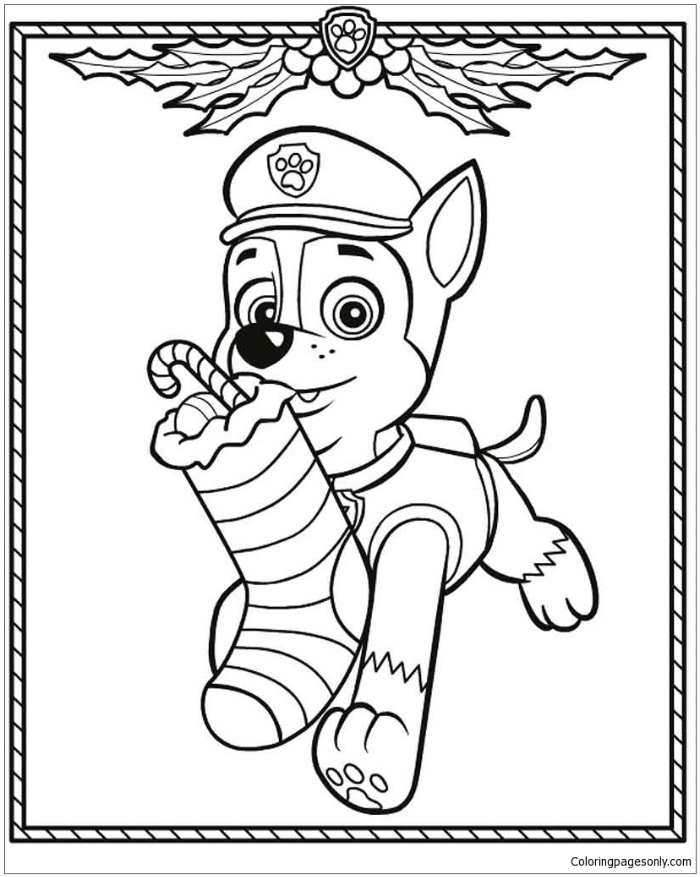 Chase: Chase is one of the cutest and most popular dogs in the Paw Patrol show. It is the police dog and likes to keep the city safe by chasing the bad guys out! It looks healthy, intelligent, and organized. It can control vehicles in the right direction, stop dangerous roads and catch the animals in the barn. If you love Chase character, then check it! This coloring page is one of the most printed pages!
Rocky Coloring Page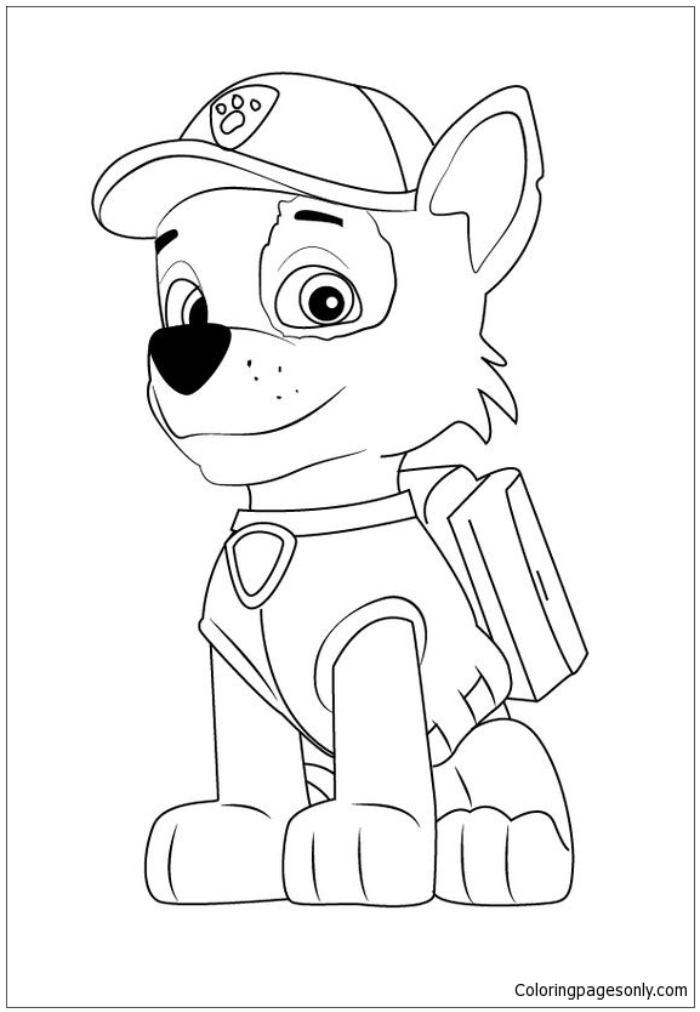 Rocky: It is a very creative dog.  Rocky always thinks about how to use things the way other people can't imagine. Rocky has thinking beyond the limit. This eco-pup can think of his paws and reuse and repurpose old objects to make broken things like brand new.
Marshall Coloring Page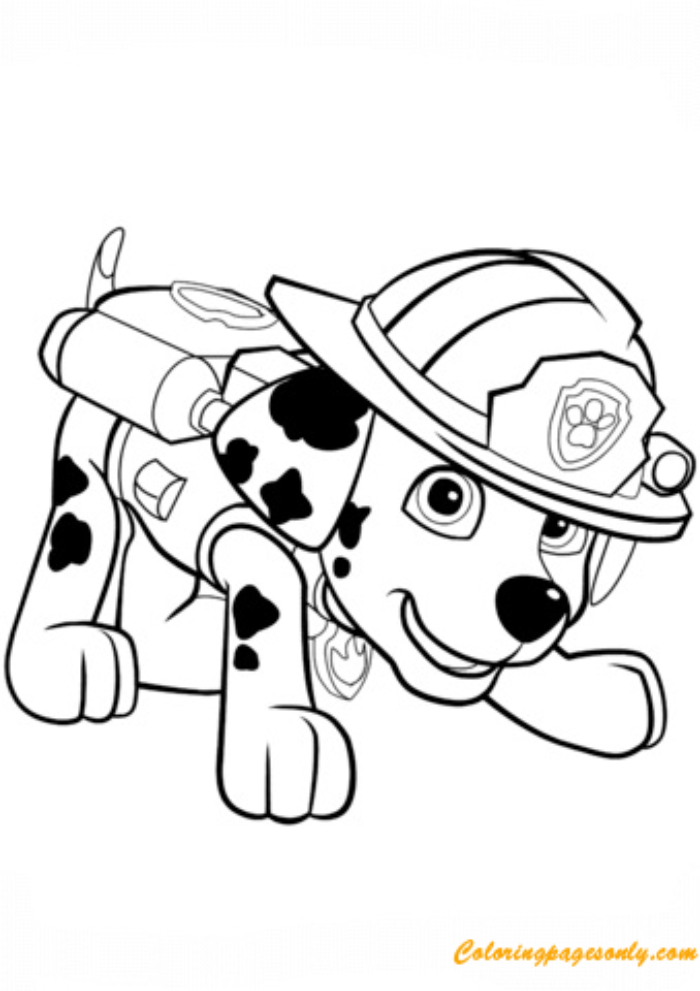 Marshall: This is Marshall Coloring Page but this one features the Paw Patrol characters fire truck! Who doesn't like Marshall in Paw Patrol? Marshall is one of the coolest characters in the show. Kids love Marshall. He keeps the city safe from fires and is not afraid to enter a flaming dog house. He quick and Marshall likes to be rewarded and paid attention. Coloring whatever color you want it to be!
Some other characters in Paw Patrol
Everest Coloring Page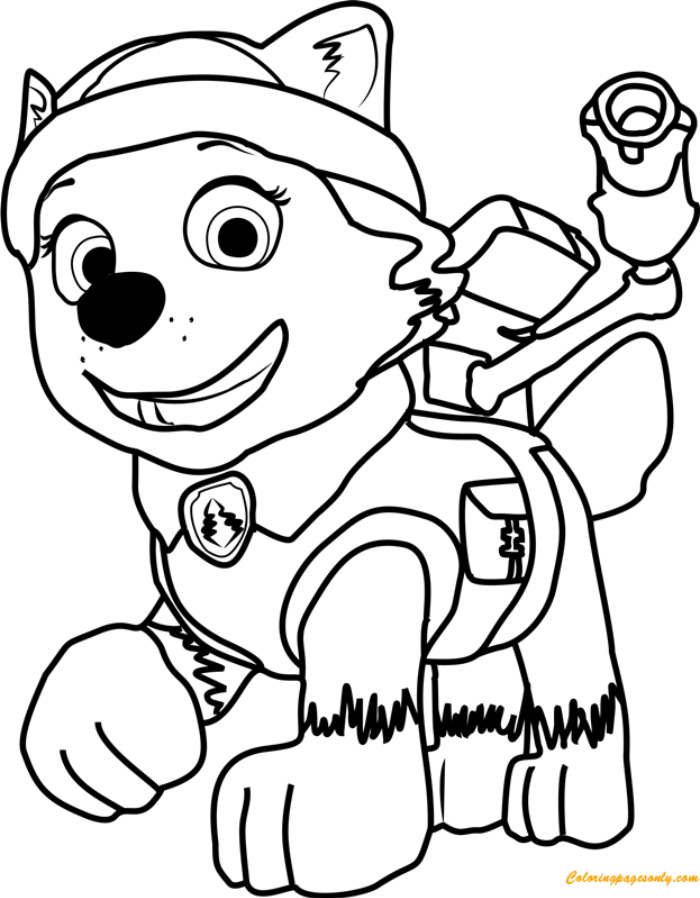 This female character that has in season 2. She is the crew's snowy mountain pup who is great at clearing snow and uses her awesome grappling hook to get from mountain to mountain. In this picture, this Husky pup knows how to keep a cool head when the cold sets in keeping the roads free of ice and snow. Download or print this coloring page for free below.
Ryder coloring page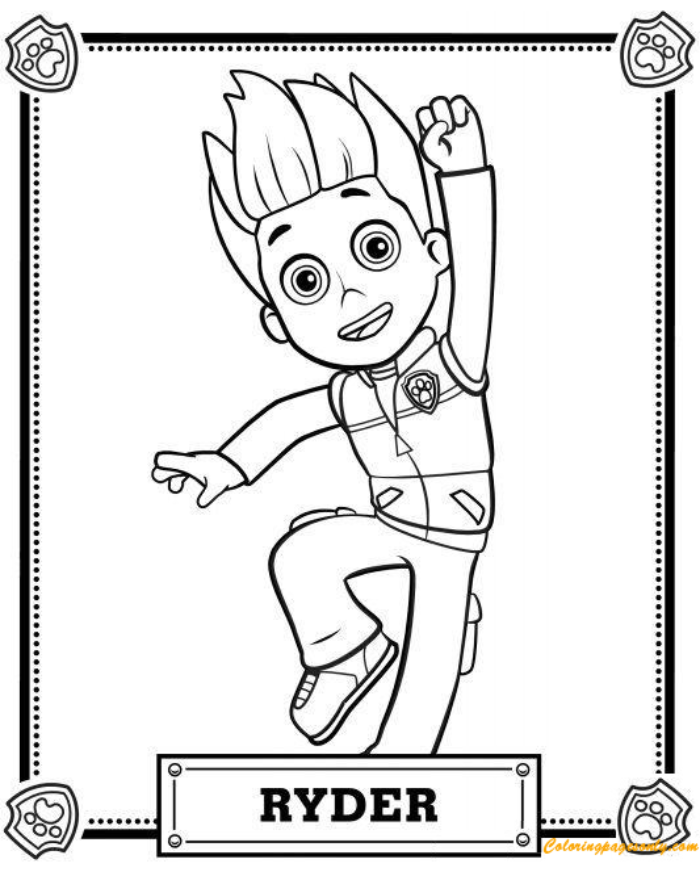 Ryder is a manager of 6 patrol dogs. He adopted each of the puppies and trained them to be a part of PAW Patrol. He is a commander and he can choose a dog that suitable for the job. Ryder, who is one of the coolest characters we know. Download this free Paw Patrol coloring pages and give your kids hours of fun and free activities.
Paw Patrol Crew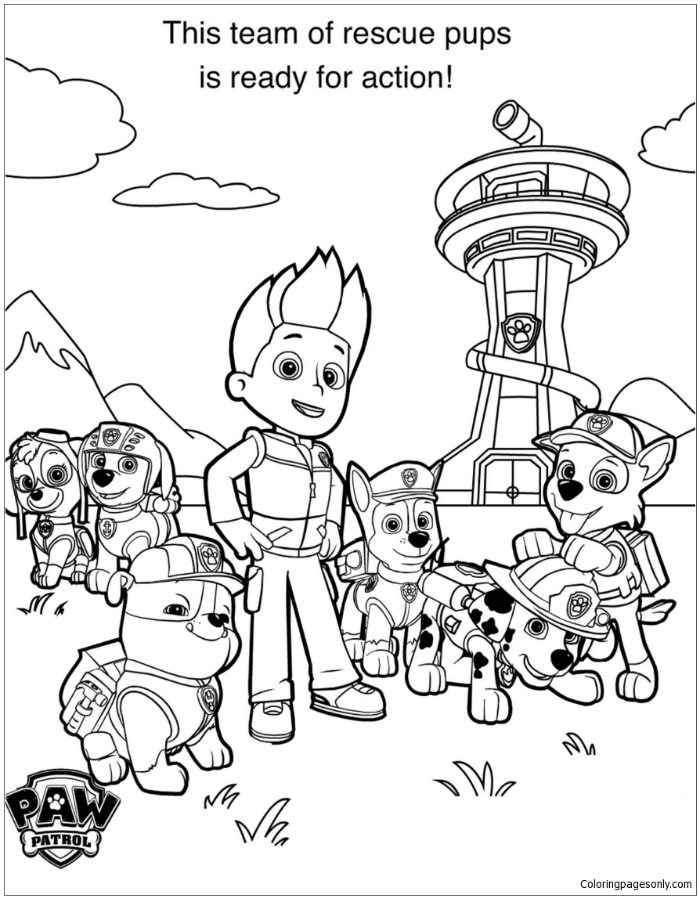 Here is a great coloring page of Paw Patrol that 11 members of the PAW Patrol. Each brings their unique skills and abilities to each emergency and work together to make sure they succeed. Each has a different symbol and task. For example, Chase has stars because his main job is as a police pup. Skye has clouds on her bowl because she flies through the air for her job. The one thing the Paw Patrol values more than anything else is their friendship and ability to work together as a team.
Come along and join the Paw Patrol on their next mission as you and your child color these fun Paw Patrol coloring pages together.
Some other pictures of Paw Patrol with Christmas, Halloween…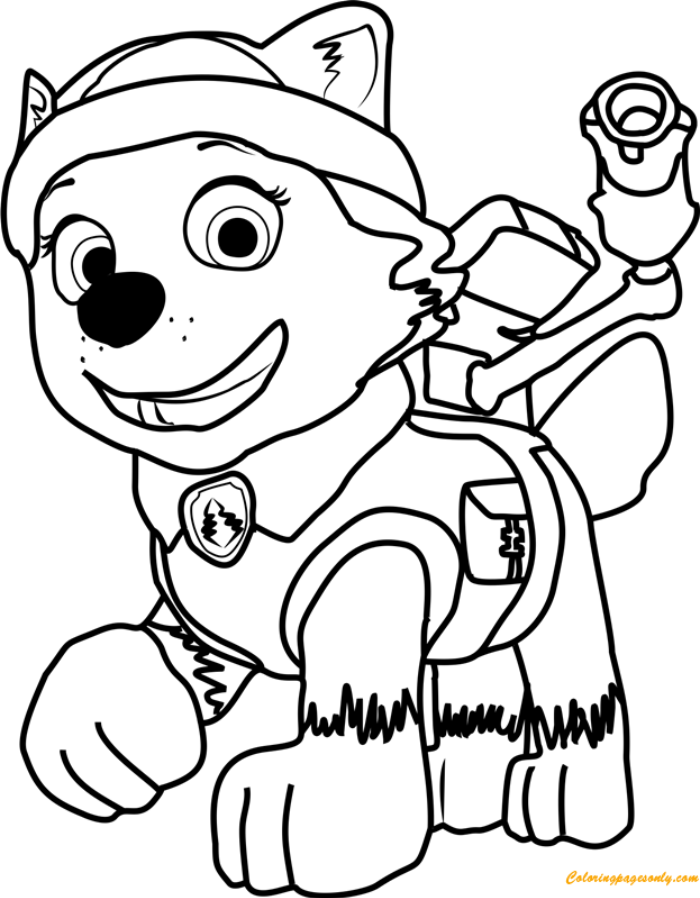 Through these pictures, you can let your little ones learn more about colors and paw patrol coloring pages. It is the perfect way to enhance their creative sides towards betterment. Besides, these coloring pages will not only keep the kids occupied, but it will also get them in the During holidays.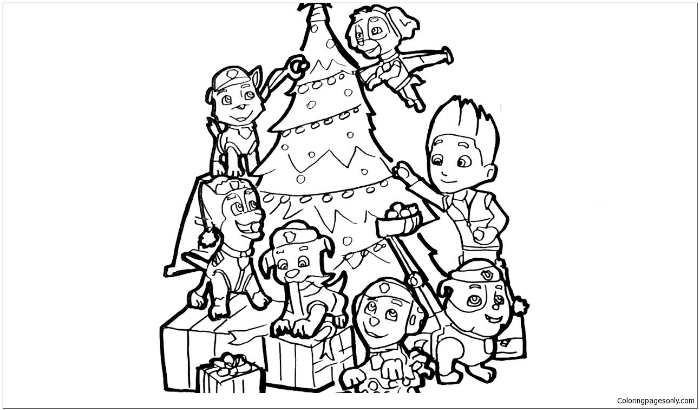 Above are beautiful pictures and interesting information of each character in Paw Patrol. More interesting is you can fun activities with Paw Patrol Coloring Page for kids.
Fun activities with Paw Patrol for Kids
If your kids are a fan of Paw Patrol, throwing the Paw Patrol party for them. Here are some fun activities that you can create from Paw Patrol with your kids and have fun
Pinning chase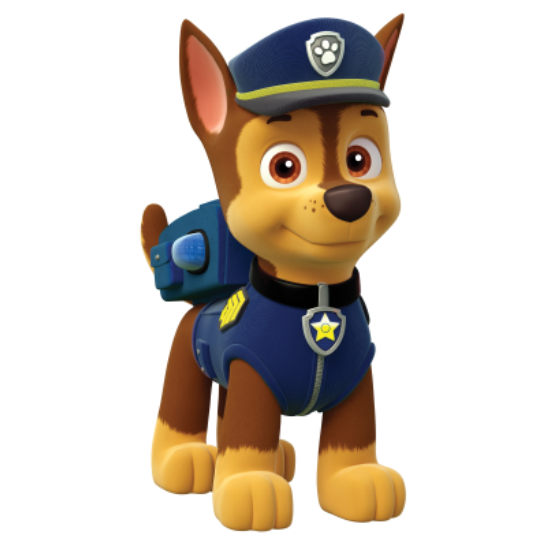 In the game, you need to print out a coloring page of Chase with the badge and some badges for kids. Then, the player's name will be written on each badge and stick on the back of each badge with a piece of double-sided tape. Guide kids line up, hand the first person their badge and have a blindfold and let them walk to the picture and pin the badge on Chase. The person gets the closest to the right spot on Chase, he or she is the winner. This is a fun activity that kids will definitely love. Do you have fun with your kids at home or teachers can apply this game in class for children?
Birthday theme party Paw Patrol Coloring Page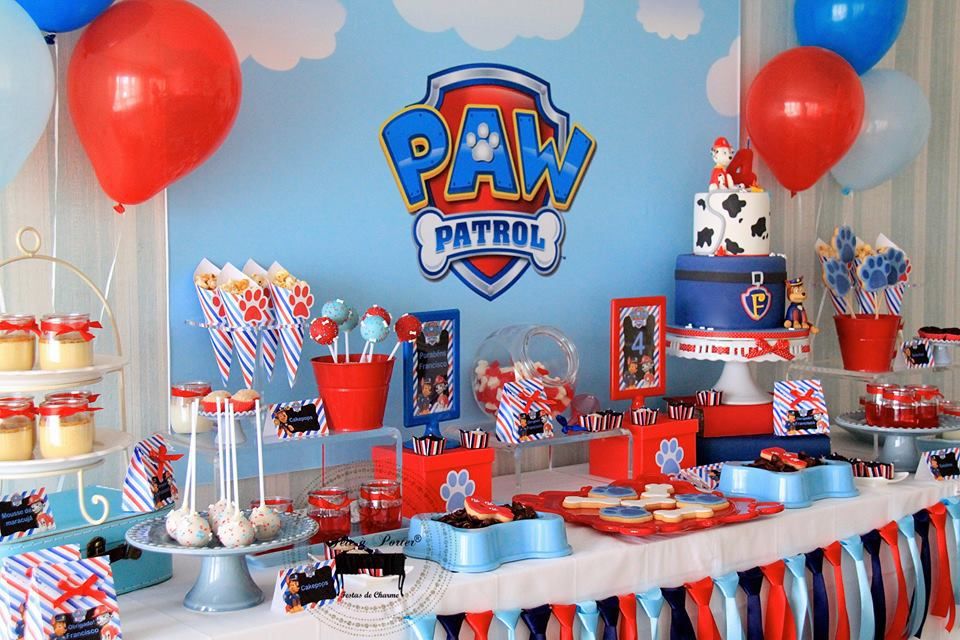 Children are fascinated by the Paw Patrol. It comes as no surprise that Paw Patrol is a favorite party theme amongst kids. There are many awesome ideas with Paw Patrol such as invitations, decorations, cakes, banners and many more. There are all things that you need for your Paw Patrol party. There is a very simple thing that you can with your children can prepare together for a birthday party. It's using Paw Patrol coloring pages to make birthday cards. By print out them, then lets kids to color. After the child completes the coloring, you can instruct the child to make a birthday invitation card. They will use creativity and imagination to make a nice card. Enter the name of the guest and send it to their friend that is the most fun thing the child will receive for their birthday.
Create a book from Paw Patrol Coloring Page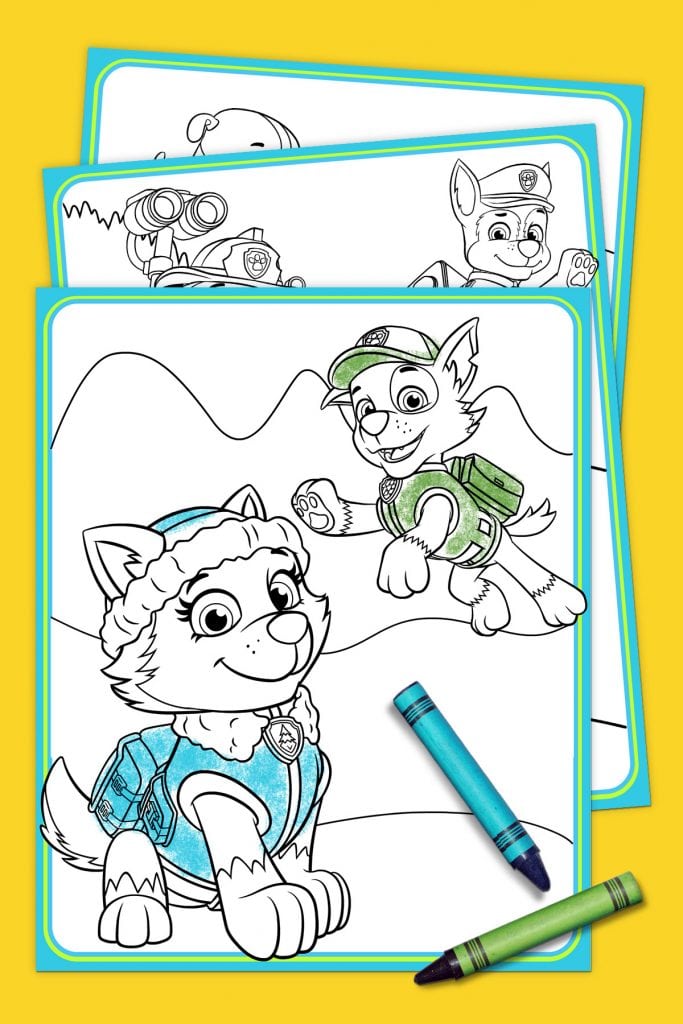 You can buy coloring books at the bookstore for kids. However, that is too wasteful because you must pay much money for color books. Why don't you think of color online? It's very simple! Just click, you have tons of nice pictures. You can choose any image you favorite. You can buy very simple and cheap materials like ribbons, scissors, paper …
The steps are very simple:
– Size and alignment options: Select the type of paper you want, then print from your printer. Choose your alignment horizontally or vertically. 
– Make a cover: You can make your coloring book more beautiful. By drawing or write something on the cover. You can do whatever you think is the most beautiful.
– Punch holes: After completing everything, now is the time you can punch holes for each coloring page.
– Bind the pages: Let's threading ribbons through each hole to create a book.
To make a coloring book from the free printable coloring pages. This can be considered a useful craft activity for children, surely your children will be very excited. You can use it for many purposes like a gift to your friends.
Free Paw Patrol Coloring Pages on Coloringpagesonly.com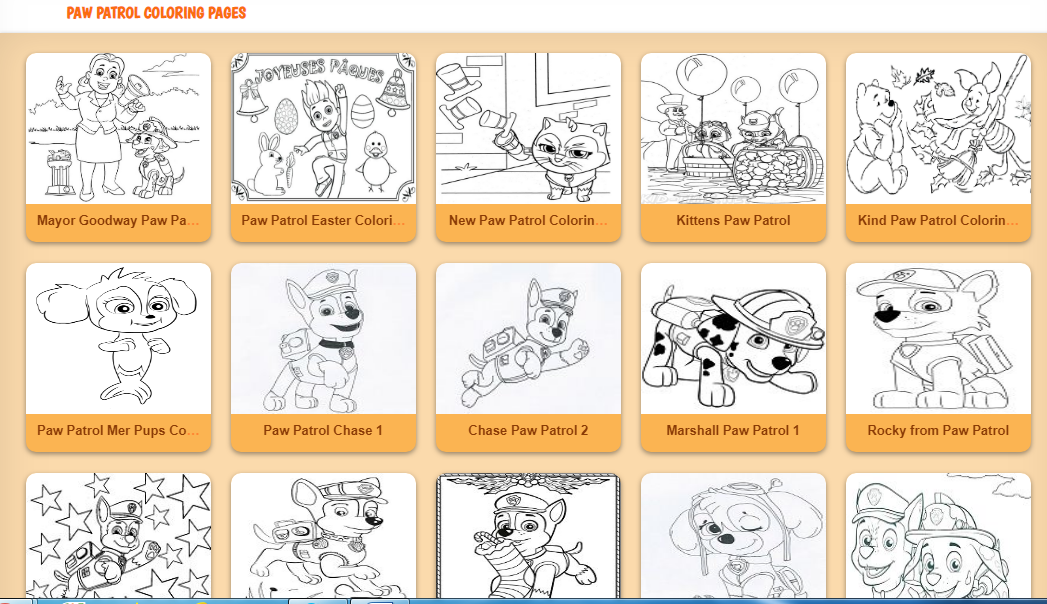 Coloringpagesonly has a collection of the best Paw Patrol of little puppies, decked up in fire patrol clothes and can be seen performing multiple tasks. You can print the page immediately by in Paw Patrol Coloring Pages catalog. Click on any of the pictures that your favorite and it will expand the puppy photo. Using multiple colors and creative thoughts, they are able to get hold of the magnificent result. You can choose any picture from the available lot and there are so many of them. Now, you have the option to either print, download the picture. Or you can color online that is also very interesting.
You can even share it through multiple social sites and let others comment on it. Give the paper to your little kid and let him explore the beauty of this picture and their creative mindsets.
To get your kids excited about the Paw Patrol at home, school or vacation, you can print out these fun Paw Patrol coloring pages and let them enjoy. Surely your kids will be very happy and use them every day.
You can download, print out or color online. You print out these black and white pictures and let your kids use colored pencils, crayons, markers and so on; they will use creativity and imagination to make nice pictures. Many websites offer lots of Paw Patrol images and other coloring pages that you can download, print or play them online. Now have fun with Paw Patrol Coloring Pages!
Thank you.
[toc]
Today Articles