The process of formation and development of Hello Kitty character
In 1962, founder of Sanrio, Shintaro Tsuji has hired cartoonists to design cute characters for his merchandise.  The company produced a line of character merchandise around gift-giving occasions. Hello Kitty was designed by Yuko Shimizu and was added to the lineup of early Sanrio characters in 1974. 
Hello Kitty  in 1974: Since appearing, Hello Kitty drew the love of thousands of Japanese people with it's cute design and character. At that time, Hello Kitty did not have a name. It was first seen as a kitty with a little red bow on its left ear, sitting down.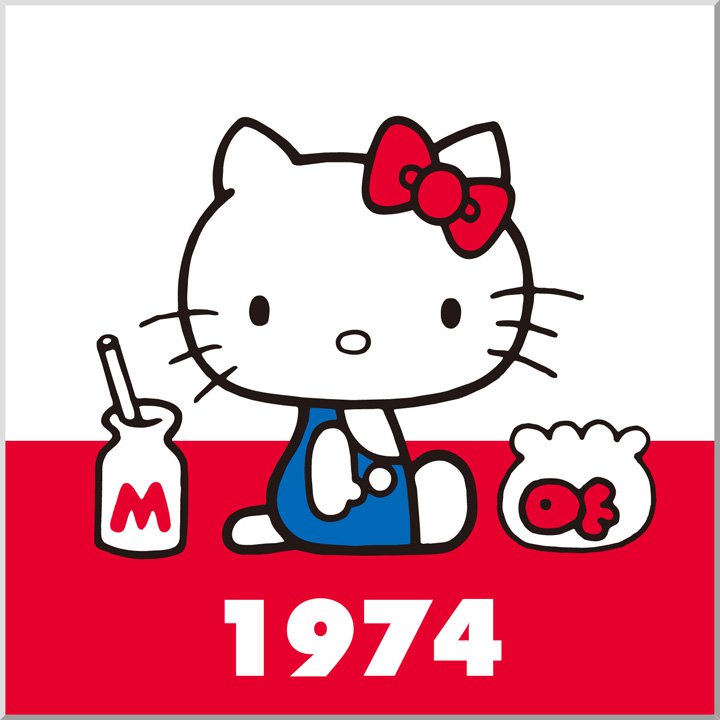 In 1975: Hello Kitty was finally give a name, She is called Hello Kitty to this day. The very first item which featured Hello Kitty was a vinyl coin purse in Japan. Which was a very tiny purse with the picture of Hello Kitty on its side. Hello Kitty's family was also introduced.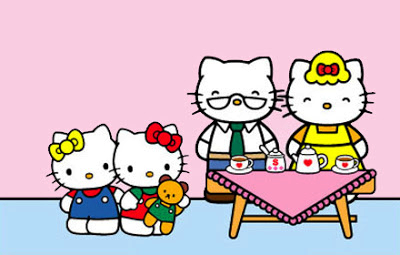 In 1976, Hello Kitty first appeared in the United States. The company Sanrio is owner of Hello Kitty and took the job of the main distributor. To enrich their products,  Instead of just a sitting pose, they made Hello Kitty a standing pose.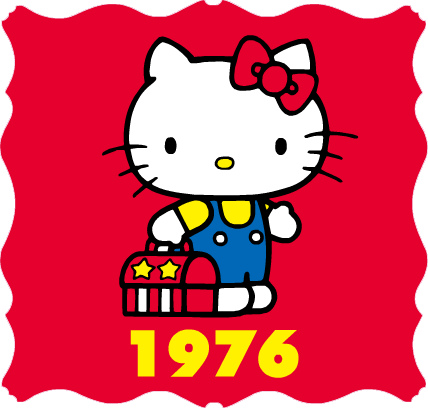 In 1977, Don't want to stop there, Sanrio decided to try a bit more. They made Hello Kitty to sit in a plane, piloting it. It was a very simple picture of Hello Kitty in a plane with its head sticking out. The school children loved it, even high school students and some adults were attracted to this cute new design.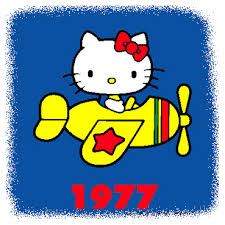 In 1978, since success with the new design of Hello Kitty, Sanrio continues refreshing for Hello Kitty. This time, Hello Kitty was designed to ride a dolphin, along with other different styles such as in a car, in different places…etc. Hello Kitty also had a large varity of different uniforms and outfits.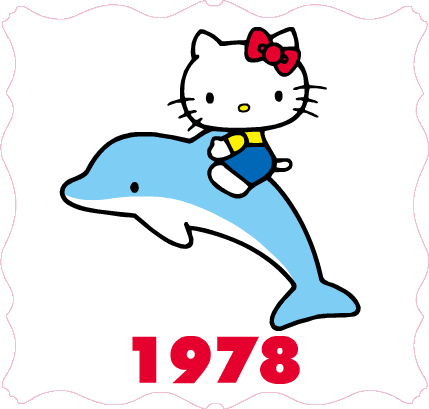 In 1979, if the year 1975 Hello Kitty's family consisted of his father, mother, and her sister was introduced to everyone then in 1979, Grandpa and grandma formally introduced to the Hello Kitty world.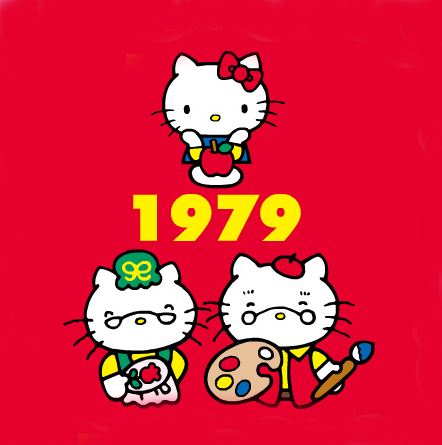 In 1980, You will be very surprised with the information below: Hello Kitty playing sport! She holding a tennis racket and a ball, she was in a tennis top and playing tennis. It's picture extremely cute and adorable. In this year, Hello Kitty digital watch was also released and went on sale that year, and more than a million watches were sold. It great!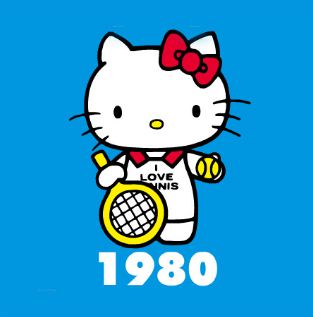 In 1981, To meet everyone's beloved needs on a rise.So, the range of Hello Kitty items on sale expanded to telephones and cameras also some more electronic products, which it continued to increase year after year. Special , the first Hello Kitty movie was made, called "Kitty and Mimi's new umbrella".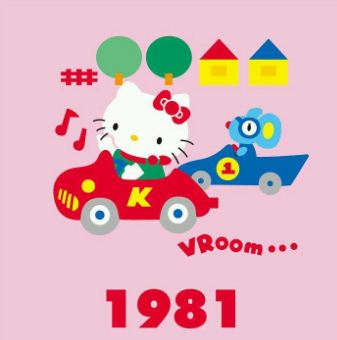 In 1982, Saniel wants to make Hello Kitty more involved to the background picture, so, they made Hello Kitty's outline disappeared. They also made a bit of adjustment to the position of Hello Kitty's eyes.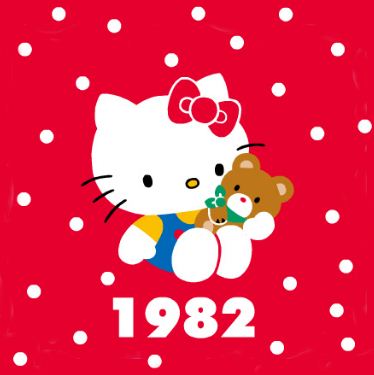 In 1983, With a more US style design, Hello Kitty attracted lot of people in the US. It's cris-cross and straight lined background. During the same year, Hello Kitty was named the child ambassador of UNICEF in the US as well.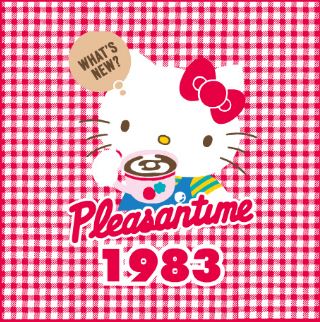 In 1984, Highlight the final success process. Hello Kitty photo design. This was to make Hello Kitty more realistic and made it seem closer to everyone.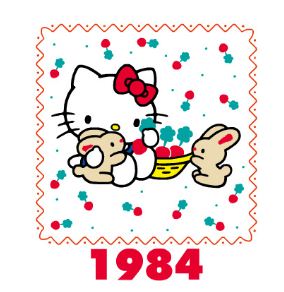 In 1985, Hello Kitty is introduced to everyone as a chef. Hello Kitty's best home cooking.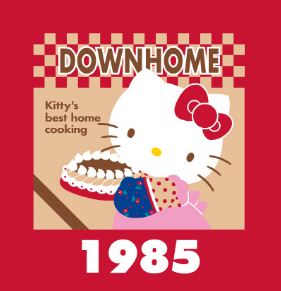 In 1986, Passport shot of Hello Kitty's face. Design Hello Kitty's face was also seen on handbags, different clothing, handkerchiefs and lots more. This is a simple icon but it is used so much to this day.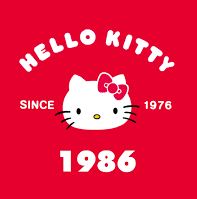 In 1987, A new design to attract more adult favorite Hello Kitty characters is developed. It's black and white Hello Kitty series.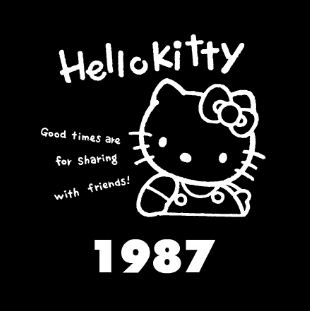 In 1988, US CBS television started to show the first Hello Kitty cartoon on TV, "Hello Kitty's Fairy Tale Theater". In this cartoon, Cris-cross and straight lined background Hello Kitty is back. This design received large recongition from around the world.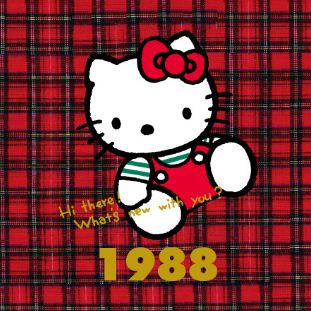 In 1989, The manga series writes about the Hello Kitty character, revolves around the theme of her friends, family and life published in the UK was sold in the USA. It attracts a lot of buyers. 
In 1990, the target market for Hello Kitty was broadened to include teens. This year, water droplets series and snow background design developed has created an extremely popular style. And do you know Sanrio Puroland theme park opened in the same year as well?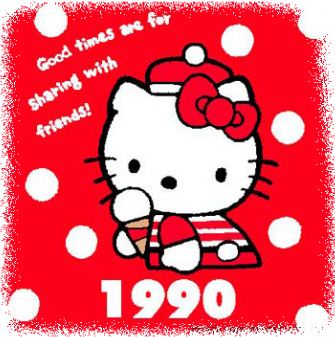 In 1991, Flowers are the development theme of this year. You can see Hello Kitty was hold a flower with flowers in the background. The picture attracted lot of female fans instantly.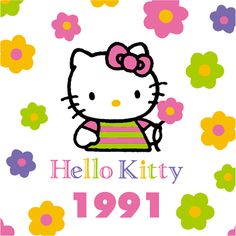 In 1992, Fruits are added in the new design of Hello Kitty. The design was changing depending on the season and the time of the year, to match the fruit and the color. It gave the fans a heart-warming feel. In this picture, you can see, fruit series. Hello Kitty was holding a fruit with fruits in the background.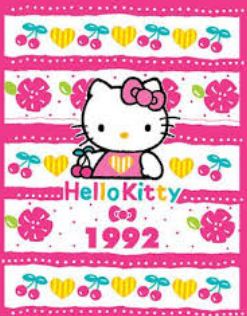 In 1993, Take a look at the image below of Hello kitty, you will see Hello Kitty design changed. The bow on her ear changed to a flower, a new start to this new look of Hello Kitty.
In 1994, Hello Kitty is designed in a nurse's uniform. Also this year, Hello Kitty was named the child ambassador of UNICEF in Japan.
In 1995 and in 1996,  Flower and Hello Kitty series back again but with much more designs and more more colorful.
In 1997, Hello Kitty is designed in traditional Japan clothing, also in school uniform, beach uniform, wedding gown. Mermaid Kitty was also a popular design in this year. 
In 1998, pleasurable information to everyone, Kitty's House theme park opened. This is the new destination that attracts thousands of visitors a day. 
In 1999, Kitty baby series has been designed. This series was created in response to a strong request by young mothers who have been loyal fans of Hello Kitty since her debut. 
In 2000, Hello Kitty angel series. This series was created in response to a strong request by young girls. They are fans of Hello Kitty since her debut.
Today Articles