Hello Kitty's Mouth
Hello Kitty does not have a mouth and also according to Sanrio, she is not a cat: she is simply a cartoon character. Even so, she still has a huge influence over the whole world. Because, since the cartoon character's creation, Hello Kitty has a media franchise including a product line, clothing apparel, toy-line, manga comics, anime series, popular music, and other media.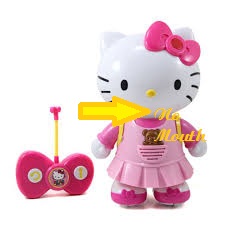 You and I can see Hello Kitty every day and everywhere. But we don't care and never noticed that it actually doesn't have a mouth, because, she's adorable. And even if you did notice it, chances are you don't know the real reason behind it. So, what is the real reason? And all we should know these kinds of stuff. It's the interesting story. 
According to Time magazine, spokespeople for Sanrio have said that Hello Kitty does not have a mouth because they want people to "project their feelings onto the character" and "be happy or sad together with Hello Kitty." Another explanation Sanrio has given for her lack of a mouth is that she "speaks from the heart". I think that's great! Hello Kitty does not have a mouth will help people who look at her can project their own feelings onto her face. Hello Kitty looks happy when people are happy and sad when they are sad. This is a very creative intentional thing, Hello Kitty shouldn't be tied to any emotion. And, everyone has always loved this adorable character. 
 
[toc]
Today Articles