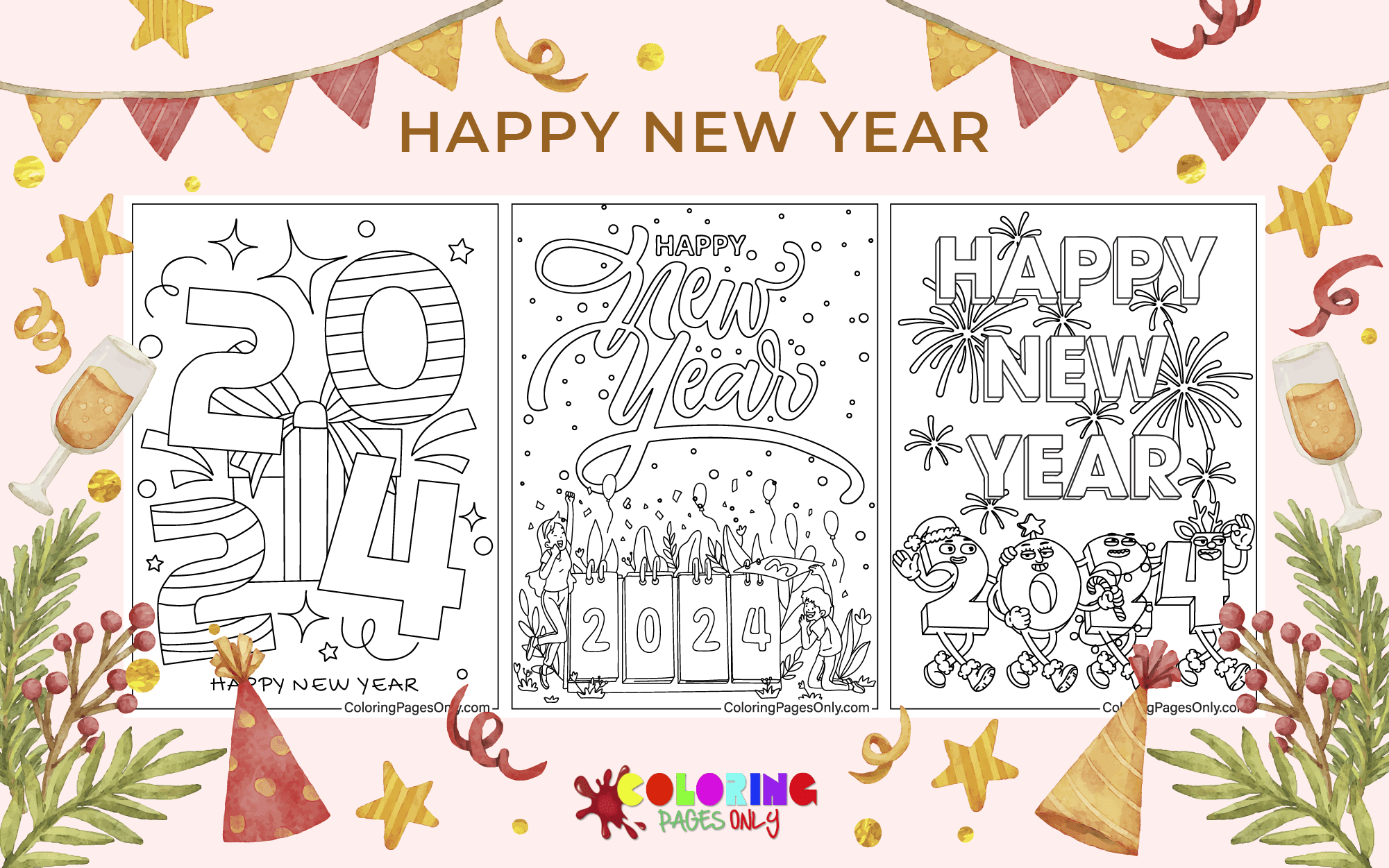 Happy New Year 2024 Coloring Pages (All Free Printable)
Our collection of free printable Happy New Year 2024 coloring pages is here for little ones to add color to their year-end celebrations. From jubilant fireworks to floating balloons, winter landscapes, and the iconic clock striking midnight, there's always a page for a little artist!
The New Year is a time of new beginnings and hopeful resolutions. You will be spoiled for choice with these themed coloring pages depicting a dragon – a symbol of New Year 2024, fireworks, balloons, champagne, banners, and other decorations.
To print the coloring pages, click the link or image below. Then, select Download or Save Image As to save the image to your computer. Open the saved image file and click the Print button in your browser or print directly from the web browser.
You can also color online if you don't have a printer available. All pages are high quality, easy to access, and free for all ages.
5 Interesting Activities With Free Happy New Year 2024 Coloring Pages
Are you ready to welcome 2024 with an explosion of color and creativity? If you don't know how to use our coloring pages, check out these fun activity ideas below!
Make Gift Bags
With a bit of ingenuity, you can easily make lovely gift bags with coloring pictures to celebrate the new year 2024. These gift bags will be meaningful and unique gifts for friends and relatives in the new year.
To start the idea, you will cut a piece of colored or kraft paper large enough to make a gift bag. Use a ruler and pencil to draw the cutting line before cutting.
You will have any tool to color the Happy New Year coloring page. Once you're done coloring, tape the coloring page to the front of the gift bag. Use glue, tape, or any other type of adhesive.
You can tie the gift bag in a knot or tie the gift bag in a bow with a ribbon. 
Create New Year Ornaments
Happy New Year coloring sheets are a great way to add a little color and cheer to your space in the new year.
Start this idea by having kids cut out different shapes from coloring pages, like fireworks, balloons, and decorative string lights.
Glue the shapes onto a string or ribbon. You can hang the string on your door, window, or tree around your house.
Design Happy New Year Cards
These are unique craft ideas for craft lessons or keeping kids busy on New Year's Eve. First, choose a Happy New Year coloring page and color it.
The symbol of 2024 is the dragon, so consider choosing an illustration related to this theme. Remember to color the background to make the card more beautiful.
Then, fold the coloring page into an envelope and write a Happy New Year message on the back. You can add other decorative details to your greeting card, such as ribbons, stickers, or motifs. 
Play A Treasure Hunt Game
This is a fun and exciting activity to celebrate the New Year. All ages can play this game, and can be adapted to suit the interests and abilities of different groups of players.
Don't worry; you will be spoiled for choice with Happy New Year 2024 coloring sheets in many different styles. Once selected, cut the coloring pages into small pieces.
Each small piece will represent a clue leading to the treasure. Hide them around your house or yard. Divide the players into teams or pairs.
Each team or pair will start the game at a starting point. Teams or pairs will use clues to find. The first team or pair to find all the small pieces wins.
The treasure can be anything you want, such as candy, toys, or souvenirs.  You can also give the winning team or pair a special prize, such as a movie ticket or a new toy.
Make Paper Plates For Candy
Children will enjoy making these cute crafts while learning about the New Year moment. All you need are paper plates and New Year 2024-themed coloring pages.
After printing on stiff paper, color and cut out the details from the page. Then, use double-sided glue or glue to decorate the details on the surface of the paper plate.
You can choose themes for them, such as the 2024 New Year dragon symbol, exploding fireworks, champagne bottles, and more.
The result is unique paper plates that can be used to hold candy or nuts on New Year's Eve.  
Happy New Year 2024 coloring pages are an entertaining activity and a great way to bring people together. We can color, talk together, and create memorable memories together. They can also be used in many other fun craft ideas and activities.
Let's color together coloring pages of the Happy New Year 2024 theme and welcome a new year full of joy and happiness!