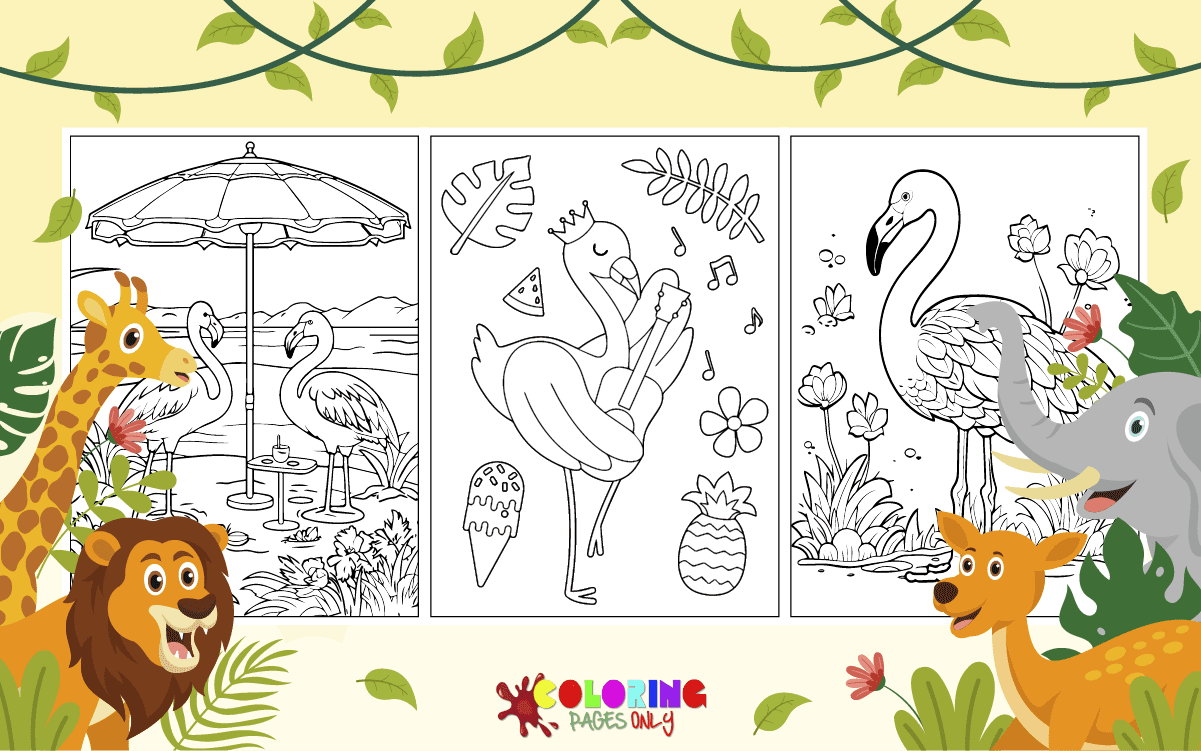 Flamingo Coloring Pages (All Free Printable)
Discovering beautiful birds through the newest coloring pages we have just updated – 75 Flamingo Coloring Pages that will bring your kids to a world of vibrant colors. That is also an opportunity for kids to be creative and express their artistic abilities.
We knew that kids and adults would love this bird, so we created and drew images of flamingos with various activities, expressions, and backgrounds. Kids can see the actual flamingo and choose the cartoon flamingo picture. Our coloring pages offer diverse, unique, and clear images so kids can learn about these birds' characteristics, beauty, and importance in the ecosystem.
We update all coloring pages here for everyone to choose, download, and print for free for educational and fun activities. These coloring pages are suitable for kids and adults. Whether looking for an entertaining and relaxing activity or encouraging your child's creativity, you can use these full-sized Flamingo coloring sheets. All you have to do is choose, download, and print them out to have a complete collection of coloring pages to start your creative process.
5 The Best Ideas for Kids Create With the Flamingo Coloring Page
Combining flamingo coloring with creative activities can create a fun experience and develop various skills. Here are some ideas:
Find the Difference Game:
Print out two identical versions of the flamingo coloring page. Children then try to find the differences between the two pictures. That helps improve children's observation and concentration abilities.
Spot the Difference game is an engaging and fun educational activity for kids. In this game, children will have to use their observation skills to compare two identical versions of a picture, finding the differences between them. That not only helps develop observation skills but also encourages concentration and logic.
Kids may have to look closely at every detail of the painting to detect the most minor differences, from colors and shapes to small details such as drawings or objects in the painting. Be creative and color these two pictures to become the most unique pictures!
Quiz about Flamingos:
Flamingo Quiz is an entertaining game that allows children to learn through exciting questions. In this activity, children will be challenged with puzzles related to flamingos. Quizzes may include information about the flamingo's habitat, eating habits, or unique characteristics. That helps kids expand their knowledge about this bird and stimulates logical thinking and creativity.
While participating in quizzes, kids may have to apply prior knowledge and learn more information to solve challenging puzzles. This exciting activity encourages children to think logically and use knowledge to solve problems, developing their research and self-study abilities. Quizzes also provide opportunities for social interaction as children can discuss and share their opinions with the group.
Flamingo Costume Design:
While participating in this activity, kids can show off their artistic skills and create a personal and unique version of a flamingo costume.
Kids can use the colors and images from the flamingo color page to get costume ideas. They can add details like drawings of flamingo feathers, wings, and eyes to create a vibrant costume. This activity helps children develop their design and creativity skills and encourages them to imagine the lives of flamingos and how they might "dress up" in their way. At the same time, costume design activities also create opportunities for kids to express their egos and sense of personal aesthetics.
Puzzle Pieces Game:
The puzzle piece game will bring a lot of laughter to kids. Children should choose their favorite flamingo picture, color it, and create a vivid picture. In this game, the flamingo coloring page is divided into small pieces, and kids must find a way to put them back together to recreate the complete picture. That helps improve observation and concentration and develops children's spatial thinking and problem-solving abilities.
This game teaches kids to recognize shapes and how puzzle pieces connect to create a complete image. In addition, the puzzle piece game also encourages creativity and imagination as kids can change the position of the details to create a unique version of the picture.
The puzzle game is a form of entertainment and educational activity that helps develop children's many essential thinking abilities and social skills.
Presentation Contest:
The Flamingo Coloring Page Presentation Contest is a great event that allows children to express their creativity and develop their communication abilities. Each child is a talented artist and an excellent speaker in this contest.
During the presentation, kids can share their experiences in the coloring process, their color decisions, and the emotions they want to convey through their paintings. They can explain the reason for choosing the flamingo color in a particular way, perhaps because the color creates a feeling of peace and dynamism or says something about the personality of the flamingo itself. 
Besides, children can also tell a short story revolving around their image. They can develop their imagination and create a story about the flamingo's journey, the challenges they may face, or special memories related to them.
Do you find these creative activities helpful for your child's development? Experience it, and let us know your wishes! We hope parents can spend more time playing and learning with their kids. These coloring pages are perfect for both adults and kids. So, don't hesitate to join in coloring with your kids for fun. You and your child will have beautiful memories and support each other in learning.
Share your coloring pages and get more creative with your child on Facebook and Pinterest for us to admire. I hope your baby will develop well on his journey of fun and learning!