15 Best Christmas Coloring Books For Kids And Adults
Christmas is coming near, what have you done to decorate for your beautiful house? We have a few suggestions for you. Hope you enjoy it. We have a lot of the coloring books for you. These Christmas coloring books for kids and adults are a great way to keep everyone entertained during the holiday season. They'll get into the holiday spirit as they color these free Christmas coloring pages and you'll get your house quickly decorated for the holidays with their artwork. Just sharpen your crayons or colouring pencils and lets colour.
For kids, coloring can help your child relieve stress while they learn about color, hues, line, form, and perception. Christmas coloring books are also a great tool to help children develop hand-eye coordination and pencil control. Children gain confidence in themselves when they pick up the pencil and practice.
For adults, benefits of coloring for adults is your brain experiences relief by entering a meditative state. Stress and anxiety levels have the potential to be lowered. Negative thoughts are expelled as you take in positivity.
Besides, Kids Coloring Books make great gifts too! They're perfect for gift baskets, stocking stuffers, birthday gifts and a wonderful way to celebrate special events and holidays. Such as Christmas Holiday this year.
Today, we offer you this list coloring books also includes the best coloring tools for children and adults. You can find something for everyone on your list in this awesome collection of Christmas coloring and activity books for children and adults.
1. Santa's Big Book To Color By Golden Books
This big book complete with stickers make it easy for kids to lay on the floor and color. Stockings, gingerbread houses, and jolly old St. Nick himself are only a few of the merry images in this gift from the Golden archives that will evoke fond memories of Christmas seasons gone by. The simple, joyful scenes and brightly flocked cover will entice children and collectors alike.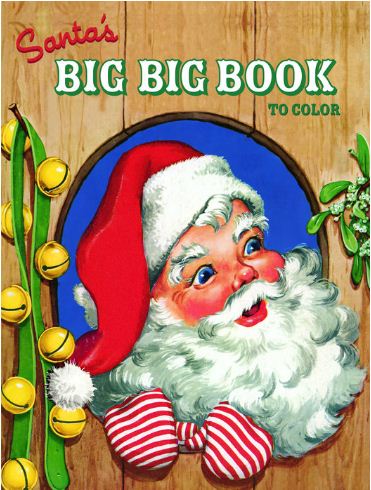 2. Vintage Christmas Traditions: Christmas Cards, Customs, Carols, Legends, Poems, Recipes, Advertisements (Vintage Memories) Kindle Edition
This fascinating Christmas book will interest the whole family.
You will enjoy the different Christmas holiday traditions from around the world, which are illustrated with Vintage Christmas cards dating from the Victorian era.
Children can enjoy learning about Christmas, from the origins of Santa Claus to the celebrations of the birth of Jesus Christ. The Vintage Advertising and some unusual Christmas Card designs will make you smile too!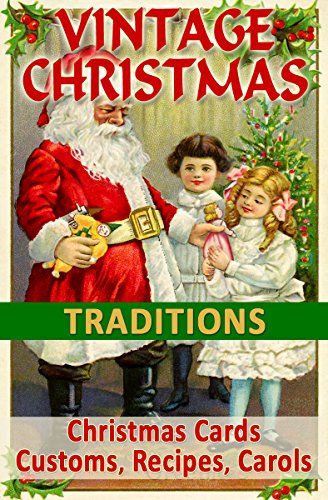 3. The Everything Kids' Christmas Puzzle And Activity Book: Mazes, Activities, And Puzzles for Hours of Holiday Fun
Are you counting down the days until Christmas? Have you finished your Christmas list, hung up your stocking, and helped decorate the tree – only to sit back and continue counting down until the big event? The Everything Kids' Christmas Puzzle & Activity Book invites you to stop the waiting game and dive straight into the holiday fun. Jam-packed full of puzzles, mazes, games and activities, The Everything Kids' Christmas Puzzle & Activity Book will make the time before Christmas pass by in a flash!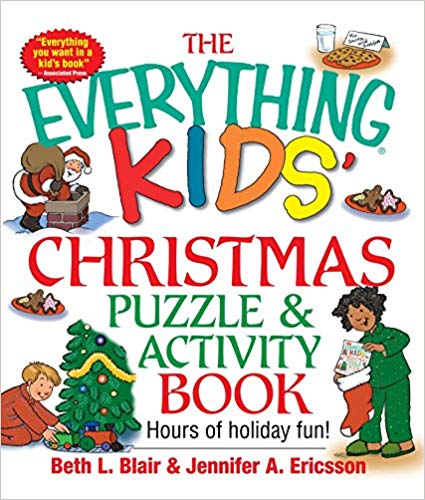 4. Christmas Coloring Book (Coloring is Fun) (Design Originals) 32 Fun & Playful Holiday Art Activities from Thaneeya McArdle on High-Quality, Extra-Thick Perforated Pages that Resist Bleed-Through
This charming Christmas Coloring Book features 32 fun and playful art activities that will take you on a festive journey of patterning, shading, and coloring sure to put you in the mood for jolly yuletide fun! You'll encounter many wild and whimsical holiday characters here, from saucy snowmen and ice skating birds to acrobat elves and stocking stuffer puppies. These whimsical holiday images offer an easy way to de-stress and unleash your inner artist.
Thaneeya McArdle's transcendental art explores a visual language of shape, form, line, and color. Each vibrantly detailed illustration is designed to exercise your creativity. Beautifully colored finished examples are provided, along with a handy guide to basic art techniques, from patterning and combinations to shading and color theory.
This therapeutic coloring book is perfect for decorating with markers, colored pencils, gel pens, or watercolors. Printed on high-quality, extra-thick paper that resists bleed-through, all of the pages are perforated for easy removal and display.
Come inside and play with doodles, shapes, and patterns! Coloring and patterning are relaxing, meditative activities that encourage self-expression, sending you on a creative adventure. Use each of these pages as a launching pad to spark your creativity and unleash your inner artist.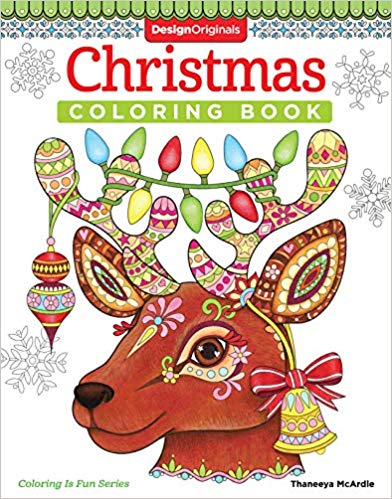 5. Christmas Coloring Book For Kids: Hours Of Coloring Fun For Children Of All Ages
This is time Christmas and are you looking for a fun Christmas cloring book? This latest title "Christmas Coloring Book For Kids", is a children's coloring book that features beautiful kid friendly coloring in designs of some of our favorite Christmas characters. In 'Christmas Coloring Book For Kids' you will find pages of Santas, reindeer, teddys, Christmas trees, decorations and more that will keep even the most active mind busy coloring in while you get those important Christmas preparations taken care of! Happy Holidays To Everyone!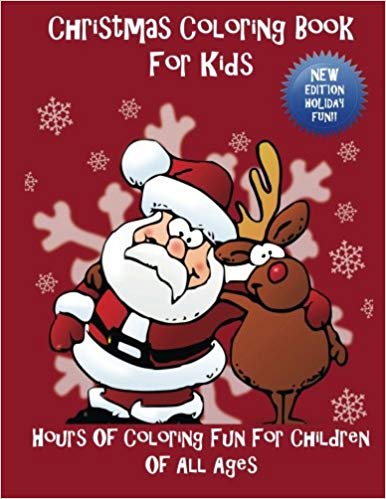 6. Christmas Activity Book for Kids Ages 4-8: A Fun Kid Workbook Game For Learning, Coloring, Dot To Dot, Mazes, Word Search and More!
This is a gorgeous Christmas activity book for kids ages 4-8 with original artist designs, high resolution. It printed on one side of the paper. Let your kids creativity runs wild. We hope your kids have fun time and relaxing with this new Christmas activity book.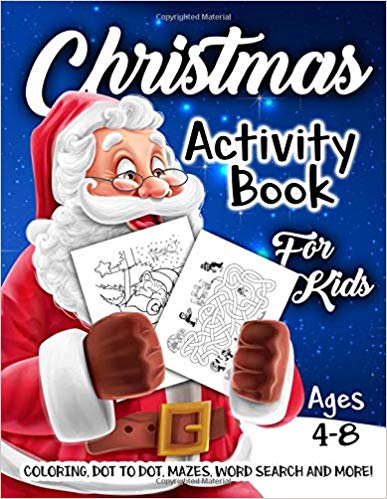 7. The Big Christmas Coloring Book for Toddlers: Holiday Season, Christmas, and Silly Snowman Designs for Ages 1-4
Christmas trees, silly snowmen, lights, stockings, ornaments, snowflakes, and holiday designs on bright-white paper. Pages are single-sided and designed to be easily cut out of the book and displayed on a wall, refrigerator, or sent to a loved one. Makes a great activity book for the holiday season or a nice gift on Christmas Day. It includes 12 "decorate-your-own" templates for creative kids and parents. Ideal for ages 1-4. 38 holiday designs. All printed on single-sided, bright-white paper.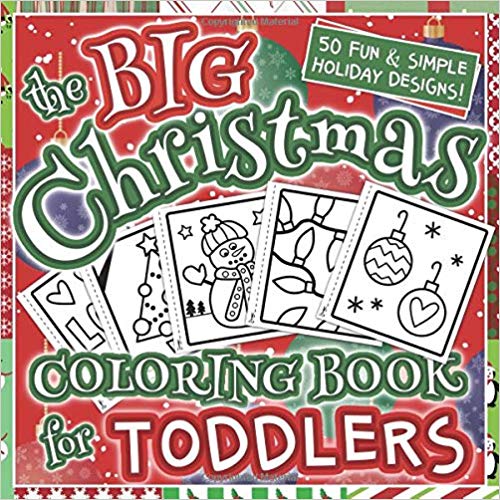 8. My Big Book of Christmas Coloring, Songs & Activities
This book packed with 96 pages, is filled with activities for kids of all ages. From word searches and crossword puzzles to holiday songs and recipes, My Big Book of Christmas Coloring, Songs & Activities. This book will keep kids entertained for the twelve days of Christmas and beyond. With tons of bright and colorful illustrations and plenty of Christmas cheer, My Big Book of Christmas Coloring, Songs & Activities is the perfect gift for kids to help build the excitement for the upcoming holiday season.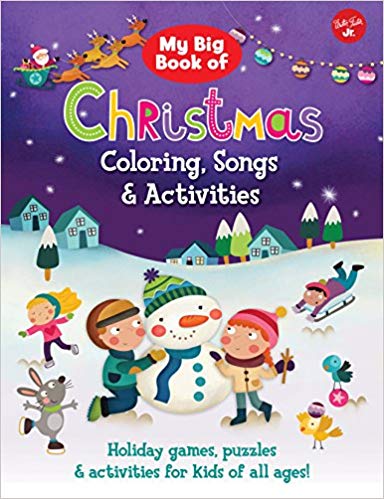 9. Christmas Coloring Book for Kids
This big Christmas coloring book includes 41 coloring pages, printed single side for ease of removal and display. Printed on high-quality, pure white paper stock. Make a great Christmas gift for kids of all ages. So, let celebrate the season with this cute Christmas coloring book featuring full page designs of Christmas trees, Santa Claus, reindeer, snowmen, and more. Merry Christmas!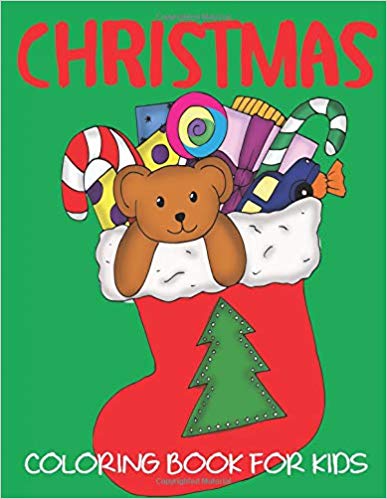 10. Merry Christmas Coloring Book
This high-quality Christmas coloring book for children is stuffed with 60 simple Christmas illustrations that are outlined with thick chunky lines, making it easy and enjoyable for young kids to color.  Filled with a variety of familiar Christmas images, your child will happily grab a crayon and start coloring like a smiling snowman, juggling Santa, decorated gingerbread man, scarf-wrapped penguin and many many more.
Religious and Christian themed coloring pages to remind children of the reason for the season.
30 whimsical Christmas Mandala designs for ultimate creativity.
A high quality glossy cover and thick 8.5" x 11" sized pages (perfect size for framing).
Have fun and discover it right now.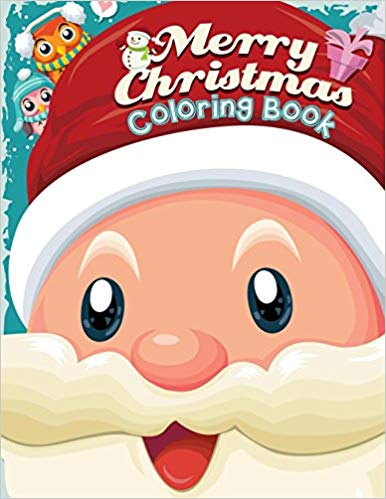 11. Christmas Color by Number for Kids
This activity book combines the fun of coloring with the exciting challenge of coloring in the right spaces. It may be difficult at first, but by the end, your child will be much more adept with coloring! Hours of fun and learning await in this winter color by number book. Let help reinforce your young child's learning by challenging them to color-by-number with over 45 pages to color total.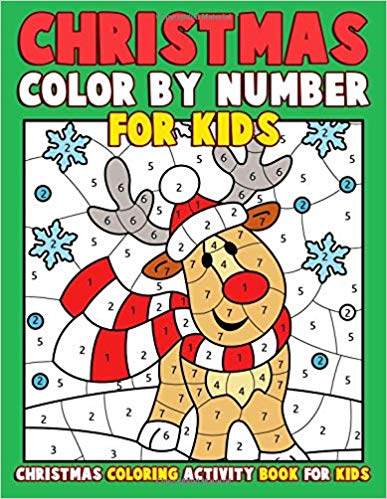 12. Christmas Coloring Book for Kids
Hello all kids who love coloring! Be the artist that you can be by  transforming the outlined and black and white designs into colorful works of art in this coloring book. The Christmas Coloring Book for Kids will keep you happy for hours, so grab copies for you and your Family now!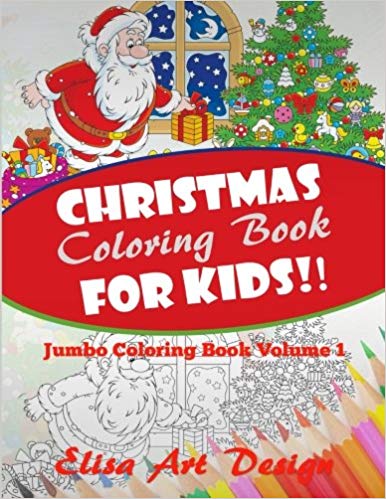 13. Christmas Coloring Book for Kids: Big Christmas Coloring Book with Christmas Trees, Santa Claus, Reindeer, Snowman, and More!
This is Christmas coloring book for kids of all ages! Celebrate the season with this cute Christmas coloring book featuring full-page designs of Christmas trees, Santa Claus, reindeer, snowmen, and more. This Christmas coloring book is printed on high-quality, pure white paper on a single side for easy removal and no bleed through.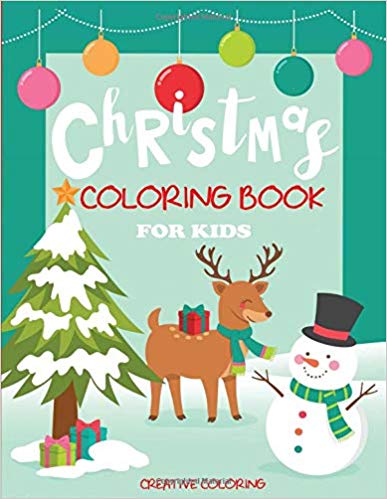 14. Merry Xmas Coloring Book for Adults: Christmas Collection for Stress Relieving
In this coloring book, these relaxing illustrations of this coloring are sure to bring you calm and peace with every page. And these pictures are easy to see to make this a stress free coloring experience for colorists of all ages and skill levels. So sit back, relax, and color!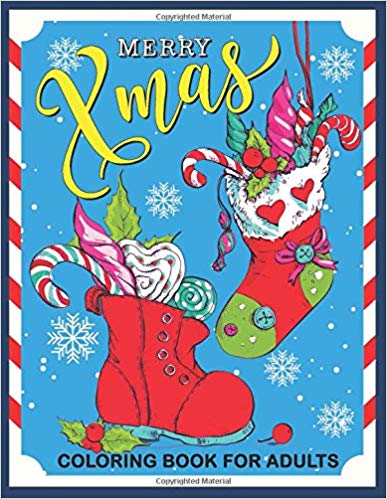 15. Christmas Around the World Coloring Book
This coloring book has 30 pictures to color. You can learn how Christmas is celebrated around the world by coloring 30 pictures, among them vignettes of young carolers in Great Britain, Mexican children playing under a piñata, a Swedish girl wearing a traditional crown of candles, Greek children parading with drums and triangles, and an Australian family picnicking on a beach.
There are also scenes of youngsters decorating a "tree of light" in China, French children leaving shoes for Père Nöel to fill, Americans hanging stockings on the mantle and leaving Santa milk and cookies, Polish children looking at the North Star, and 21 other illustrations. Each scene appears with an informative caption.
Have fun and enjoy it!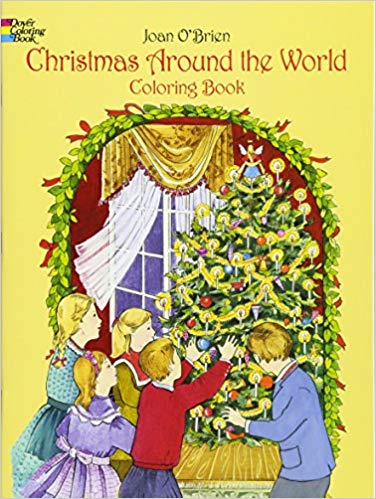 [toc]
Today Articles