Excellent Luca coloring pages for kids and adult
Luca coloring pages: an excellent adventure for a perfect summer day for kids
Do you have plans to discover and experience new things this summer? Have you planned your children's education and fun during these beautiful summer days?
If your family doesn't have any unique plans yet, let's find our article below to make your family's summer more meaningful and wonderful.
Luca is a movie with a fascinating plot that is attracting children all over the world; it would be great if this summer your family joins in coloring Luca coloring sheets; it will be a fun time and family bonding.
Coloring – is a seemingly normal activity, but it plays an essential role in the development of young children—experience summer with beautiful colors through our coloring pages.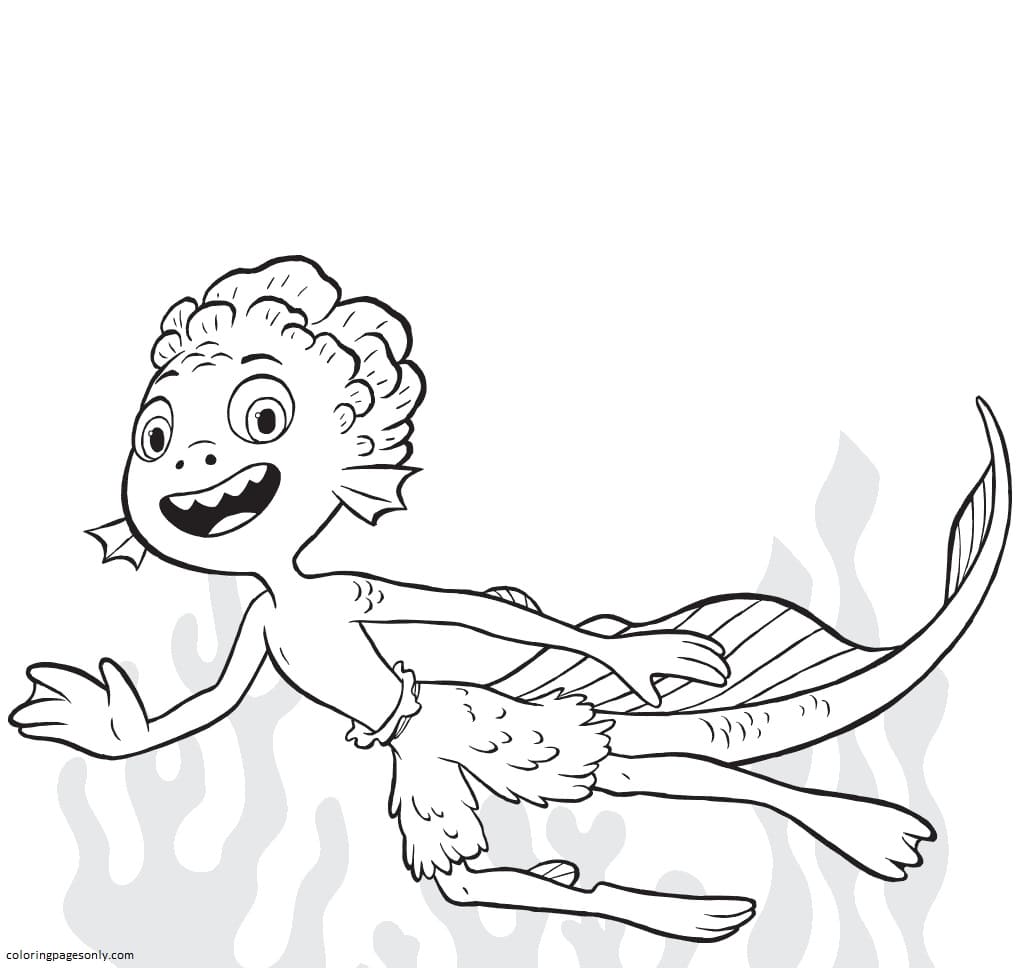 Printable Luca coloring sheets
See more: How to draw Luca
Discover the story of Luca and their friends through Luca coloring pages
Before learning about the exciting things, Luca printable coloring pages will bring to children. Let's explore Luca's story to see if this content appeals to children to coloring pages?
Luca is the latest film from the famous Pixar studio after the success of Soul. The film has been rated as A fun Pop song like a summer afternoon in Italy with sunbeams settling on the ocean's surface.
Pixar brought the first images of project Luca – an animated film set in poetic Italy, revolving around the story of the trio Luca, Alberto, and Giulia. In it, when Giulia is a human girl, Luca and Alberto are revealed to be mermaids.
The incident occurred when they learned that the town they came to didn't seem to like mermaids and had a history of confronting quite violent sea creatures. The work, directed by Casarosa, is set in an Italian coastal town in the 1950s-1960s, Luca – is a sea monster boy.
Luca lives with his family on the bottom of the sea, raising fish every day. Luca lives in a strait of the Mediterranean Sea with his family. He has always longed to go ashore, to experience the life of "terrestrial monsters" – the way his family talks about creatures that do not live in the sea.
One day, he meets Alberto – a sea monster of the same age who lives on the island of Isola del Mare. Thanks to Alberto, Luca discovered that his species transforms into human form when ashore and in a dry state.
Luca and Alberto quickly became close friends, sharing interesting things about human life and dreaming of having a motorbike to travel. Luca's parents discovered and punished him. Luca runs away from home and, with Alberto, finds the town of Portorosso.
Here, the two boys meet their new friend Giulia. The three team up in the Portorosso Cup to defeat the bully Ercole and receive a reward for realizing their dream.
A story about friendship and children's dreams
The cartoon "Luca" shows the message of friendship and family love through the adventures of the sea monster boys. They always have lessons about life and the human values they convey.
Each movie is a different psychological experience, taking viewers through many levels of emotions and finally leaving them in each person's thoughts and feelings. This life still has good things and meaning and a way to prove cartoons are not just for kids.
Perhaps it is because around each person, there is always an invisible boundary called the "safe zone" that makes us doubt and worry about what we have to trade when we cross that line to start.
Accomplish what we want for so long; then, when that procrastination holds us back, that "safe zone" expands over time, and the things we fear we will have to trade to get what we want to become more extended, and then since then, the fear of trade-off is becoming more much.
Luca is a docile child who always lived up to the expectations and ruled his family members set for him, longing for a breath of the air on land or a long walk.
The first steps on the beach were always there; deep inside his heart, what he needed was just a reason to give him more courage to do it once.
Although we all know that parents' love for their children is something we cannot deny, the care, protection, and the best things are always for our children.
Still, in many cases, this inadvertently becomes a rope that binds and inhibits the development and realization of each child's ideal and self-passionate reality if it follows society's standards.
So Luca's story shows us the value of family love and our desire to live children's dreams.
In Luca's journey of discovery and adventure in the human world, he always has sincere friends to accompany him. His mermaid friend Alberto gave Luca the courage to go ashore, and his human friend Giulia helped him take on challenges to fulfill his dream of owning a Vespa.
We see that, in any journey like that, in addition to the encouragement of the family is the close friendship. Friends are not the same species but all support and stick together. Luca is a film that promotes the pure and pure company of the characters with each other.
How beautiful did Italy appear in the eyes of the audience?
Director Enrico Casarosa has said that Luca's image is mainly taken from his childhood in a sea in Northern Italy, so the audience can freely admire a quiet fishing village town.
Peace on the beach with colors and incredibly poetic scenery, as beautiful as a fairy tale. The town of Portorosso is inspired by the towns of the Italian Riviera – a coastal region on the Mediterranean coast, evoking a feeling of nostalgia for old Italy.
Portorosso has a characteristic beauty with a pebble beach, a square with a fountain, and undulating houses leaning against the back of a mountain. Life here goes by smoothly – children play ball games, the elderly play chess and drink tea.
Filmmakers incorporate Italian-style details into the film, such as Vespa cars, pasta dishes, etc.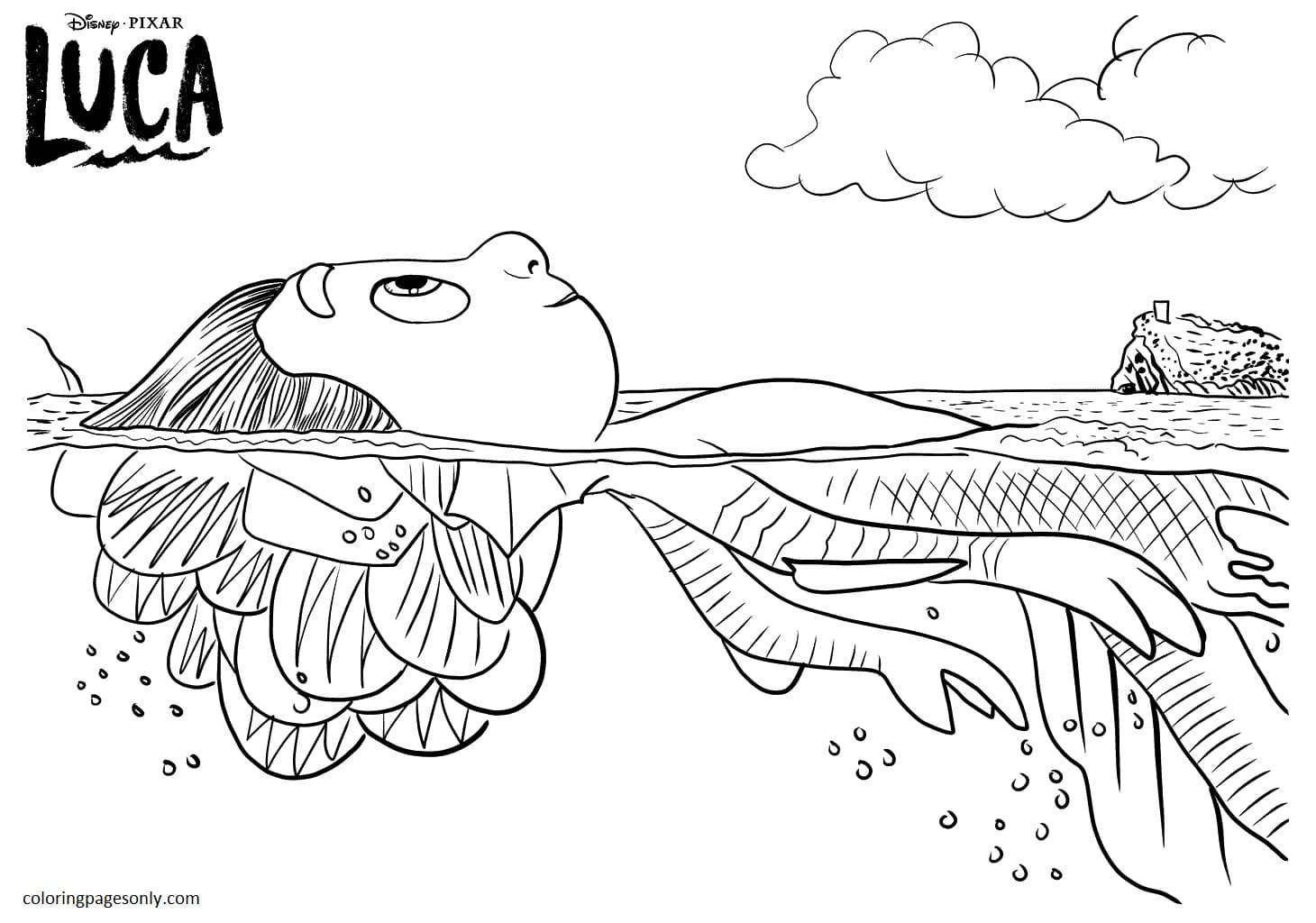 We imagine the fantastic scenery of beautiful Italy, with its cheerful colors and fun music, and together we are immersed in Luca's challenging adventure. Has your family seen this cartoon? Do you and the kids enjoy the incredible scenery and cute characters?
Through the meanings and messages of the film, we firmly believe that Luca is not only an animated film for children but also a film for adults so that they can understand the desires and dreams of children.
Parents allowing their children to get out of their comfort zone freely is also a way to begin their first challenges in life. Children who love the beautiful scenery of Portorosso town and want to discover these beautiful things, so please bring Luca coloring pages to your children.
Lucas coloring pages promise to bring countless valuable experiences for adults and children.
Luca coloring pages are fun gifts for kids and adults
Luca coloring pages are black and white about characters such as Luca, Alberto, and Giulia or images of the vibrant marine world. We also detailed the fun scenes of the beautiful town of Portorosso.
Do the children want to participate in coloring to experience exciting things with colors with us?
The characters in the picture are adorable; use your favorite bright and beautiful colors to paint the textures and romantic scenes in the movie. Our Luca coloring pages are quality products, clear and completely free.
Parents can choose many pictures with the same theme or different themes so that children can freely color and creatively color those characters. Thanks to the Luca color page, children will be able to explore the world and discover the adventures of Luca and his friends; those adventures will bring them many experiences and the desire to fulfill their dreams.
Thanks to the Luca color page, children will be trained in skillful coloring skills, choosing and distinguishing colors to suit each character and each scene in the picture. Through colors, children can explore, create and enrich their imagination.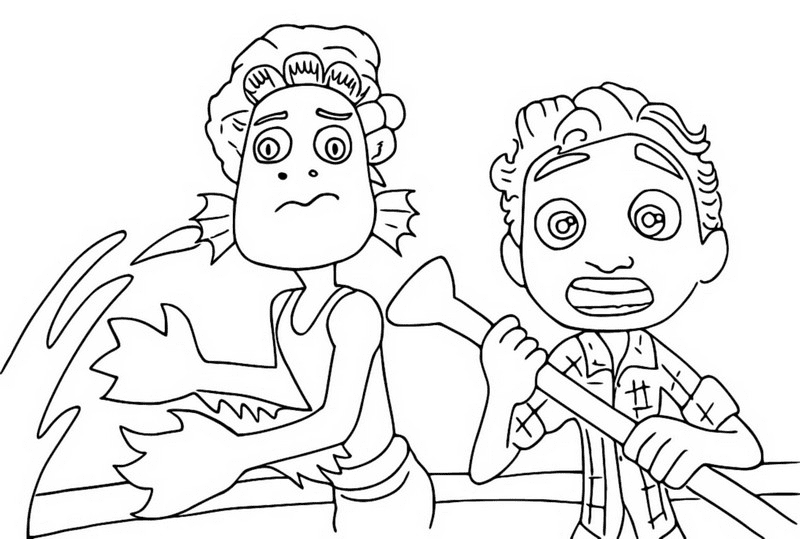 There are benefits of coloring that we need to learn
Young children love to color, so parents should encourage them to spend time in this fun and helpful activity. Color is suitable for children, and we should explore the benefits of coloring; it will be an essential educational method for children that parents can apply.
Coloring can help children stimulate creative thinking. Children can develop a drawing style and enjoy creating a fantasy world. Children learn to plan as they decide on the colors they will use in their picture and then in what order they will color the things in the picture.
As their confidence grows, they are more likely to take risks and experiment with colors, patterns, and special effects with pencils or markers.
When experiencing Luca coloring pages, children can freely choose the colors they love or the colors they think are suitable for the character in the picture scene.
We believe that with children's creative thinking and innocent souls, they will color and create beautiful and vivid images of Italy like never before.
Coloring also supports the development of hand-eye coordination as children learn to color in designated areas. Observing and performing, and coordinating both actions is a skill that develops when coloring.
When children first start coloring, they will have difficulty keeping the lines, but their skills will increase as they progress. Being in the pipes takes considerable skill, and when they master it, they gain a sense of pride and accomplishment.
Parents should suggest to children with simple coloring pictures first and then advance with more complex images. Lucas coloring pages will be the right choice for children of all ages so that parents can refer to them.
Coloring is one of the activities that encourage color perception. Using different colors allows children to explore different combinations and shows how they can change the picture. It is excellent for raising awareness of lesser-known hues.
Children are free to create characters with different colors; maybe they will create Luca printable coloring pages and be the highlight of their coloring works.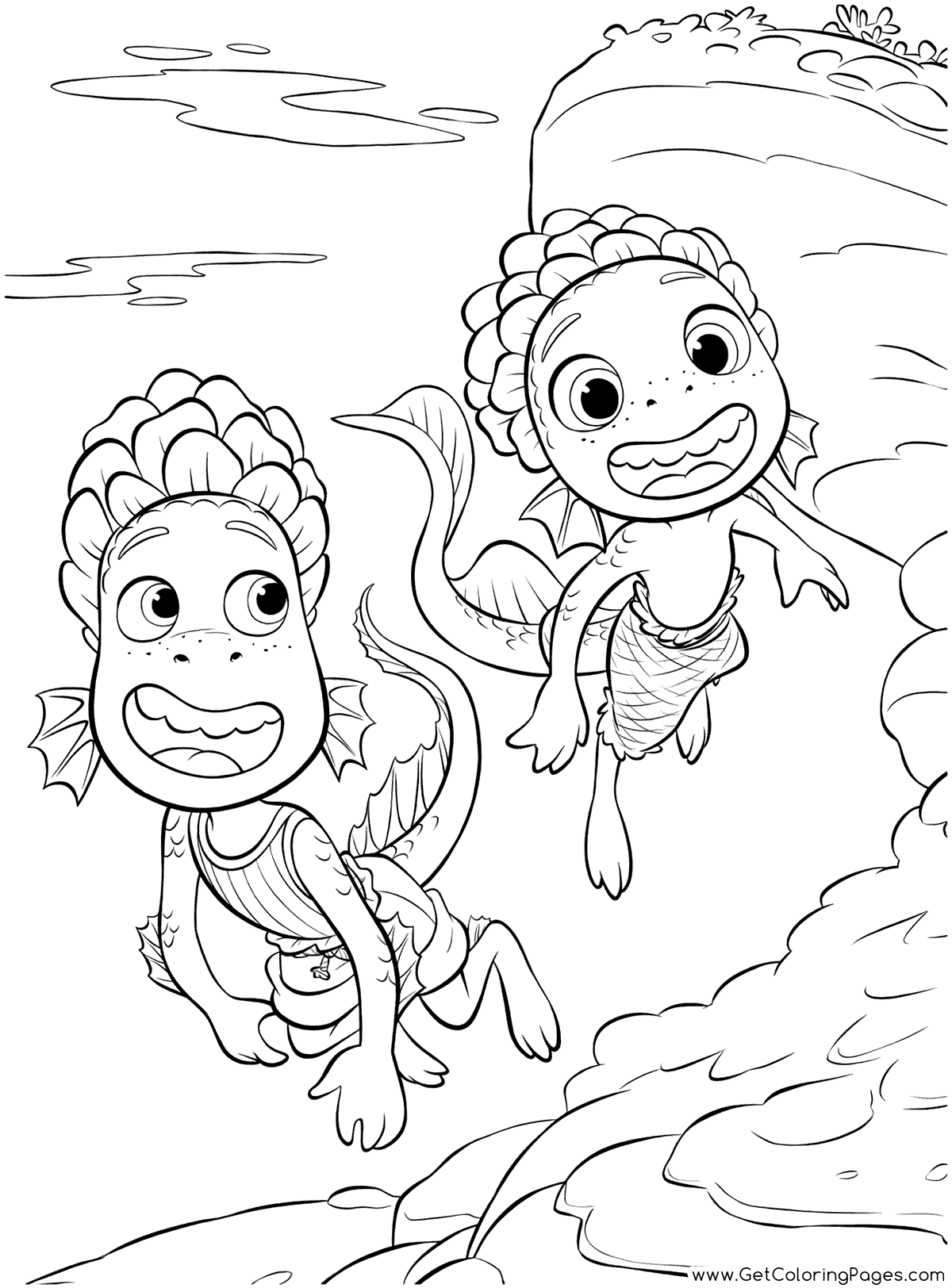 Conclusion:
We love to color — and so do our children! This simple yet fun activity is low-cost, comfortable, and can promote creativity while supporting children's physical, emotional, and cognitive development. We strongly recommend adding a coloring activity as part of your child's activity routine.
We hope that the Luca color page will come as one of the exciting gifts for this summer that parents send to their children through this helpful article. Plan to discover your wonderful summer with our quality coloring pages too!
[toc]
Today Articles