Mandala Coloring Pages Book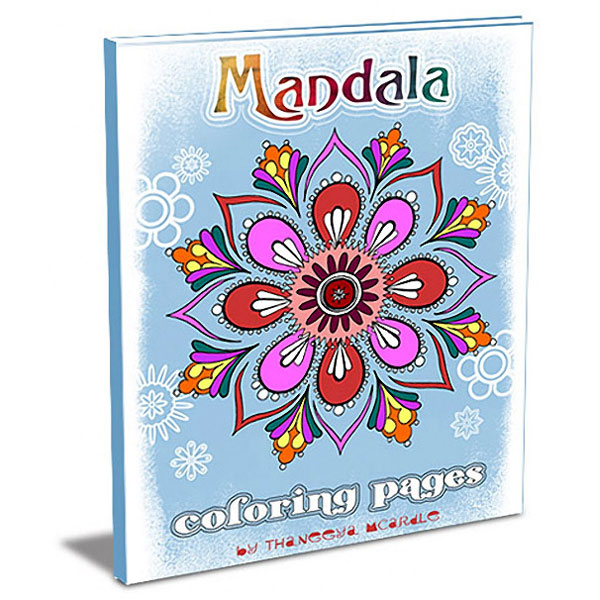 We like it, because this book are available as an instant download for $8.  That's only 35 cents per mandala, and you can print them as many times as you like. Special, no shipping fees, no waiting time. 
Do you remember all those hours you spent coloring as a kid? With this Mandala coloring book, you can relive those relaxing moments as an adult. This book allow your inner child to get lost in these detailed designs as you play with color and free your creative spirit. And Mandala coloring book is essentially a bundle of potential, the only element that's needed to make them complete is you. 
In this book, each mandala design was carefully designed and meticulously hand-drawn with love and attention, lending you a sense of warmth and charm that is rerely found in computer-generated mandalas.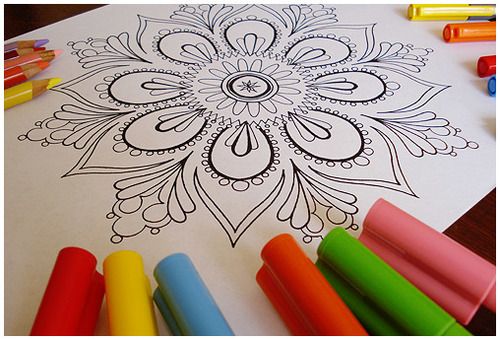 With each different coloring page will bring you a personality, an experience. Many describe this as a "healing process" that encourages introspection and helps you tap into your create potential.
Now, let we discover inside this mandala ebook: 
– You can see, here's a visual overview of what you'll get.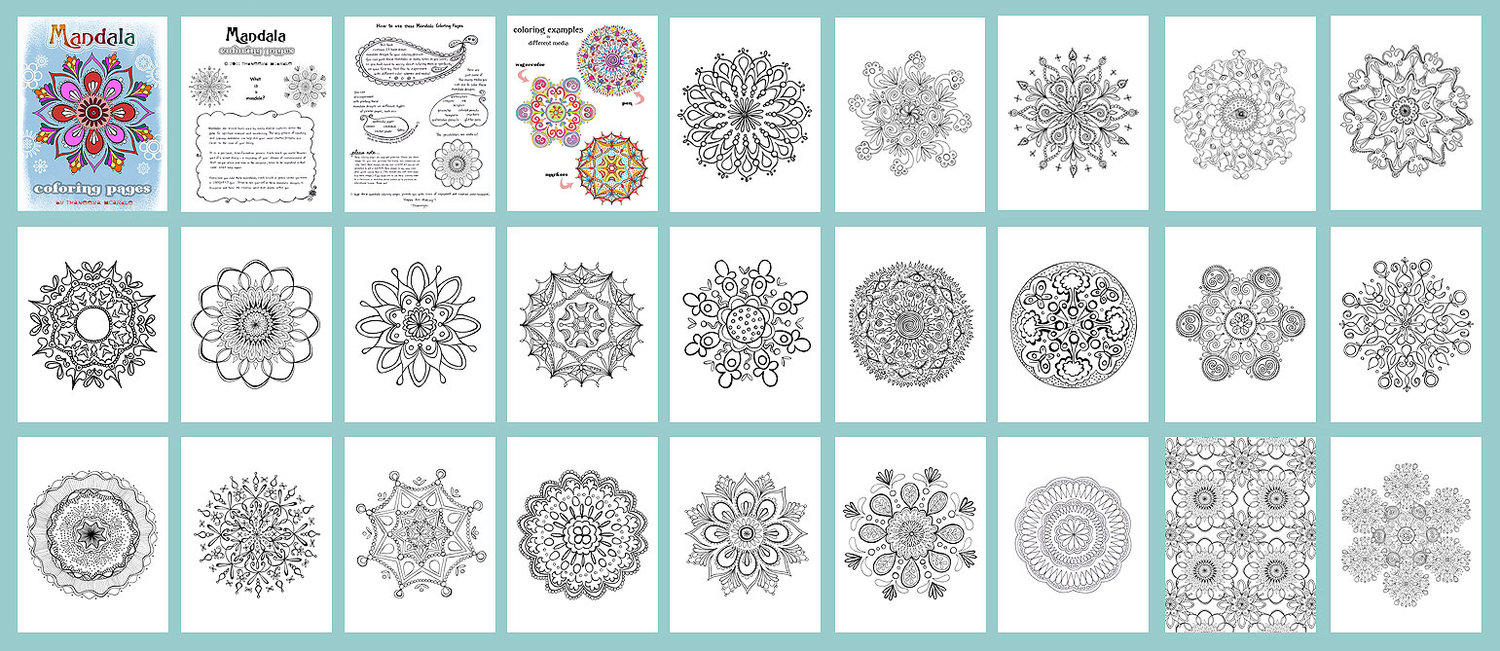 – The book opening is an overview of mandalas & an explanation of how coloring them is beneficial to your well-being.
– An idea sheet that lists different media you can use to color these mandalas, as well as different surfaces you can print them onto.
– A page of coloring examples in 3 different media
– Then, 23 mandala designs sized to print on standard 8.5" x 11" paper (they can also fit on A4 paper)
So what is a mandala? Why do you like it? 
A mandala is a spiritual and ritual symbol in Hinduism and Buddhism, representing the universe. In common use, "mandala" has become a generic term for any diagram, chart or geometric pattern that represents the cosmos metaphysically or symbolically; a microcosm of the universe.
With art paintings, mandalas are abstract designs that start with a central point and emanate outwards, in a series of detailed shapes and patterns. 
Coloring mandalas is a great way to de-stress from the daily grind, by immersing yourself in a relaxing color therapy that puts you in a state of creative flow.
Every day you only need to spend 15-30 minutes to color, you'll notice the calming effect that it has on your mind, body and emotions. Special, when coloring mandalas encourages a contemplative approach to life. 
How to use these Mandala Coloring Pages
With 23 hand-drawn mandala designs in this book, it's coloring pleasure for you.  You can print these mandalas as many times as you want, so you don't need to worry about coloring them in "perfectly" on your first try.  Feel free to experiment with different color schemes and different media. 
You can color these mandala designs with crayons, colored, pencils, ink, acrylics, tempera, watercolor, watercolor pencils, gouache, gel pens, glitter, markers, and more. 
Then you can print these mandalas on watercolor paper, canvas, cardstock, specially-coated vellum, regular white, printer paper, colored printer paper, sticker paper, and even fabric. For even more customized fun, try printing these mandalas at different sizes, or changing the opacity so that you can trace over the outlines with different colors.
You can color these mandalas anywhere, as in a waiting room, during lunch break, in between classes, at your kitchen table, in front of the TV, at the library, at the park or beach, by the pool, long car trips, etc. 
When you're finished coloring your mandala, what would you do with your colored paintings? We have some suggestions for you as follows: 
– You can frame and hang them around your home or office
– Print them out in different sizes and display them as a grouping
– Stick them on your fridge
– Give them as presents
– Paste them in your scrapbook, sketchbook or journal
– Cut them into a collage
– Laminate them to use as placemats
– Use them for decoupage
– Fold them into handmade greeting cards
– Hang them in your window and let the light shine through, like stained glass.
I like Mandala coloring pages, and hope you also enjoy coloring these mandalas. These Mandala coloring pages inspire and excite you, and that coloring them helps lift you into higher spheres of being as you explore the nature of your own existence through the inspirational medium of art. Have fun time and enjoy it! 
[toc]
Today Articles