The best kid coloring apps today
As you know, today there are a lot of software applications for your child to color. And your child's use of smartphones, ipad, laptops everyday will help your child to easily use them. And if you have an iOS or Android device, you have access to the best coloring fun available for your kids or the kid-at-heart. From color by number to 3D coloring, these apps have everything you need for any day your child feels like coloring. 
However, what application is good for your child? Do you know? Below we found some best kid coloring apps available for you and your child to enjoy. You can learn and guide your child to use right now. 
1. Voxly 3D: Color by Number in 3D
Voxly Color by Number 3D is new relaxing, de stressing and very addictive coloring book app becase Voxly brings coloring to life in complete 3D. With easy color by numbers, you can create 3D images that look like they'll pop right off the screen. Voxly makes it easy to share your artwork with friends and family through Instagram, Facebook and messaging apps. New content is added weekly. You can choose from a diverse of super duper fun 3D images: funny animals, world landscapes, ocean creatures, princesses and nature settings.

The reason we love this application is the 3D makes this app an engaging experience. But there are ads on screen during coloring that we don't like. 
2. Disney Color And Play 
This app brings your favorite Disney characters to life. You can create, color, play, and animate your favorite Disney characters. Join Mickey Mouse & Minnie Mouse in their Clubhouse, Color and Play with your favorite Disney princess from Frozen, Sofia the First, Elena of Avalor and Doc McStuffins. Mix in Pixar characters from Inside Out, Finding Dory and Cars. Other characters include Big Hero 6, Palace Pets in Whisker Haven, Puppy Dog Pals, The Good Dinosaur, The Lion King and Miles from Tomorrowland. 
This app includes a few playrooms featuring your favorite characters and more playrooms are available for purchase. Many people don't like that it. However, with this app you can explore Mickey's clubhouse, Princess Sophia's bedroom, and more in a completely interactive way.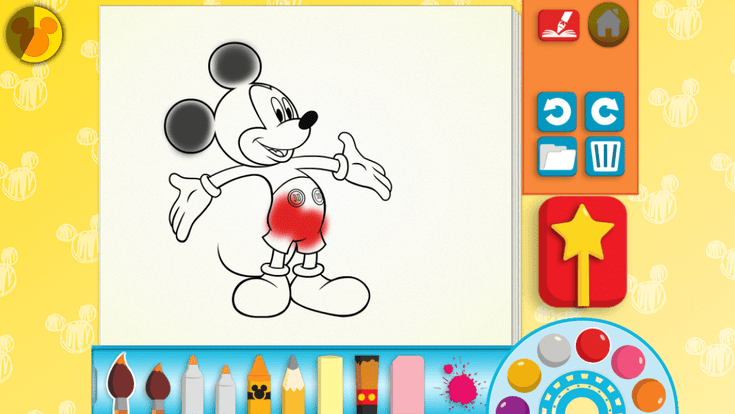 3. Color Coloring Book
This app offers a totally new coloring experience using space colors and neon to make pictures pop. Kids will love the way their pictures sparkle! When you're done coloring, you can add your work to your phone screen easily using the app. 
The premium subscription of Color Coloring Book removes all ads and unlocks all available coloring pages and tools. That great! I like it! 
Color Coloring Book is free for the first 3 days for iOS and comes with in-app purchases. This is why we don't like.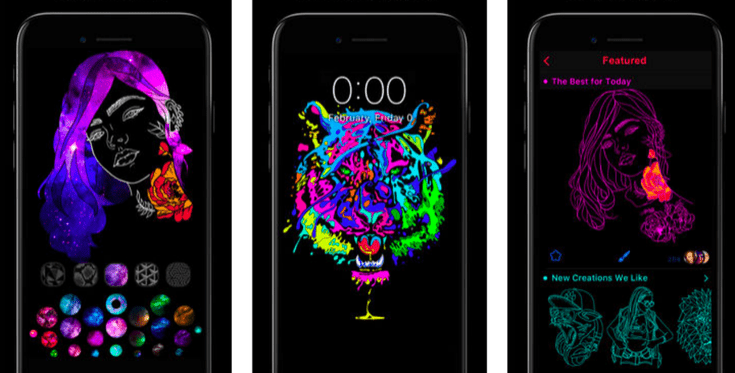 4. Coloring Book Of Dogs
This is best coloring app for Puppy lovers. This app works great on a MacBook as well as an iPad. It's is free for iOS.  It's perfect for little fingers thanks to its large images that fill the screen. You can color pictures of some of the worl'd most popular puppies and even use a blank page to draw whatever you desire. It's fun time fo all ages.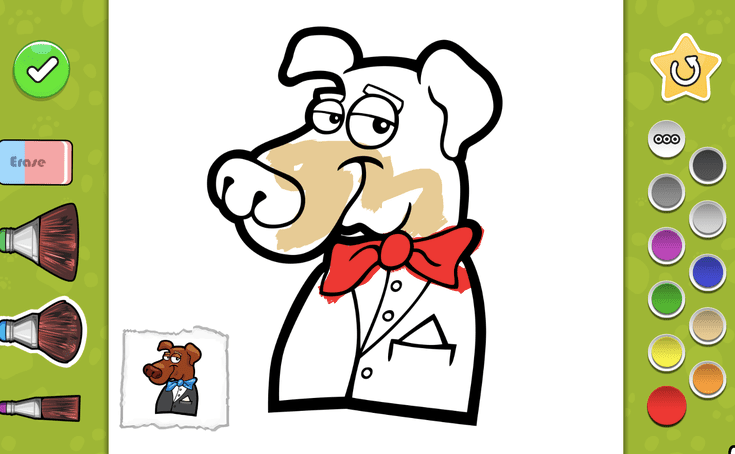 5. Zen Coloring Book
This is the perfect coloring book for winding down and relaxing. It's free for iOS with in-app purchases. Its advantages, the lifelike color gets darker as you hold down your finger or mouse, and the designs are intricate enough to keep you and your child busy. With Zen, you can color on different textures such as canvas, leather, brick, and silk.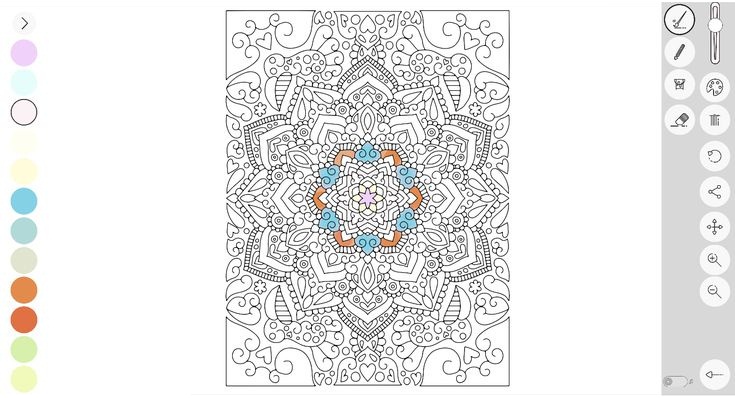 6. Recolor
In this app it allows you to color flat images as well as 3D images for lots of fun. A wide range of colors and ways to play make it a unique experience for all ages. With over 1,000 unique images, this app will keep you or your child busy for a long time.  It's one of the most unique coloring apps today. 
This app there are intricate designs and basic designs, perfect for hands of all sizes. That is why we like it. But, for some images and designs, you will need to use tokens to purchase. Tokens can be awarded by watching videos and ads. Those are the reasons we don't like it.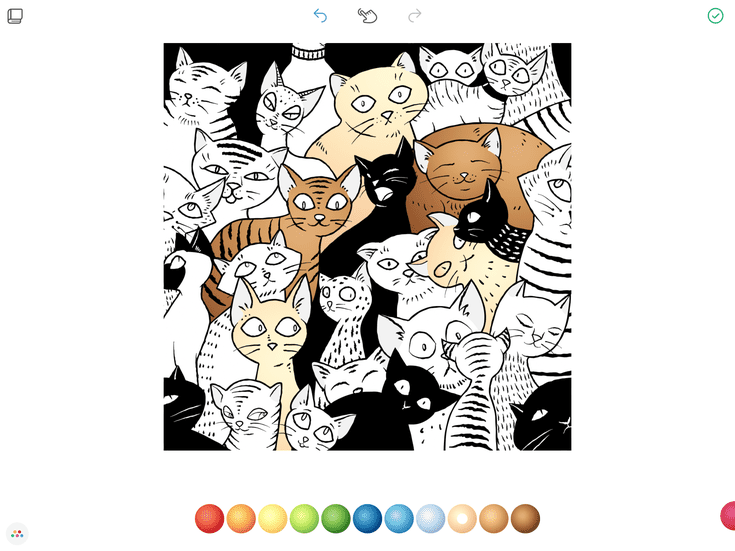 7. Colorfy
In 2015, Colorfy is a coloring book full of detail and by Google voted as one of the best apps year.
It is known for its high-quality images and gallery, includes a unique AR virtual gallery, allowing you to view your artwork in the real world. In this app, there are so many simple and intricate designs to keep you busy. You can click and color makes it easier for younger fingers to use. 
However, what we don't like, it is you must upgrade to premium to unlock all of the images.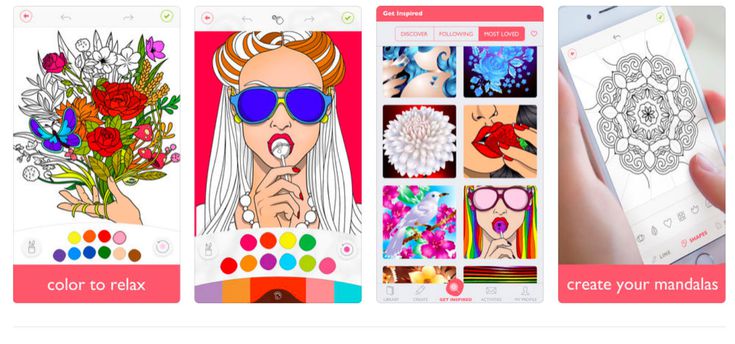 8. Color By Number Coloring Book
Color by Number Coloring Book is free for iOS and Android with in-app purchases. In this app, you just tap the color you want to start with and color the corresponding pixels. This app adds a bit of learning to the act of coloring. For younger kids, it teaches number recognition. For older kids, it's perfect as a boredom buster. 
You'll need to upgrade to premium to unlock all of the possibilities in this app.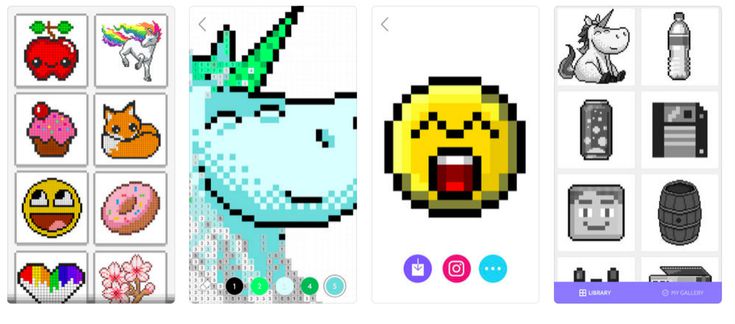 9. Toonia Colorbook
This is app best Coloring App For Toddlers. It's extremely engaging and educational for young colorers. Each time they color in a spot on their page, stars on the screen celebrate their victory. It has music, cute characters, and super simple coloring pages, perfect for the smallest of hands. Toonia supports multi-touch which means your child can color with their friends while learning how to share. You can save, share, and print your work right from the app. However, the selection of coloring pages is a bit more limited than other options here.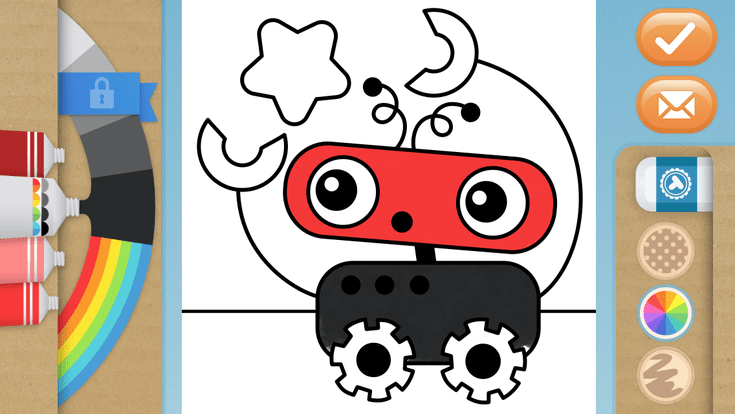 10. Pigment 
This is the Best Coloring App For Inspiration of you. It doesn't just have coloring pages, but complete coloring books to choose from. Pigment includes 24 different pencils, markers, and brushes and the largest image library available.
However, some coloring books and pages will not be able to be opened without a premium subscription.
Today Articles