Travel Around The World With Hello Kitty
Hello Kitty is made her first in 1974. The Hello Kitty vinyl coin purse was introduced by Sanrio in March 1975. By 2010, Sanrio had groomed Hello Kitty into a global marketing phenomenon. And Hello Kitty cute is one of Japan's most popular exports. Hello Kitty became a global star in 2010. Then, there have been numerous travel partnership around the world — from hotel suites and theme parks to food — for fans to fully immerse themselves in the world of Hello Kitty. 
Sanrio Puroland – Tokyo, Japan
If you are a Hello Kitty fan then Japan is a place where you should visit. And visitors to Tokyo can visit Sanrio Puroland, the pinnacle of all things Hello Kitty. Inside, Sanrio favorites including Hello Kitty, Little Twin Stars, My Melody, and Badtz-Maru meet and greet visitors daily. Start the visit with a relaxing Sanrio Character boat ride or take a break in the Character Food Court with Hello Kitty packaged food. Then watch the Miracle Gift Parade, with dance numbers by Hello Kitty and her boyfriend, Dear Daniel. Attractions also include full-scale musicals and audience participation shows, restaurants, and of course, gift shops. Puroland has celebrity fans as well: Katy Perry visited recently and gushed about it on social media.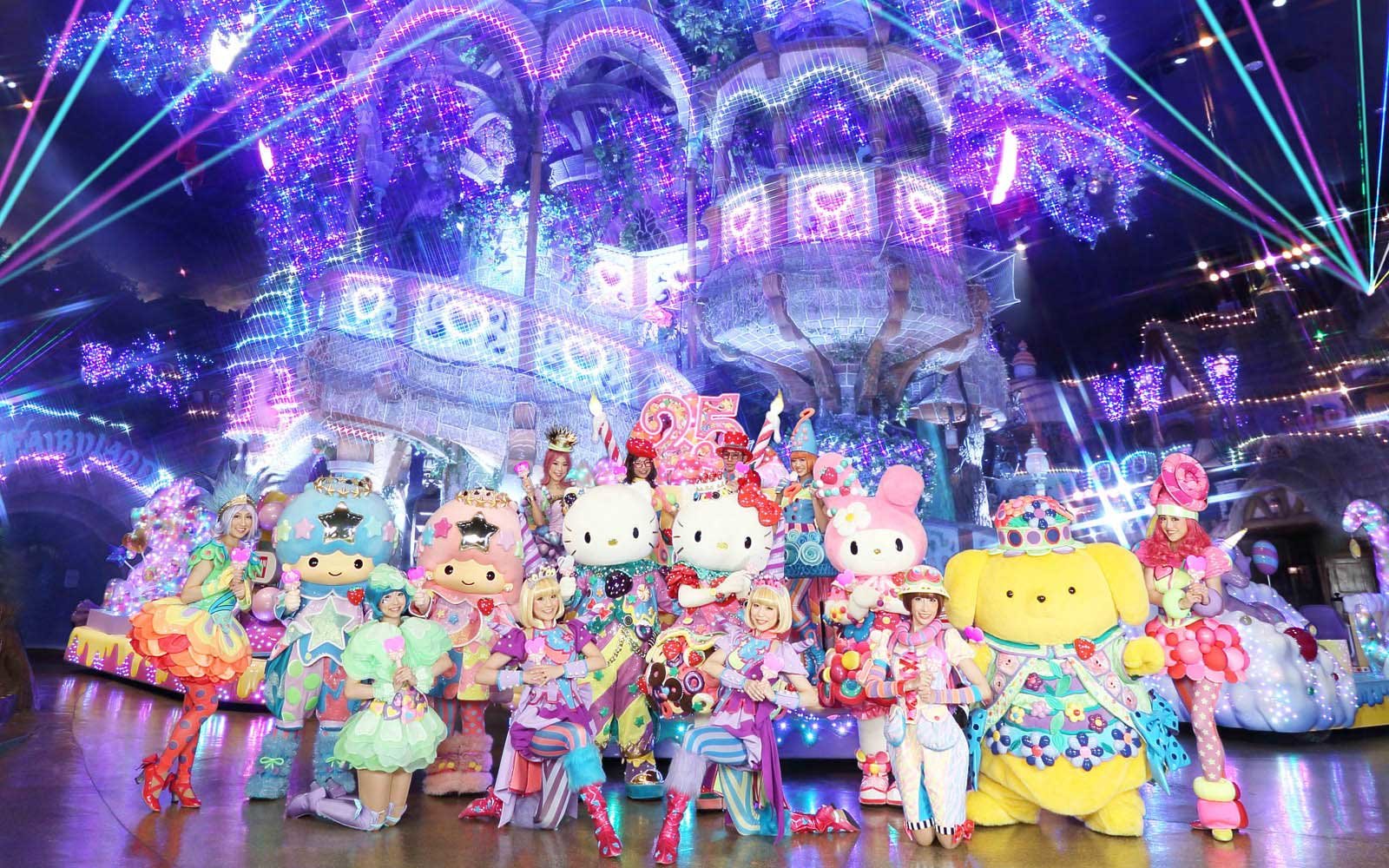 Courtesy of Sanrio Puroland
Hello Kitty Cafe Truck – U.S.
To celebrate Hello Kitty's 40 birthday, in October 2014, Sanrio launched its first food venture in North America with the Hello Kitty Cafe Truck. The unique and adorable space offers guests a fast-casual setting, inviting them to pop in and out quickly for a sweet treat – or to stay and enjoy their cute confections at bistro tables on the container's pop-out patio. Hello Kitty and her friends welcome customers into the space with bold character graphics adorning the exterior and interior container panels. The cuteness continues inside of the Hello Kitty Cafe Pop-Up Container with modern fixtures and colorful displays throughout. The Hello Kitty truck is in such high demand that in 2017, Sanrio added a second — one for the West Coast and one for the East. The truck has traveled throughout the United States serving delicious baked goods to thousands of fans. The macarons, cookies, mini cakes, and doughnuts all come with Hello Kitty's signature details. These pastries are handmade daily and exclusive to this location, differing from the selection on the Hello Kitty Cafe Truck. On the beverage side, guests can choose from hand shaken, fruit infused iced teas, lemonades and specialty coffee drinks brewed using Portola Coffee Lab coffee.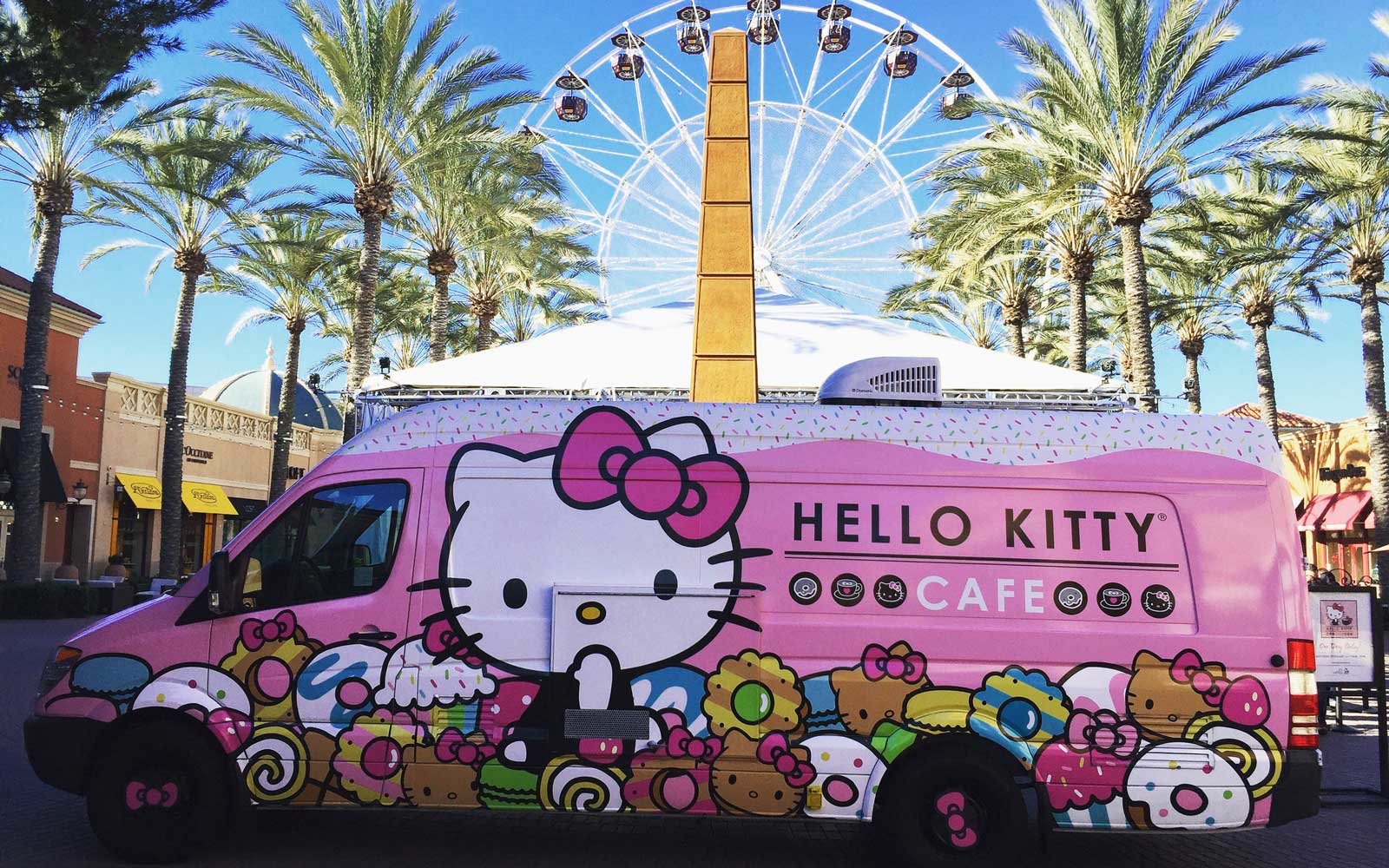 Yata's Hello Kitty Pop-up Supermarket – Hong Kong  
Not only in Japan, the US that in Hong Kong, Hello Kitty character are also fond of many. In department store chain Yata's location on Hong Kong's Sai Wan Island, fans will be able to shop at a Hello Kitty pop-up supermarket. From February 12 to May 31, this is a can't-miss, fully immersive shopping experience. Walk through the doors and retrieve a Hello Kitty shopping cart before shopping for all sorts of Hello Kitty-themed groceries under one roof. Sushi, egg rolls, salad, apples, Hello Kitty-shaped pasta and even soy sauce are available – and all purchase come in a Hello Kitty shopping bag.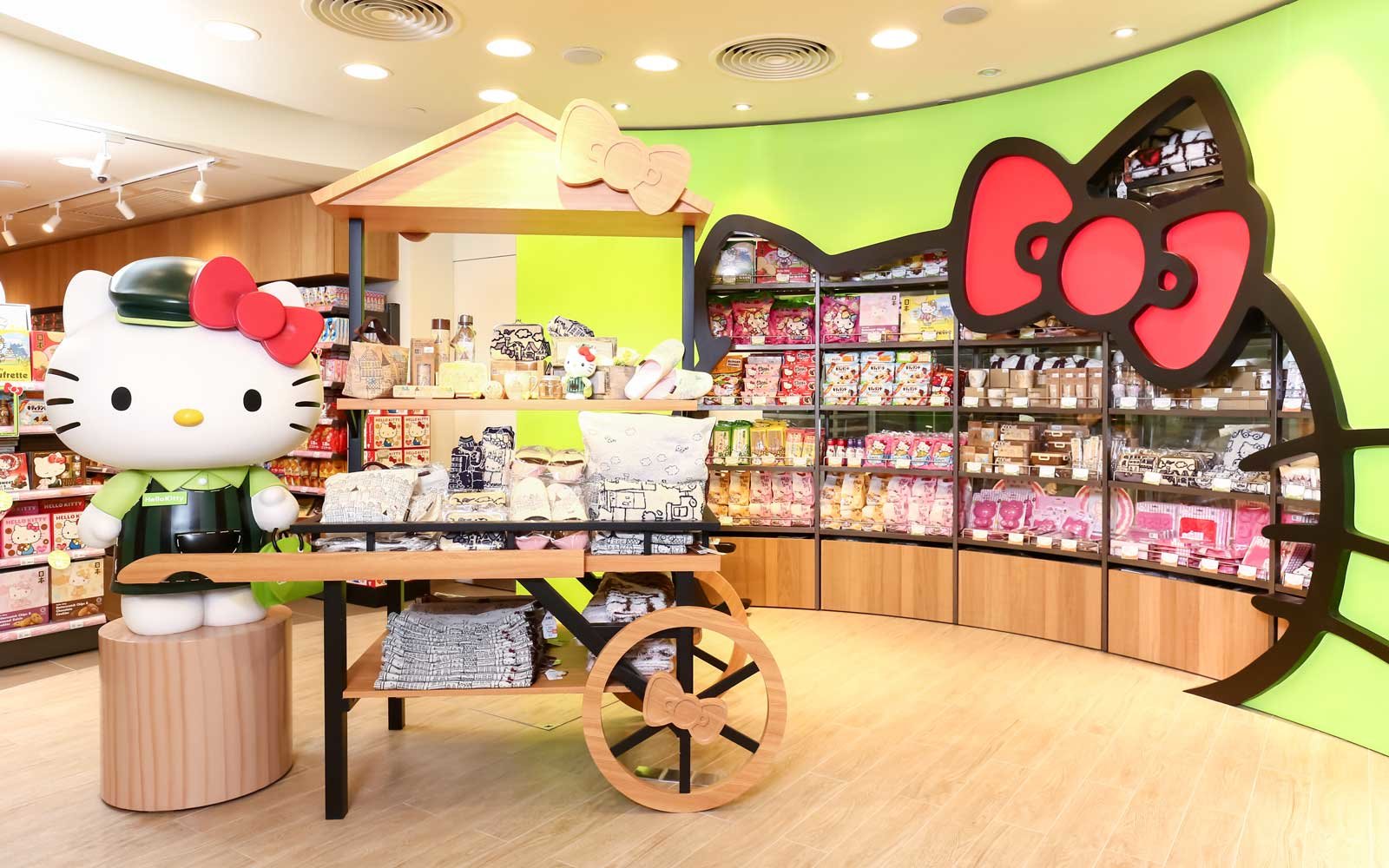 Hello Kitty Beauty Spa – Middle East
If you are a beauty fanatic, you can get pampered at the Hello Kitty Beauty Spa – Middle East. The Hello Kitty Beauty Spa is more American, with treatments for nail and hair, as well as makeup application, facials, and massages. The hardest part: picking what type of Hello Kitty nail art you want.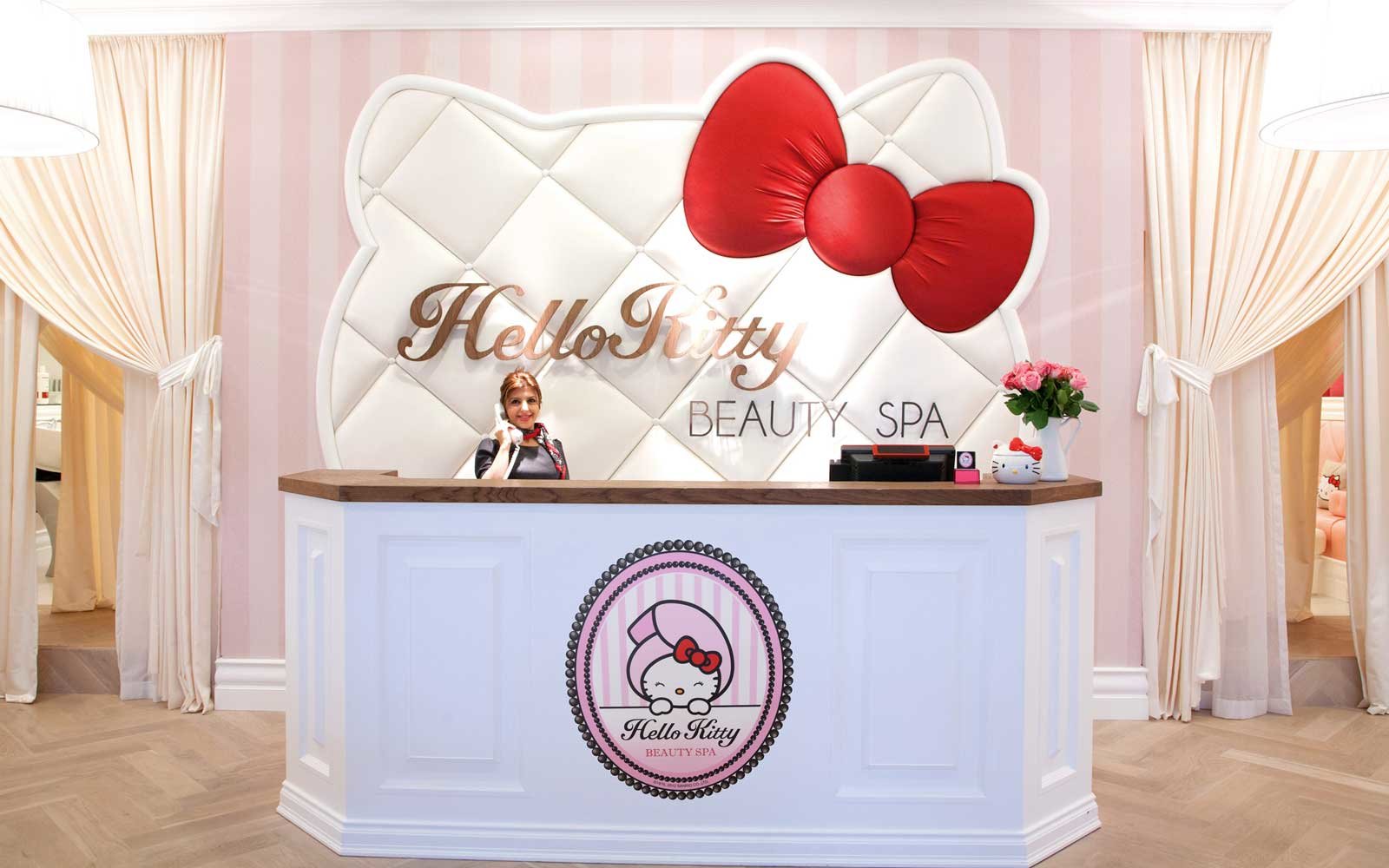 Hotel Jen Puteri Harbour by Shangri-La – Johor, Malaysia
In January, Shangri-La opened a sleekly modern hotel with a stunning elevated infinity pool in the popular Malaysian vacation destination of Johor. The hotel has 12 Hello Kitty-themed suites, where everything from the wallpaper to the bedding to smaller details like amenity kits fall under one of three concepts. The blue, nautical rooms are dedicated to the swashbuckling Sailor character (Hello Kitty in a Sailor costume); the pink rooms are sweetly charming, and the Oz rooms have Hello Kitty dressed up as the Great Wizard of Oz.

Hello Kitty Park, China
If you and your child travel to China. Let come to Hello Kitty Park, this Hello Kitty theme park is the first large-scale amusement park in the country. It's a lot bigger than the other parks that we have discussed. It opened up in 2015 and it's considered to be the "home-away-from-home for Hello Kitty and her friends." It's another outdoor theme park that has a ton of attractions that will keep you busy all day long. If you like fun rides and cotton candy, then you can bet this would be a great place to go with your friends or to take your children.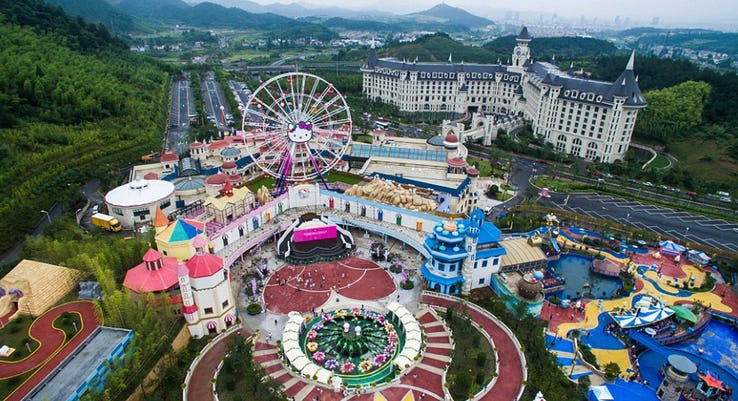 Hello Kitty Sweety House Cafe, Malaysia
As you know, they have a Hello Kitty Café truck, so why not have an actual Hello Kitty Cafe. Do you know there is a Hello Kitty themed cafe that has ever existed in Muar, Malaysia? Well, they do in Muar, Malaysia. It's splashed in pink and it's the perfect atmosphere for any Hello Kitty fan. There are a ton of options to get some cool Instagram pictures in and then you can sit and enjoy a coffee in this adorable atmosphere. There are a lot of themed desserts to try out as well. Now you don't have to travel to Taiwan, Korea or even Japan (duh, that's where Hello Kitty comes from) to visit one. You are going to love this place so much that you are never going to want to leave.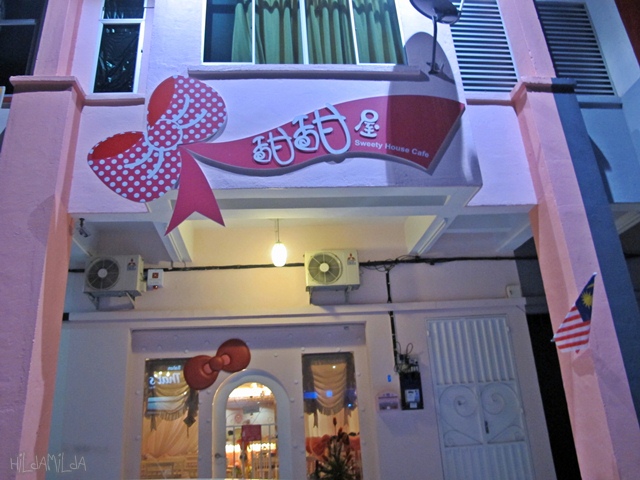 Hello Kitty Maternity Hospital, Taiwan
Hello Kitty has been taking the world by storm since 1974, and just when we thought anything possible could be spun out of this well-loved Japanese cat – themed parks, restaurants and cafes, clothing line, cosmetics – Taiwan changed the world with a Hello Kitty maternity hospital!
This is hospital has been there for over 12 years now and it's the first Hello-Kitty-themed maternity ward. We think, if you are pregnant, then why not arrange to have your baby at the Hello Kitty Maternity Hospital in Taiwan. Just look at all those cute babies wrapped up in Hello Kitty blankets. This sweet and precious place would be a great environment to have a baby. The nurses are all dressed in pink and they make sure that your stay is truly memorable.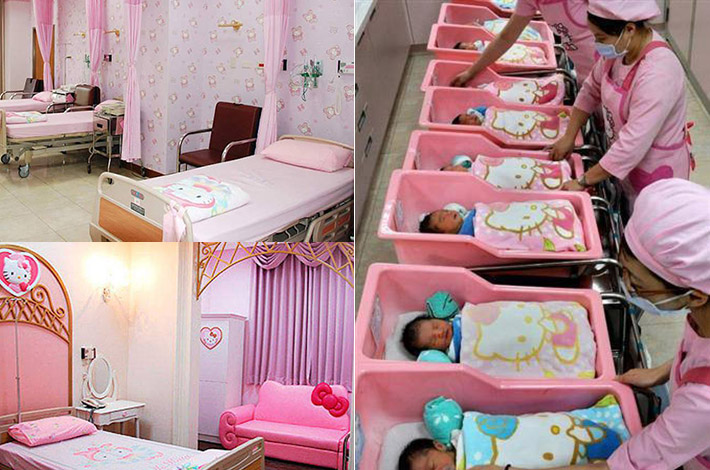 Today Articles