Home
  »  
Coloring Articles
  »  Coco, Rick and Morty coloring pages: Before exploring with your feet, let's explore the world with coloring pages
Coco, Rick and Morty coloring pages: Before exploring with your feet, let's explore the world with coloring pages
Coco, Rick and Morty coloring pages Before exploring with your feet, let's explore the world with coloring pages. Exploring the world and things around life is always a curious interest for young children.
In the eyes of young children, the world will shrink around their family, school, and friends' life, so the need to explore new things is essential for them.
The more children know, the more knowledge they will have and the discovery of stories, lessons, or something around them when children feel the beauty of the world. So before exploring the world with your feet, explore through coloring pages with new colors.
Coco, Rick and Morty coloring pages will be new topics for children to discover many lessons about dreams, family, and big things in society.
Coco coloring pages: Family will pave the way for your passions
Animation studio Pixar proves to be an "emotional wizard" when creating meaningful stories for young audiences while making adult audiences question the meaning of life.
The movie Coco was released and had to surprise the audience with a perfect script, well-invested and beautiful images imbued with Mexico's own cultural identity.
What makes Coco stay in the audience's heart is the very human message that the film conveys. The film tells the story of Miguel, a boy who has a passion for music but was born into a family with a traditional shoemaking profession and hates music so much that when listening to any melody, everyone has a violent reaction.
Miguel has always dreamed of being like his idol Ernesto de la Cruz, a talented musician and singer carved in the square of Mexico and forever remembered.
However, the traditions and prejudices of the family have ruthlessly trampled on the boy's dreams, and the relatives around him always try to instill in Miguel's head that music is wrong and hateful.
Because of a rare event, this boy takes an unexpected trip to "Spirited Land" – the world of the dead and meets Hector, a man who is gradually forgotten.
Here, the boy deeply understood the meaning of the two words "family," discovered many unexpected truths, and rediscovered his true self.
The movie Coco is not only a family movie, but it also has very engaging content, with the events taking place in the film extraordinarily logical and thrilling.
It brought the audience into the beautiful fantasy world, but Coco also took away how many tears the audience had through the message it wanted to convey.
From images and music to the effects in the film, all are invested meticulously, carefully, and beautifully. Coco deserves to be the best family film of those years.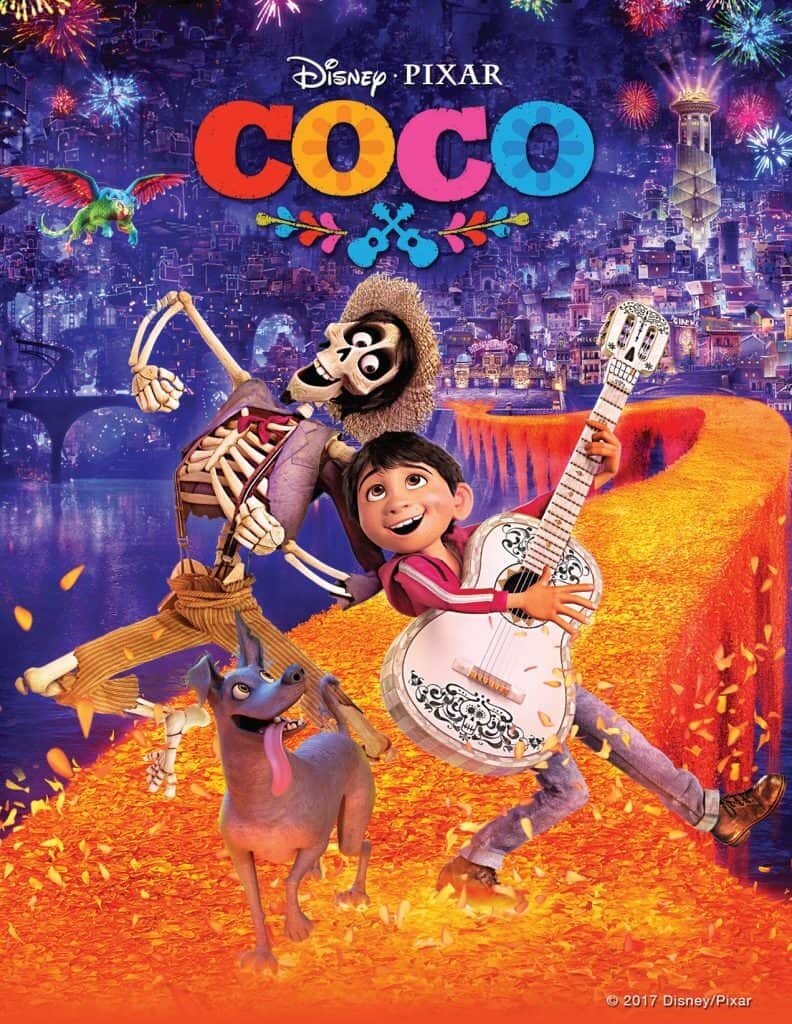 Printable Coco coloring sheets
So when we look back on our journey of pursuing our passion, we will see that the support of our family has always been the driving force for us to reach our dreams today.
Let's follow in the footsteps of young Miguel and fulfill his intense passion with our outstanding and meaningful Coco coloring pages below.
Coco coloring pages are unique, beautiful, and close images of characters that will make the little ones love. Children can imagine the difficult journey Miguel has had to go through when coloring Coco coloring pages to realize his dream, motivating the children to dare to face difficulties.
Hard to make your dreams come true. We clearly describe the black and white images of the coco movie; just the creativity and fresh colors of the children, there will be vivid and creative pictures.
Practicing coloring will help the little ones be more skillful and better recognize colors, thereby developing their creativity in aesthetics. Printable coloring and activity pages from Disney are a fun theme in many of our products.
We know that when there are Coco coloring pages, it's like children spend hours watching movies and recreating the content in the film.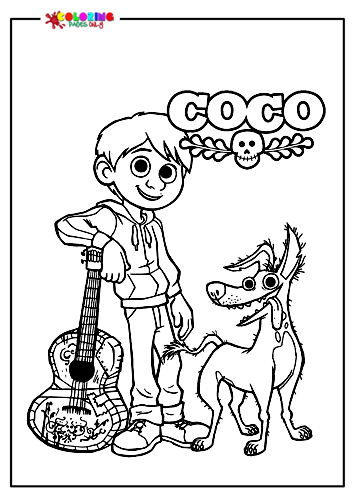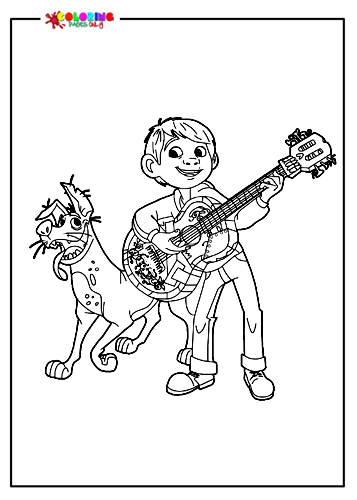 Miguel Playing Guitar with Dante
Rick and Morty is a fictional and humorous animated series about the adventure between grandpa and grandson, expressing views on family, society, religion, and politics.
Rick is a genius but addicted to scientific alcohol and lifeless; accompanying him on his missions is his teenage grandson Morty. The other family members are the bickering couple Jerry–Beth and the older sister Summer, a teenager.
Each episode of Rick and Morty is an adventure traveling through space, time, and reality, but the overall content remains the same. The film's creators also borrowed ideas from other popular sci-fi films to incorporate into the adventures of the grandpa and grandson.
Rick – a mad scientist, has drawn his nephew Morty into crazy sci-fi adventures. Rick will take us on time travel to different worlds.
Join Rick and Morty on an intergalactic adventure with a flying saucer and explore the mysterious universe; Getting to know the unusual monsters right now is what you want when you watch this cartoon.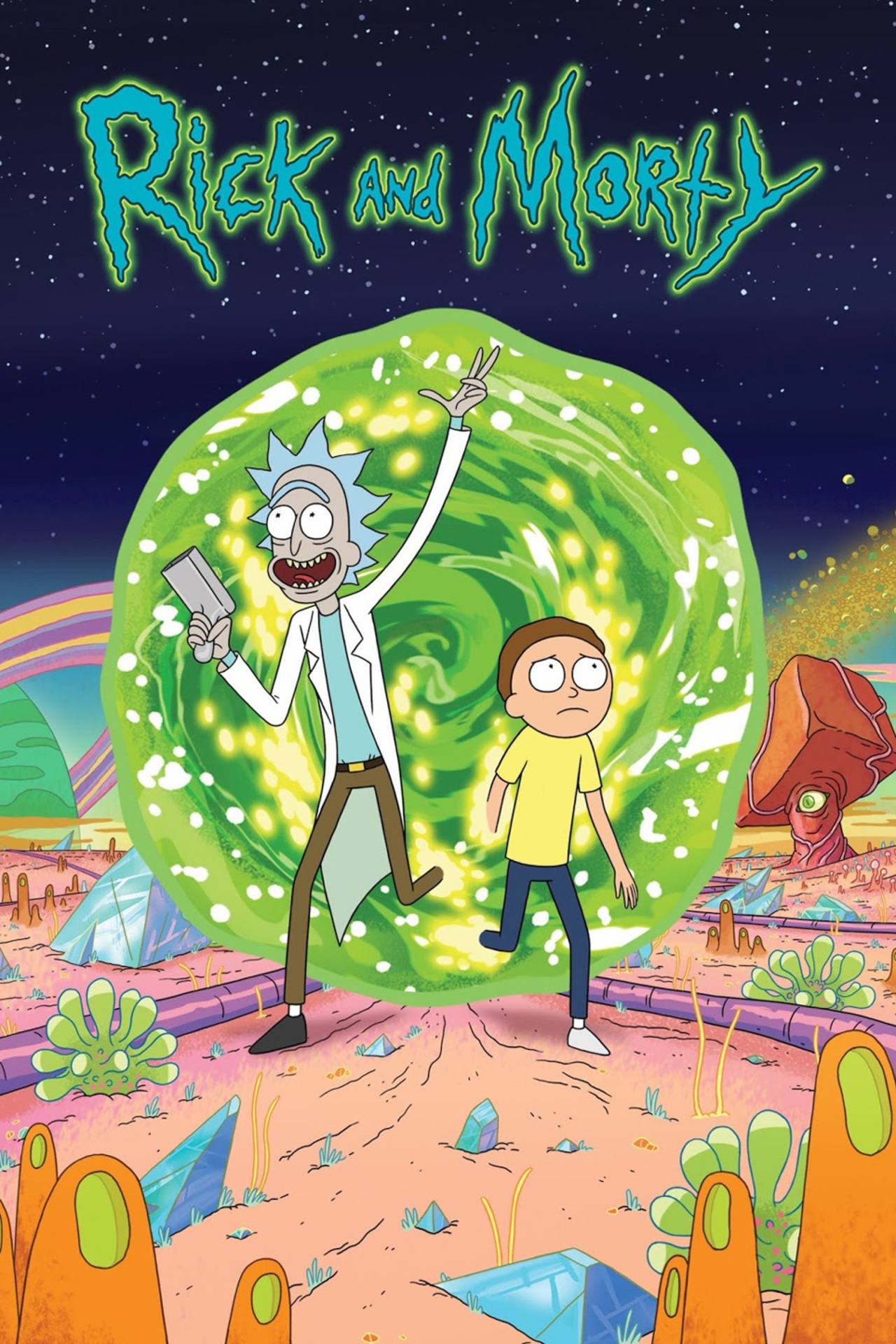 Printable Rick and Morty coloring sheets
It can be said that the movie Rick and Morty is a humorous cartoon about science fiction for adults rather than for children, but interwoven in the film are comic elements with cute character-shaping that will bring attraction to children.
Do you guys want to participate in the mysterious exploration with Rick's grandson? If the little ones want to participate in that exciting journey, they can color the Rick and Morty coloring pages right now; we have full of coloring pictures about the characters in the movie and the actions of discovery science of two people.
Rick and Morty coloring pages will bring curiosity and interest to the little ones who love to explore and discover everything. Do you also wish to become a discoverer of the wonders of the earth in the future?
Now practice and get through the Rick and Morty coloring pages first. Coloring pages will partly help you realize your dreams and exercise ingenuity and creativity for that child.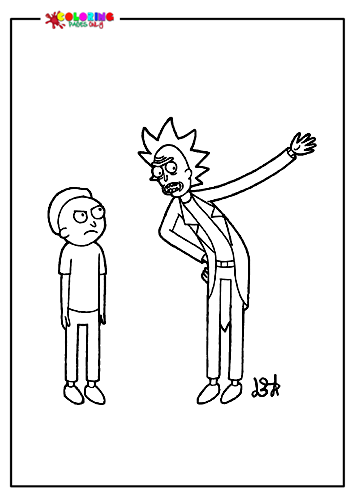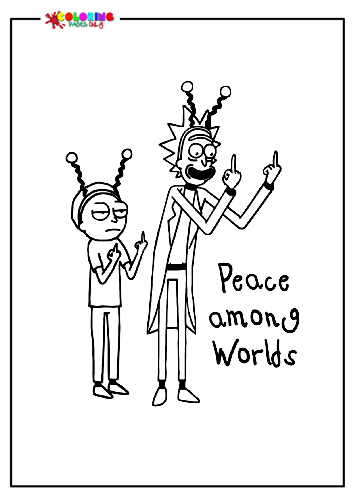 Conclusion:
Coco, Rick and Morty are meaningful stories. We can learn many lessons about friendship, family, and dreams. We suggest many lovely sheets to color. The soul is also a happy story for you and your kids to discover.
Concentration is an important lesson your child can learn from coloring. And as children grow up, they will also realize the importance of focusing on work and study.
Therefore, from now on, children should be supported, guided, and trained by their parents for their coloring ability. It is also a popular and valuable educational method that helps children develop in the learning process.
Hopefully, with Coco, Rick and Morty coloring pages, children can practice many skills, have fun with colors, and learn valuable lessons.
Let your children discover many beautiful things in life with their friends through coloring pages.
Today Articles