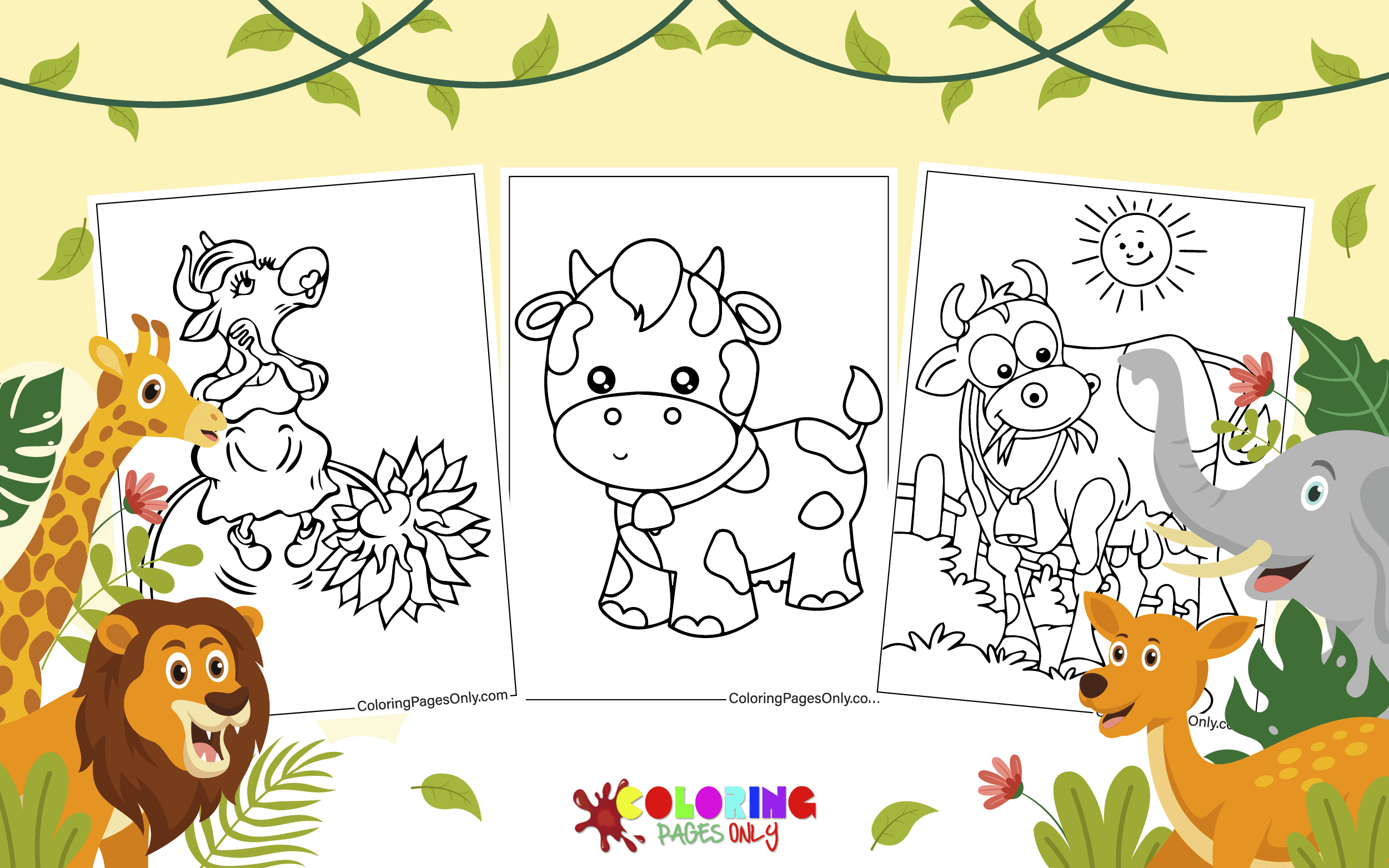 Cow Coloring Pages
With over 60 cute Cow coloring pages, children will be spoiled for choice for their coloring and creative activities. We present many cute animal coloring pages because funny animals always attract children. Take time every day and every week to have fun with these colors and fun pictures!
Coloring is always considered a practical, attractive, and necessary activity for children. Because it brings cute, funny pictures that children love, children also have the opportunity to express their creativity and thinking when choosing, creating, and coloring adorable cows.
Through the cow coloring page, children can learn about the characteristics and parts of this animal. Children will have more knowledge about animals, have fun, and discover the magic of colors. Our newly updated coloring pages are designed with children's trends and interests in mind. These coloring pages are free and quality for everyone to use for educational, training, and entertainment activities. You are entirely free to use the coloring pages for non-profit activities.
You need to choose, download, and print the coloring pages. They are designed and created in standard sizes to suit any paper size you use. Explore our fun cow color page to practice your baby's creativity!
5 Interesting Activities Can Be Created With Cow Coloring Pages
To make children's coloring activities more fun and attractive, we can use coloring pages for cow to create exciting games. Here are our suggestions for creative games that children can experience:
Create a farm picture:
Children begin their creative journey with a cow coloring page in the coloring activity. Children can use their rich imagination to paint a vibrant farm picture. Farms often have other animals, such as chickens, horses, and goats, happily dancing in the green fields. The farmer's house is in the middle of the picture, as beautiful as in cartoons and exciting stories.
The painting is a beautiful work of art and a window to the rich world of farming. The soft lines and vivid colors demonstrate the children's artistic talent and contain joy and meaningful creativity.
Create a 3D cow model:
Creating a 3D model of a cow from a cow coloring page is a creative and fun way for children to express their artistic abilities and develop their spatial thinking. Choose a cow print with clean lines for children to color. Children start by coloring the cow with creativity and using colors as desired. They can color naturally or add creative elements like yellow or blue.
Based on the contours of the colored cow, children cut essential parts such as the front body, back body, head, and four legs from cardboard. Use glue to attach the cut parts to a cardboard sheet to create a 3D model. Ensure the cow can stand by choosing the correct position and angle for the legs.
Children can add other creative elements, such as leaves, flowers, or backgrounds, to make the 3D model more unique and vivid.
Color the diverse cow picture:
This activity helps children develop imagination and creativity. Children can color cows in any environment, such as grasslands, barns, mountains, etc.
Children choose their favorite cow coloring page at Coloringpagesonly.com. Children color the cow to their liking, paying attention to details such as color and shape. Children can add other things to the picture, such as flowers, trees, birds, etc., to create a vivid picture. After coloring, your child cuts out the coloring page and sticks it on drawing paper.
Children can freely be creative and express their ideas when coloring. Parents should encourage their children to express their creativity and not limit them in choosing colors or following rigid instructions.
Color the cow and write a story:
This activity helps children develop creativity and thinking abilities. Children can color the cow as they like and then write a story about that cow. Children can talk about the cow's life, what the cow does, about the cow's friends, etc.
Children can color the cow brown or yellow and then write a story about a cow grazing in a green pasture. The cow has a happy family with a father, a mother, and two children. The cow loves his family and always helps everyone in the house.
After completing the activity, children can share their stories with parents, friends, or family members. That will help your baby practice communication and sharing skills.
Make a birthday card:
This activity helps children develop creativity and skills. Children can use the cow coloring page to decorate birthday cards for relatives or friends.
Children choose and create the cow coloring page they like. Then, cut out the coloring page and paste it on drawing paper. Please write your birthday wishes on the card. To make the card lively and vibrant, your child can add other details, such as cakes, candies, candles, etc., to create a perfect birthday card.
Parents should select quality coloring pages with various themes and images when choosing children's coloring pages. These coloring pages will help children develop their thinking ability and imagination. Parents should also encourage children to use a variety of colors to color. That will help children develop color recognition and creativity.
Parents can let children participate in coloring and creativity in many different ways. Parents can let children color as they like or color according to a specific theme. Parents can also allow children to color with friends or family. That will help children develop communication and cooperation skills. Parents should encourage children to participate in online coloring forums to exchange coloring methods, fun, creative activities, or practical coloring tips.