Home
  »  
Coloring Articles
  »  Barney and Friends, Sesame Street coloring pages: The world's impressive children's program is highly educational
Barney and Friends, Sesame Street coloring pages: The world's impressive children's program is highly educational
Barney and Friends, Sesame Street coloring pages: The world's impressive children's program is highly educational. Many experts believe many factors are needed for a children's program to be lovely.
The most important are social support, an open policy on content, and education and entertainment. Suppose we have spent a childhood surrounded by many cartoons and children's shows about the world.
In that case, we cannot forget Barney and Sesame, which are considered two educational programs and are highly appreciated internationally.
So what are you waiting for without letting your kids explore these two programs' Barney and Sesame Street coloring pages to practice coloring together and learn meaningful lessons?
This program has been a close friend to many children in more than 100 countries worldwide over the past 15 years. Let's get to know Barney!
It is a very happy, friendly, and likable dinosaur. It always knows how to listen and sympathize with your thoughts and feelings. Watch the show Barney; you will see that Barney is a friend.
Barney helps you gradually develop good habits and show care and love for people by actions that are right with their thoughts and abilities.
With very simple things, Barney will help children develop good behavior habits and promote their imagination, intelligence, and creativity in the most effective way.
Each story of "Barney and Friends" has independent content but contains meaningful lessons with many exciting surprises. That's the joy of friends who are always together, ready to help each other; it's music, dancing, fun, behaving, and discovering.
Focusing on education, sharing, caring, imagining, moving, and learning, Barney contributes to orienting and promoting essential skills in children to develop young personalities in the early stages of life.
Printable Barney and friends coloring sheets
The cartoon Barney and friends are attached to many people's childhood memories, including us – who are now parents. Barney, the dinosaur, is loved not only because of the songs but also because he has connected, made us love people, be loved in return, and feel the life around us more lovely.
So why don't parents now convey that feeling of love to their baby by introducing Barney and Friends coloring pages so the child can freely color the pictures of the lovely lost dinosaur?
These educational and fun coloring pages let kids play with colors for hours while learning to paint the pictures properly, keeping the color inside the outline.
These cute dinosaur friend pictures, which can be used in the classroom or at home, are a great way to inspire creativity among young children.
Look at the Barney coloring collection and choose the best ones for your child. Each coloring page will bring a smile to the children's little faces.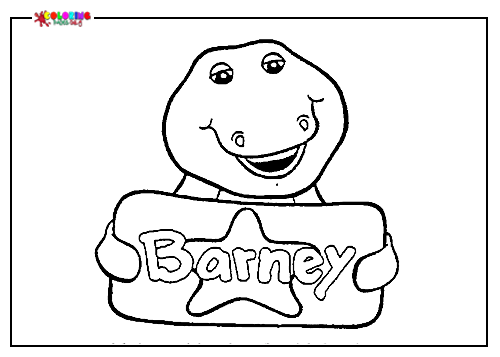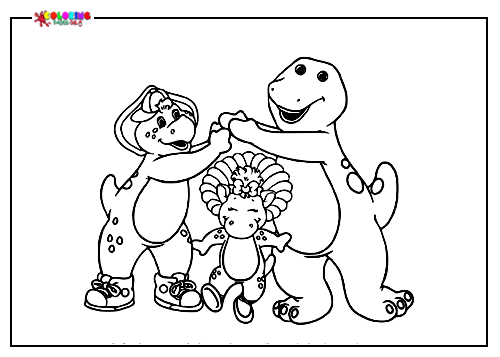 Sesame Street coloring pages: It is the attraction of the Sesame Street program to children around the world
Sesame Street is the most-watched children's show, touching lives in over a hundred countries and generations. It can be said that the birth of Sesame Street paved the way for programs that mixed both education and entertainment.
The combination of animation, puppets, and real actors has stimulated the brain and improved children's development ability. Besides being humorous and lively, it has the primary purpose of teaching healthy living skills, hygiene, healthy eating habits, and social skills.
In addition, the program also teaches children essential knowledge in life such as death, divorce, adult pregnancy and childbirth, adopted child, and all human emotions such as happiness, love, anger, and hate.
The show mixes animation, colorful puppets, and real actors – often Hollywood stars, with hilarious, humorous acts to add to the appeal, attractive.
Sesame Street also stimulates children's brain development, improves literacy, solves simple math problems, crosses the road safely, has hygiene, and healthy eating habits, has emotional expression, observes, thinks, reacts quickly in life, and has a passion for science.
Sesame Street is the first children's show globally to feature an autistic child, orange-haired Julia. Children who follow the program will better understand autism, reduce prejudices, and even alienate their less fortunate friends.
To prepare for the inclusion of Julia's character on the show, the Sesame Street production team turned to child psychologists, educators, and organizations dedicated to helping children with autism integrate into the program life with other ordinary children.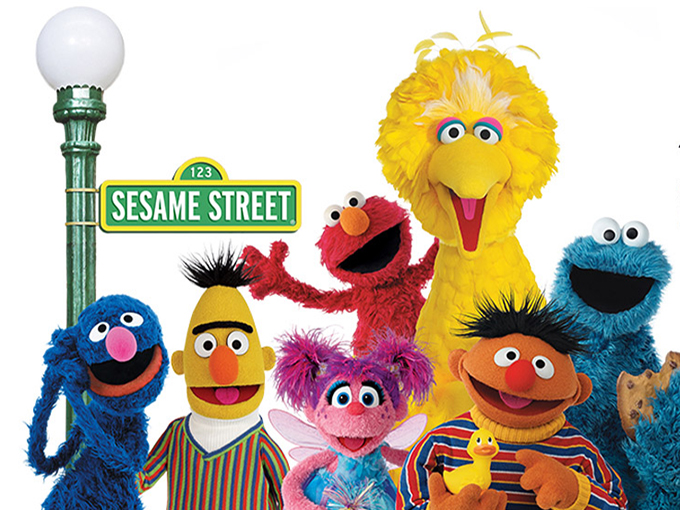 Printable Sesame Street coloring sheets
Sesame Street coloring sheets include adorable characters from TV shows like Elmo, Cookie Monster, Big Bird, Zoe, Oscar, Bert, and Ernie. Sesame Street coloring pages are unique and fun, with lots of fun pictures for kids to choose from for their coloring activity.
Sesame Street isn't just a kid's TV show – it's an educational experience complete with wisecracking puppets and lots of fun. Choose your baby's favorite characters and color them.
All of our coloring pages are quality and free to download—coloring for young children to participate in training agility and concentration and explore lovely characters and meaningful lessons. Coloring is also a way for children to express their creativity in art and satisfy their passion for painting.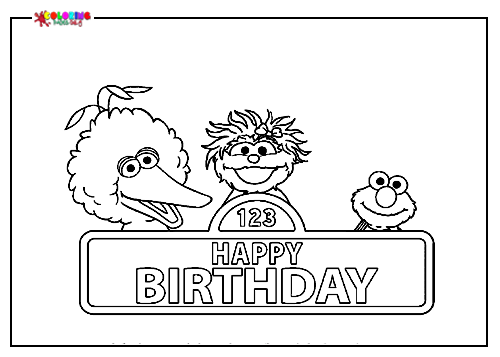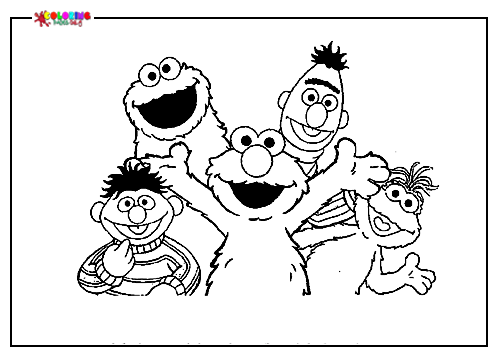 Elmo, Cookie Monster, Oscar, Bert, and Ernie
Conclusion:
Coloring pictures are excellent educational program for kids. So, parents can refer Bubble Guppies Coloring Pages. Children will like these coloring sheets and cartoon characters.
Coloring gives children an opportunity to demonstrate their creativity. A child creates a new world in his imagination before coloring it on paper.
So give your kids a color box and let them use it as they please with coloring pages with different content. It will bring results that exceed expectations because it forces your child to think about combining colors to create a vivid and attractive product.
Parents always choose our coloring products; if you wonder what theme to choose for your child, try letting your child explore Barney and Friends and Sesame Street coloring sheets. Then, choose different themes here to unleash your creativity.
Today Articles