Pac Man and Angry bird coloring pages: These are fun childhood games
Pac Man and Angry bird coloring pages: These are fun childhood games. Suppose you and your child are too familiar with cartoon characters' images or simple objects in coloring books.
Then today, Pac Man and Angry Bird coloring sheets will bring you and your kids famous game characters that you and your kids can't miss.
It is not wrong to say that Pac-Man is the childhood of parents. Because simply, this game has been out for a long time, and surely children at that time have played this game. For decades, Pac-Man (Pacman) has been a popular bean-eating or pie-eating game. In 1980, Namco developed a game called "Puck-man" named after the movements that depict the opening and closing of the mouth while eating.
The development team assumed that Pac-man was born in a restaurant when he cut a Pizza and looked at the rest of it and had just come up with the idea for the game.
To achieve the point of the game, you must control Pac-man to go around the maze to eat all the beans – small blue dots. You will pass to the next round when you eat all the beans.
While eating, you must watch out for the "ghosts"; they will do all they can to catch and destroy you. If a ghost touches Pac-man, one life will be lost, and the game will end when all Pac-man is lost.
There are four large circles in the four corners called "energy" pills. When Pac-man eats one of those circles, it will become immortal, and the ghosts will change color to dark blue; they will move very slowly and disorientate.
You need to take advantage of letting Pac-man eat a lot of beans and eat these ghosts to get more points.
Printable Pac Man coloring sheets
It can be considered the first-generation game, born a long time ago but still popular. This game was released when the children of that time became parents.
We think Pac Man coloring sheets will help children understand more about this game character to revive childhood and let children learn about old games.
It will be interesting for parents and their children to color Pac Man coloring sheets and tell each other about the times they played this game, whether they won it or not.
Pac-Man coloring helps children be creative and exercise their coloring ability, and with each coloring topic, children can learn more and more knowledge.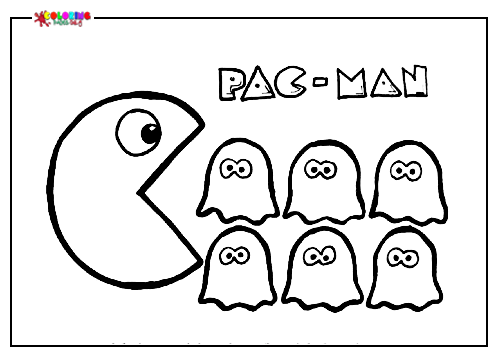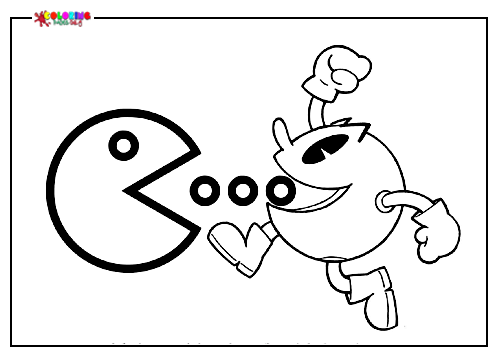 Angry Birds is a game that opens with the story of the evil green pigs stealing the red birds' eggs, so the birds decide to attack to get the eggs back.
The player will be provided with and use a certain number of birds in each level. Players will use a slingshot to shoot each bird at the pigs or shoot at the structure built of wood, ice, or stone, where the blue pigs are residing.
The goal is to destroy the pigs by shooting directly or breaking structures, causing them to collide. The level won if the player killed all the pigs before the birds ran out.
It is a game appreciated for entertainment and safety for children and adults. Vivid images, sounds, manipulations, and play stages are easy for players to manipulate on electronic devices with an internet connection.
When this game got the most attention from everyone around 2009-2010 when the game was first released, the image of red birds, yellow beaks, and eyes always angry was loved by so many people.
At those times, Angry Birds must be said to be a game trend among young people.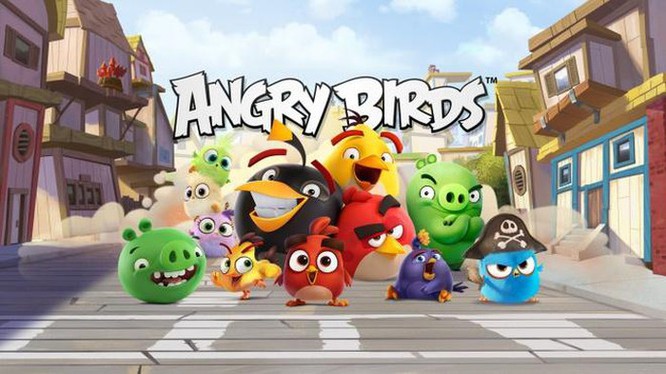 Printable Angry Bird coloring sheets
And to continue the popularity of Angry Bird, an animated movie of birds was also produced. The film is based on a famous game with a somewhat simple script; the storyline is sometimes rambling but attractive in the shaping, the fierce battle between the crazy bird and the blue pig.
It is a fact that the Angry Birds game franchise has gradually become exhausted in recent times. Therefore, the movie The Angry Birds Movie is like a necessary push for the Rovio unit in the campaign to restore the former position of the mad birds in the public mind.
Like the original game, the birds in the movie all have different colors and personalities. Chuck is golden and fast as lightning; though gentle and quiet, Bomb is like a dangerous "slow-explosion bomb."
The Angry Bird is pretty famous in both games and movies; most of the images of this bird are familiar to everyone, including children and adults.
Therefore, Angry Bird coloring sheets are a gift to bring children many surprises this summer. If the children no longer like the Angry birds games or are too dull with the movie, they can work together to unleash their creativity and color these birds.
Children can freely choose bright colors, yellow, red, or blue, to create their birds with many lovely versions. Coloring is a valuable and practical activity; it would be great if children could make colorful pictures.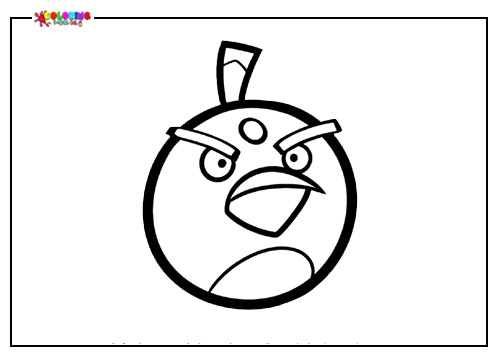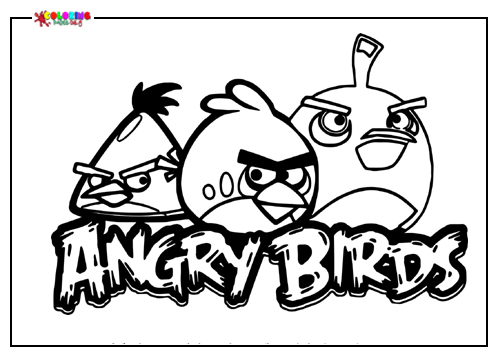 Printable Angry Birds coloring pages
Children can discover and learn about Roblox coloring pages; They have many unique game characters. We hope that children are going to love these coloring sheets.
Conclusion:
One of the main benefits of coloring requires creativity and logic. It means activity activates the brain. It is essential to choose a color and interpret the shapes and patterns on the coloring pages.
When we start mixing things up with color, we are using the creative part of the brain. By combining these two parts of the brain, we are also activating areas of the brain responsible for our vision coordination.
Therefore, adults and children should choose coloring as a regular activity to train and stimulate development. In addition to Pac Man and Angry bird coloring sheets, we have many exciting topics for parents and children to choose to color together.
Today Articles